Hello again,
We're coming back with new footage that marks us crushing yet another milestone. Let's take a look
What you are looking at is a full 4 player FFA session working as intended. I won't say how many gigs of footage cut short cause of bugs we went through and hours spent on debugging but we are finally here yay
What's new you ask:
Support points and support measures. You earn Points over time or by rescuing injured personnel from wrecked vehicles. For every third vehicle you lose it will drop an injured personnel on the field for you to rescue. Support points will fuel different player measures such as Repair drop, Support Barrage, Spy Area and many more will be added later on. We want them to have an impact on the battlefield and make the gameplay more interesting and engaging.
Infantry. Present in squads they offer good visibility and support. When in strong numbers they surely can deliver a punch.. be carefull for those Artillery strikes and MRL barrages though AOE damage will impact your numbers quite drastically. Later on we want them to be able to garrison buildings travel through APCs and be crushed by armoured vehicles if they don't stay out of the way.
Upkeep will be present in order to keep players from getting steamrolled by huge numbers of units and in combination with resource points will encourage the player to interact with the map in an engaging way.
Let's look at the Tech Tree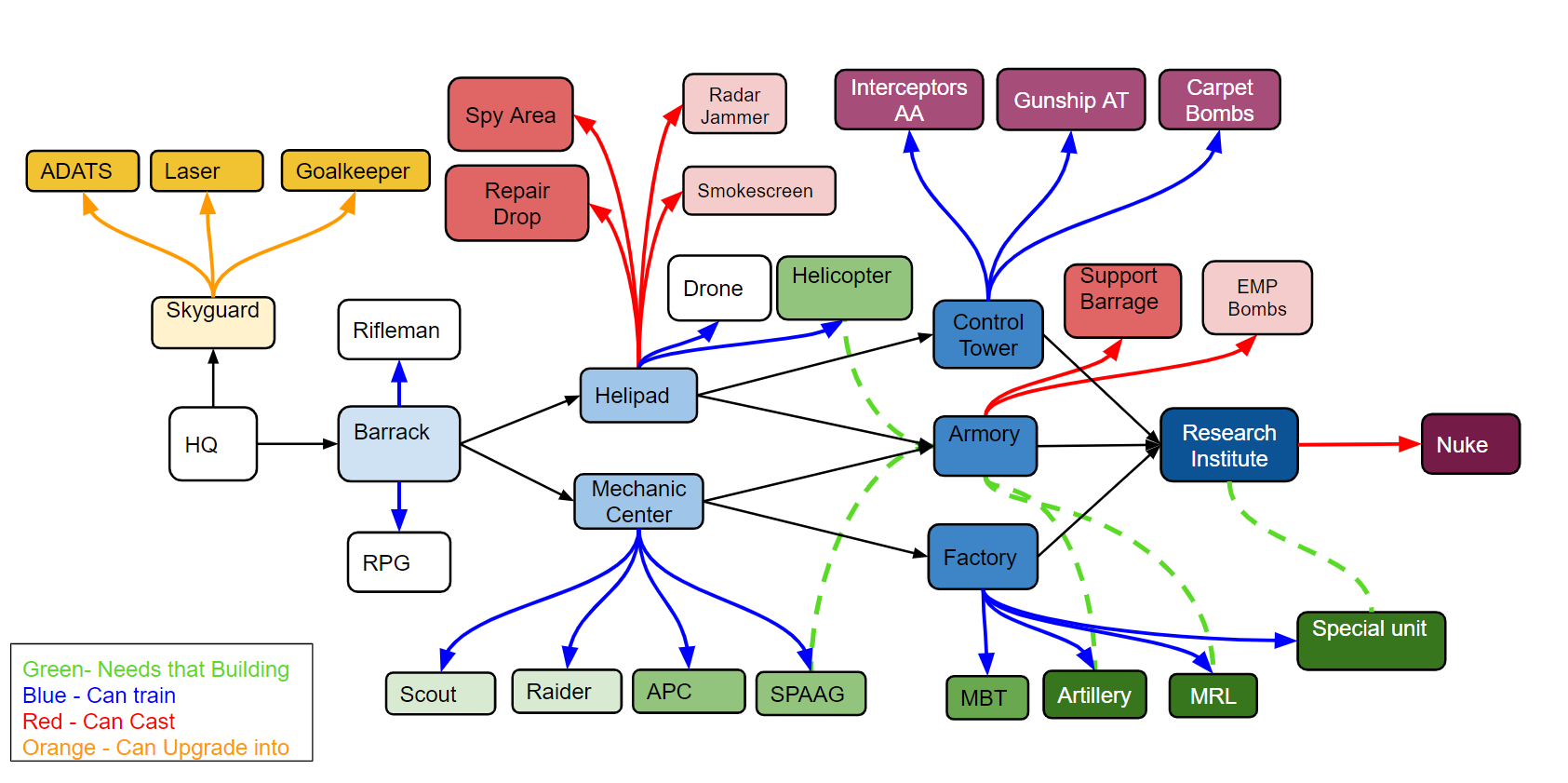 So as you can see there's still that one cool core ingredient we are missing and that is Airforce which will be coming next real soon.
Hope you guys enjoyed our progress and see all of you in december when we will be reaching our Milestone.
As always for more behind the courtains information and get in touch with us join our discord Discordapp.com
Our links:
IndieDB: Indiedb.com
Youtube: Youtube.com
Twitter: Twitter.com
Facebook: Facebook.com
Reddit: Reddit.com