After months of work and skipped Alpha 3, the CoffeeBiz Tycoon Alpha 4 update is released!
Key changes

New objects placing system
Kiosks and A-board advertisements can be moved around the district. No more "lost" and its restrictions, you can run your business almost anywhere.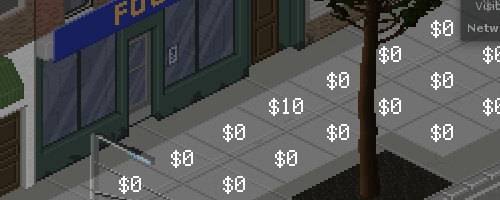 New ingredients system
Rewritten from scratch. Every ingredient now can be different quality, have different taste and freshness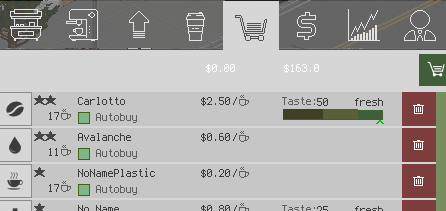 New marketing system
Customers evaluate and make decisions about where to drink (or not to drink) a coffee in a new, more complicated way. And players now have new instruments to understand customers' needs. Also, each kiosk now can be promoted on every district, even if it's not placed at all.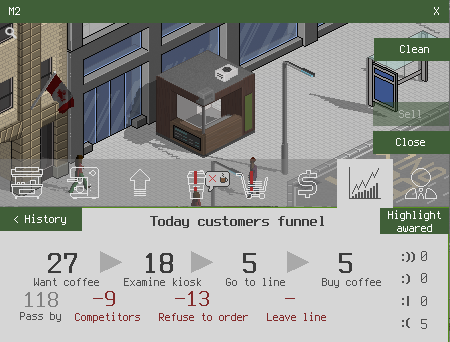 More automatization
Managers now can automatically clean kiosk, buy ingredients and service or repair coffee machines.
Full changelog
Changes
"Lots" removed
Kiosks can be placed at many different positions with different rent prices
Kiosk mounting time showing above the kiosk
CLOSE label removed while the kiosk is in placing mode
More information about districts
Faster load game mechanics
Equipment renamed to upgrades and moved to new kiosk panel tab
Each kiosk have its unique possible upgrades
Movable advertisement a-boards
Customers who know or see kiosk or its advertisement can be highlighted
Kiosk and all its adv zones can be shown by one button
Three competitors kiosk at downtown, one at industrial districts
New ingredients system
Different ingredients taste
Ingredients freshness
Ingredients auto buy
Marketing funnel
The owner (player) can work as a barista
Updated tutorial
Campaign and sandbox modes
Known and visible kiosks shown in the customers' details panel
Snacks and drinks sales are different for different customer types and their wealth
Incorporation available only after some coffee brewed
Competitor zone can be shown
Customers distinct valuation
Customers forget about kiosk
Market share graphs of the district
Adverts aggressiveness are configurable
Auto repair and auto service of coffee machines
Auto clean of kiosks
Business points removed
Advertisement campaign can be canceled
Different company colors
Campaign winning condition
Neighborhood kiosk campaign
The coffee machine can be serviced without closing kiosk
Mouse wheel zoom in/out
Pause on keyboard ` key
Competitor kiosk can be vandalized
First research tiers cheaper
Fixes
Different kiosk outlines in placing and placed modes
Some kiosk 3d models fixed
Kiosk colliders fixed
Face generation saves bugs fixed
Kiosk attractiveness info changes at the moment kiosk upgraded
Log saves reworked to reduce save-load speed
Industry and tourists marketing values fixed
Not placed kiosk image fixed
Adv image after load game fixed
Adv contacts calc right
Used coffee machines prices
Subway entrance customers stop fixed
Permanent tooltip help
Kiosk work in progress 2d and 3d models
Some screenshots of Alpha4