Kris Skellorn explains the design of Venture, the next playable faction in TerraTech.
The TerraTech Kickstarter has now launched and we've been amazed by the support so far. At time of writing we have just passed 20% of our target in a little over 48 hours! You guys are the best! The lion's share of the funds will be spent on new F5 keys for our computers, as they are all worn out now from constantly refreshing our browsers to check the tally.
Don't forget you can play the latest demo for free as well! Download it now!

As we confirmed in our Kickstarter campaign, the next playable Corporation will be Venture.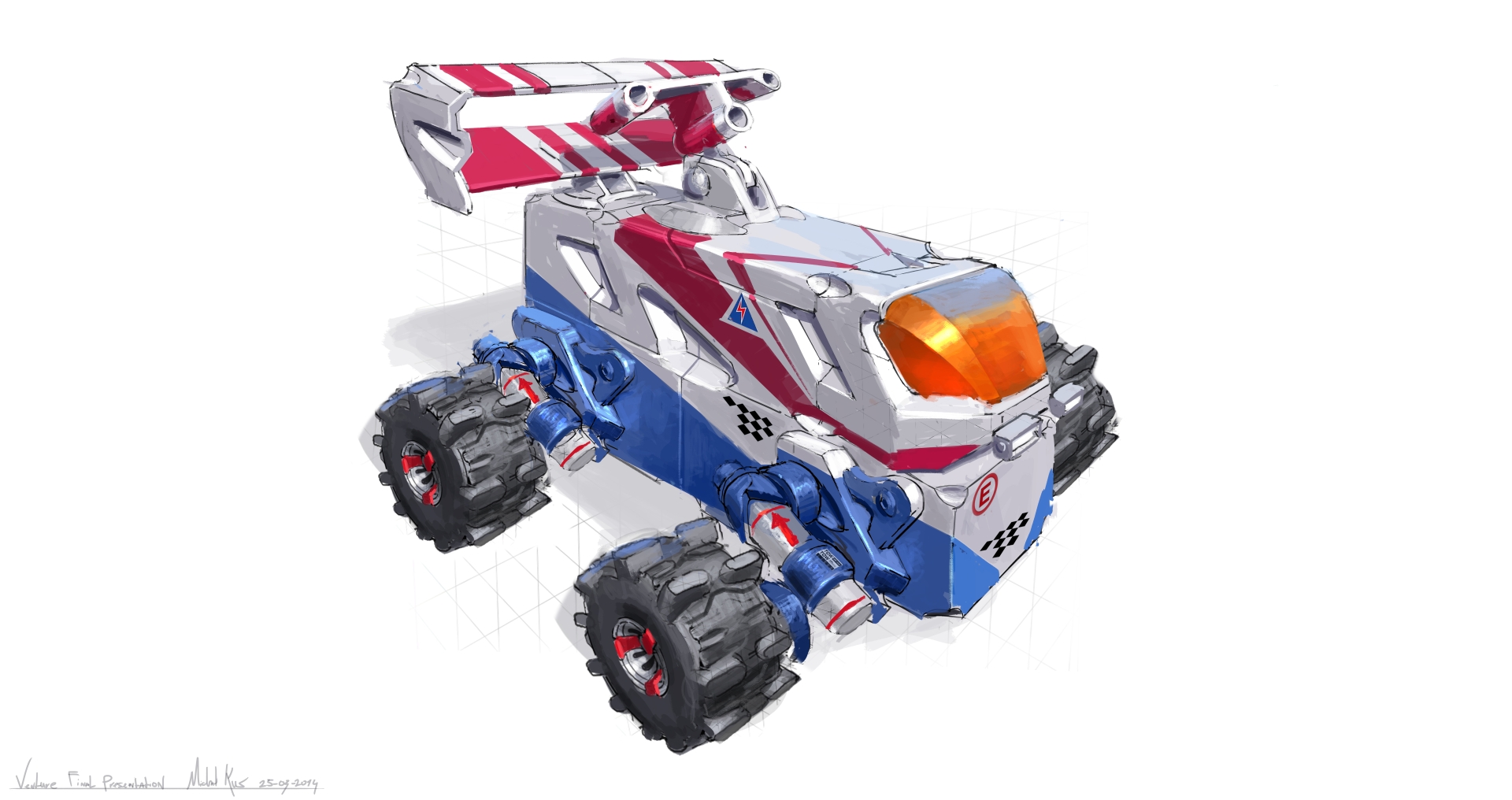 In case you're not familiar with Venture already, here is a little background text to bring you up to speed:
"Venture is selling a grand adventure to any and all who are brave enough to take up the challenge. Tricked-out jet buggies - coated in bright decals, sponsorship stickers and caked in mud, blast across the landscape looking for thrills and riches in an unexplored world. Venture is for adrenaline junkies in search of the next big wave to ride."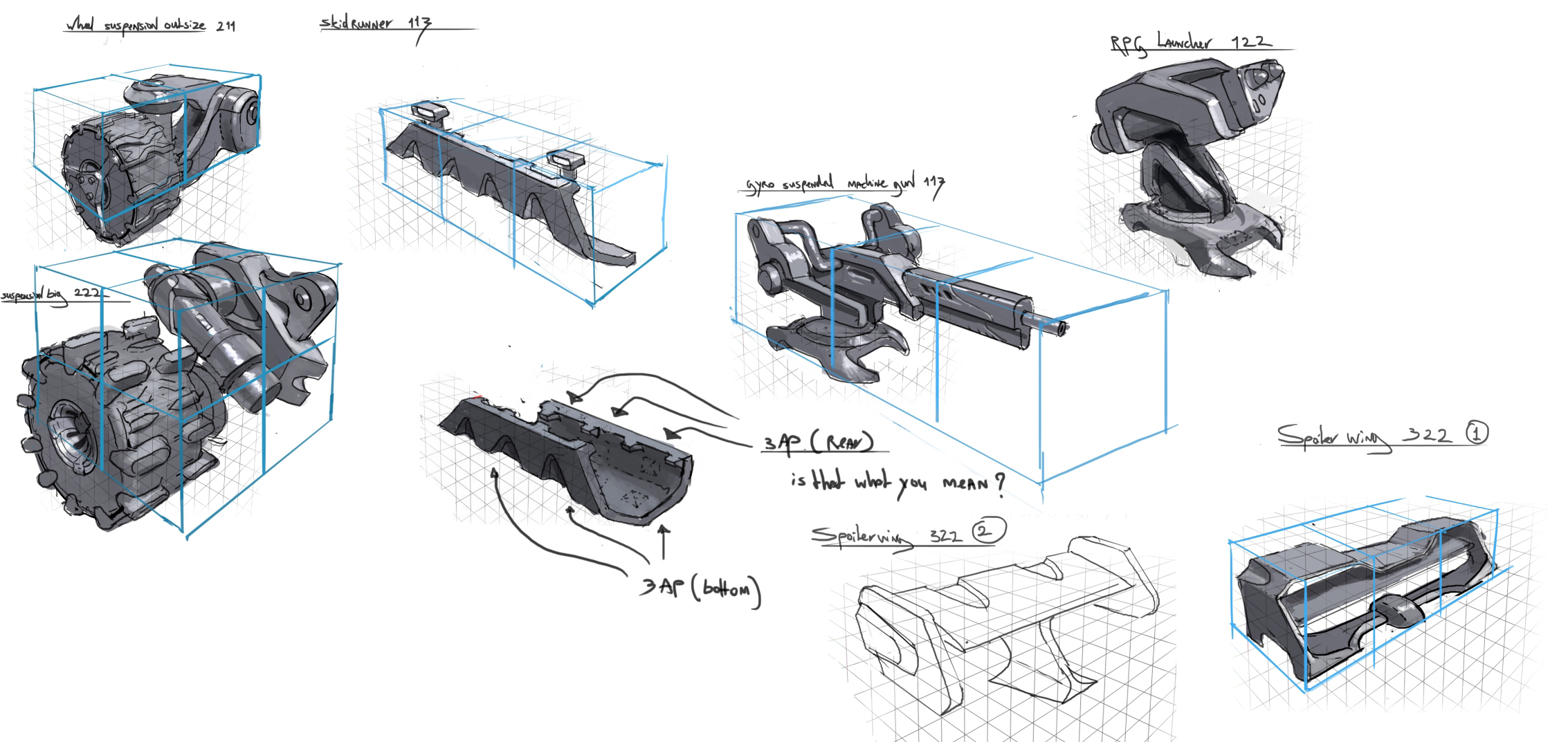 Venture is a company that sells extreme sports equipment and organises huge motor sports events back on Earth. To Venture, the intergalactic mining effort is just the next big thing. They're not so bothered about big weapons or efficient mining equipment. They are more interested in speed, suspension and getting big air.
Venture is all about light chassis, thick dirt tyres, shock absorbers and large spoilers. Its vehicles are covered in sponsorship stickers like rally or F1 cars, and the windshields resemble orange reflector sports-sunglasses. Venture are the Corporation which really own the concept of 'falling-with-style'".
If you look at the first two Corporations, GSO and GeoCorp, there is a clear gap that Venture fills. GSO tanks are all-rounders and their wheels are relatively weak and small. GeoCorp vehicles are huge and heavy and will eventually be reasonably slow, albeit powerful. In fact, the GeoCorp wheels will probably have their top speed reduced from what you see in the current demo, once we get the torque, speed and weight values working properly with each other.
Venture make fast, lightweight vehicle blocks that are enormous fun to drive, and add a lot of variety to the present Corporations. This benefits the experience of one of the core activities in the game: exploration.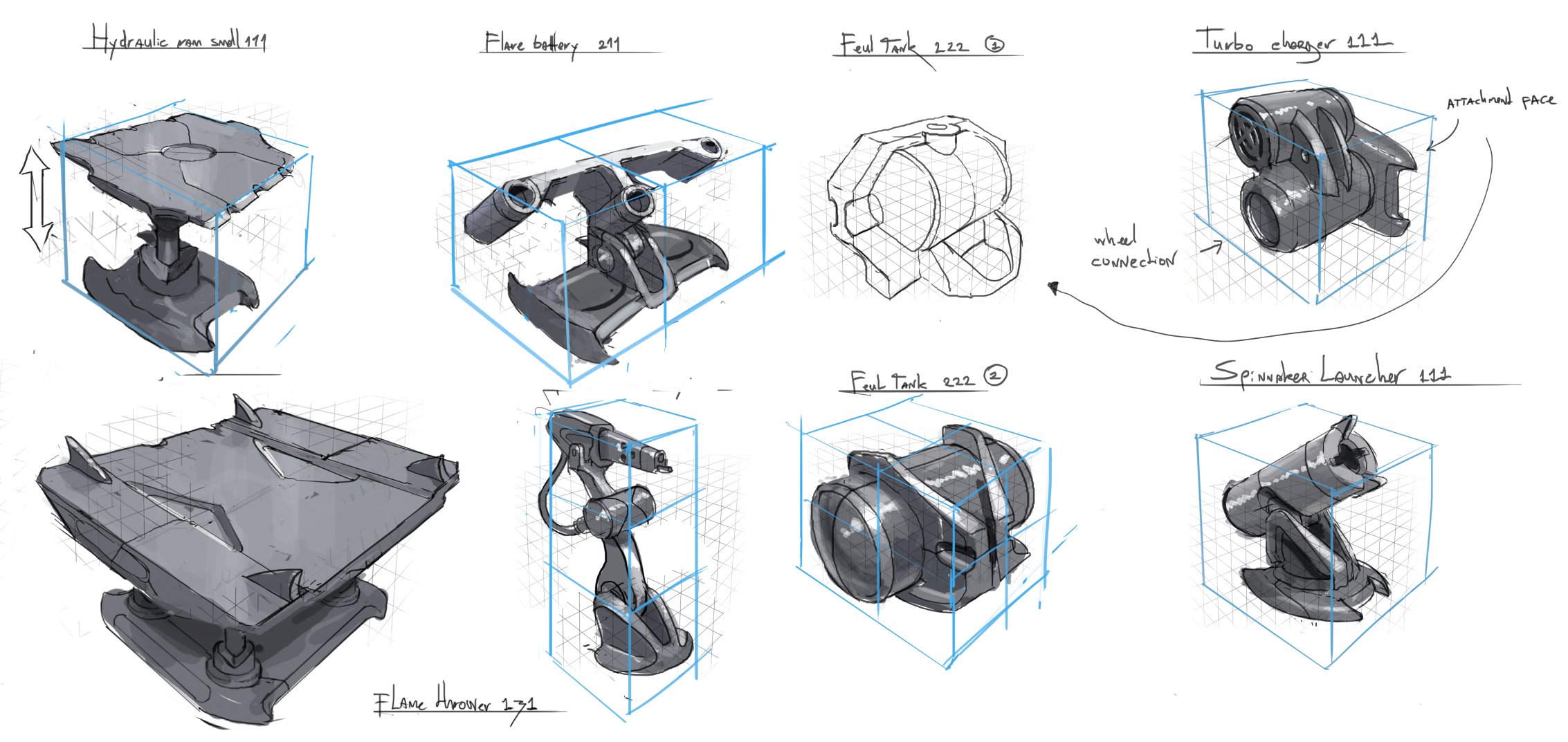 We have already made and tested several pieces which, judged on style and purpose, naturally fit in Venture's catalogue of blocks. For example:
- The side wings and mini wing.
- The hovercraft style propulsion fan.
- The large booster rockets.
These currently look like GSO blocks, in the demo, but don't ultimately belong in GSO's block set. We put them there just to test them out, but they are specialised in nature and in some cases too powerful for GSO, who, as the introductory Corporation, should have a more 'all-round' selection of blocks. The three mentioned above will be shifted over to Venture once we have its aesthetics pinned down.
Venture brings more mobility and speed to TerraTech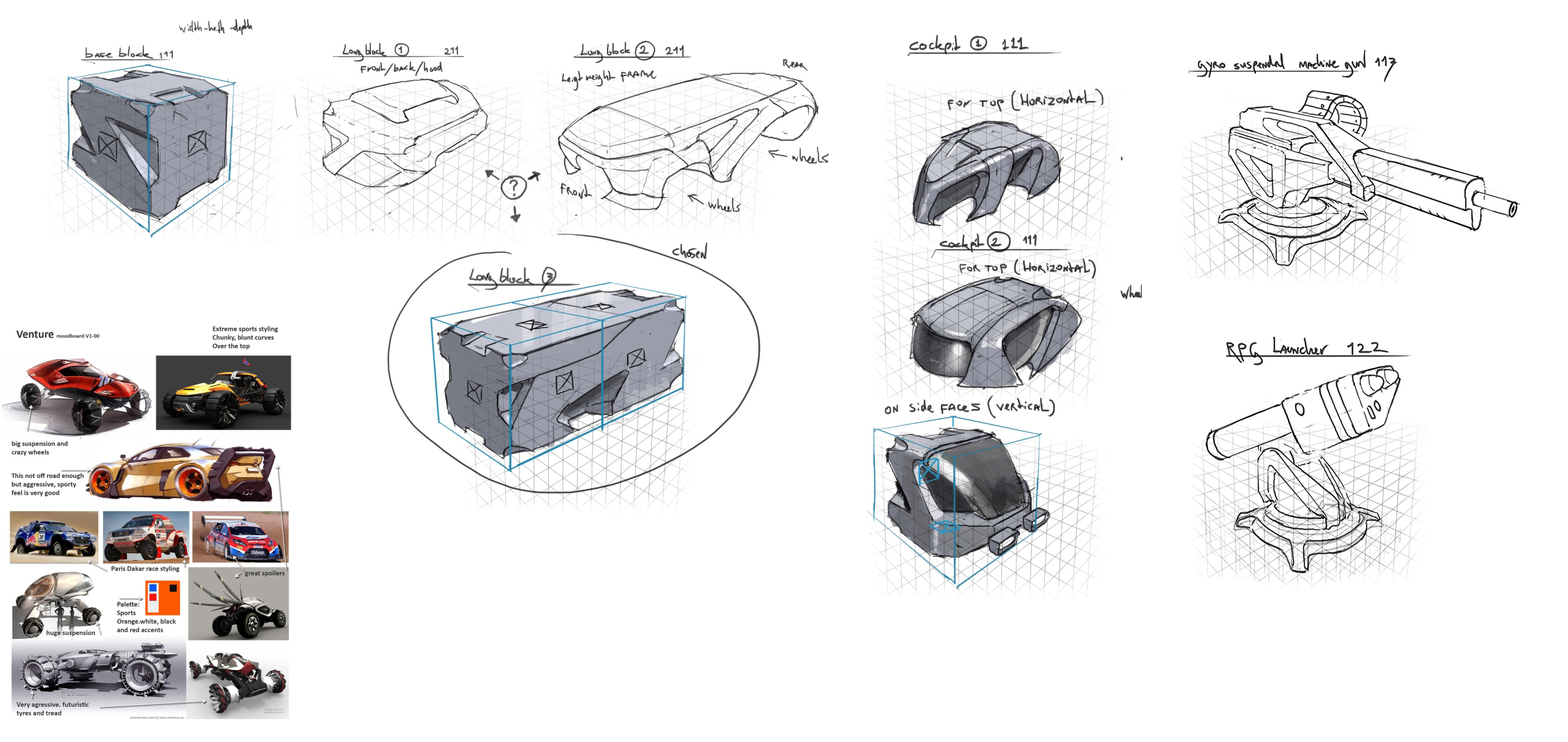 TerraTech is first and foremost about creativity and variety. We want people to feel that making something fast, nimble and light is just as cool as something with a big gun.
Adding choices like these increase the variety and so make the game more interesting, as players will have to adapt and deploy different strategies in different situations to succeed. Fast, light vehicles will be able to literally run rings around the giant tank-like monstrosities, and chip away at their flanks, as long as they can get close enough.
The inclusion of Venture will make long range exploration of the world even more enjoyable, and help to serve the other systems we are working on, like harvesting and crafting. For these to work, some resources have to be rare, which means they might spawn a long way from your base. If we are expecting players to find them, we had better make it fun to drive around the world! That's where Venture comes in.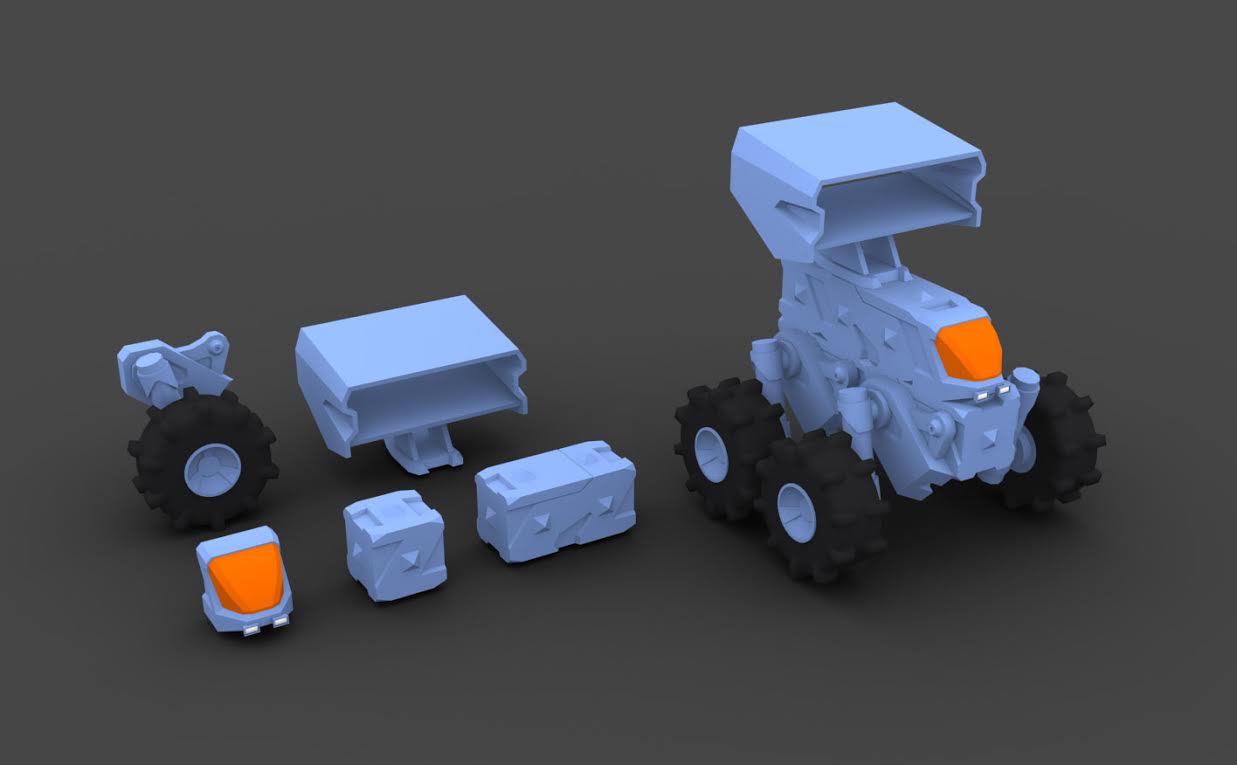 Of course, adding a new Corporation is only valuable to players if they can identify the Corporation on sight, and discern its distinctive features.
Aesthetically speaking, the differences between GSO and GeoCorp are easy to spot, one is small and grey and the other is giant and yellow. As more Corporations are added, we have to ensure they remain distinctive to the player, or else the game will turn into a confusing soup of parts.
The differences between GSO and Venture are obvious. Both have smaller parts, but Venture stands out thanks to its slick modern sports vehicle lines and curves, which are accentuated by the spoilers and wings all over. The spindly shock absorbers that connect its wheels complete the look.
Venture cockpits have bright orange tinted windscreens, and the hulls of the chassis blocks are plastered in colourful sponsorship stickers and decals (get in touch if you want your company logo included on these!).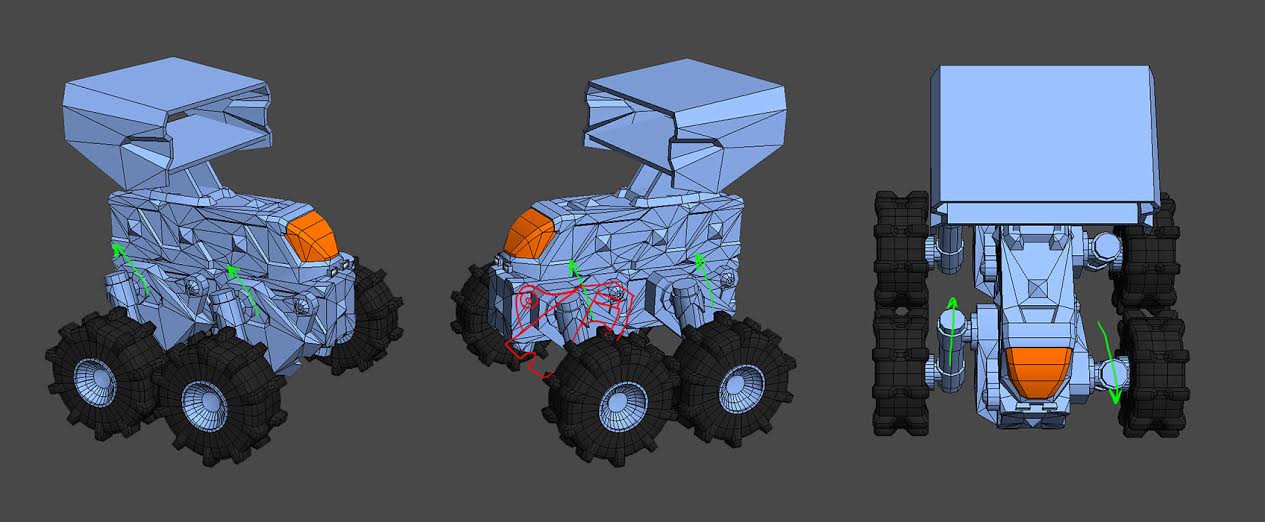 Venture's new blocks, weapons and super shiny cool things:
Now, we get to the really fun bit: choosing which unique blocks to build for Venture! Here is a selection of what we have planned:
Off-road tyres - studded rubber dirt-bike style tyres. Lots of grip for rough terrain.
Featherweight bulkhead - A regular block which is reasonably strong but extremely light.
Tri & splitter bulkheads - Small triangular half size blocks that can be used to make smoother edges and gradients. Also splitters that have one attach point at the front and two at the back, good for building aircraft.
Spoilers/wings - Increase downward force on vehicles when in spoiler orientation, which increases handling. Then when they're flipped over they'll act as wings for flight. They also simply look cool!Trike wheels - A front facing wheel housed in two forks that can turn, allowing for two and three wheeled vehicles.
Hopper ram - Hydraulic ram that can be aimed in any direction. Place it facing down to make the vehicle jump, or mount it on the front to push obstacles out of the way. On the top it will act as a righting mechanism when the vehicle rolls.
Springer suspension - Wow. So strong. Such absorbent. This allows the vehicle to avoid fall damage from incredible heights and ensures a smooth ride over the rough terrain. Potentially an alternate fire to spring-launch into the air, allowing vehicles to jump.
Flare launchers - Gimbal-mounted launchers that fire bright red flares which explode on contact with targets. Not amazingly powerful, but they look pretty. They also throw heat-seeking missiles off your trail.
Flame throwers - Blasts a fixed area with a jet of flames. Again, very showy, but not the best weapon to fight metal tank-like vehicles with.
Smoke screens - Kick up a big cloud of coloured smoke when activated. Obscure vision, leaving a cool looking trail.
Spinnaker sails - Front-mounted sails to harness the wind for extra acceleration. Cannot be retrieved once deployed so must be cut free after use. Also double as a parachute when falling, causing a distraction and obstructing vision when released.
Pressurised fuel tanks - Just like regular fuel tanks, but a fraction of the size. They are also lighter than normal, but the downside is that when they receive a direct hit, they explode with double the ferocity.
Bungee shots - Harpoons with a bungee cord line. When shot, they impale a block. The shooter is now connected on the springy line, until they fire the second shot, which has another harpoon attached to the other end! Tie enemies together to tangle them up. Tie enemy fliers to the ground or hitch a ride on the larger ones!
But those are just a basic set to start off with. Let us know which blocks you want to see in Venture's inventory. Join us weekdays at 5pm UK time on our Twitch streams and tell us your thoughts!
You can also get in touch with us on Twitter and Facebook, leave a comment below, or send us a message on Kickstarter.
Please continue to back us on Kickstarter and don't forget to play the latest free demo!