Our Art Director, Jolyon Webb, explains the design of TerraTech's unique modular vehicles.
I'm Jolyon Webb, the Art Director on TerraTech. This is my first blog post and I'm going to be talking about the concepting work on the game. Let's get stuck in then!
TerraTech has been the hardest and most interesting game I've ever worked on from a concepting and look development point of view. This blog talks a little about the unique process behind developing the look and feel of the component parts that make up a TerraTech corporation construction set.
Russ showed me a very early tech demo of TerraTech running for the first time in a London bar. It was running on a small laptop. I don't think Russ would mind me describing it as using 'programmer art' so it wasn't very pretty! Russ drove a little vehicle around then stopped and tore it to bits and rebuilt it on the fly. My jaw dropped and I was hooked!
Image 1. Very first sketches of block styles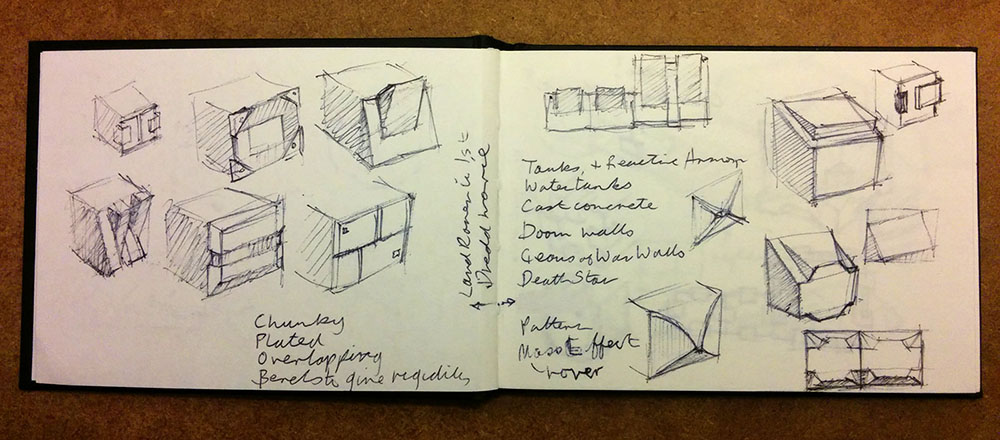 Terra Tech has a unique challenge for concepting. Normally when anything is concepted for a game it is a complete object. It probably has to fit to an established style and may have a few states, for example new and damaged. However you see the whole thing at once and work to make it as attractive and distinctive as it possibly can be as a fixed object. TerraTech turns that on its head. No vehicles actually exist at all, nothing is fixed, nothing can be designed as a complete vehicle; everything is constantly fluid and changeable.
Added to this, the construction logic means an underlying cube shape is part of the DNA of any component part. It's quite a head-scratcher! How do you make vehicles distinctive and coherent when you don't actually know what people might build, and you have to respect the way parts must fit together?
I decided to start from the basics, and started carrying around a small sketch pad to jot down ideas for possible base cubes any time inspiration struck. This is a page I actually drew on the train on the way back from first meeting Russ.
Image 2. Very first 3D model test blocks.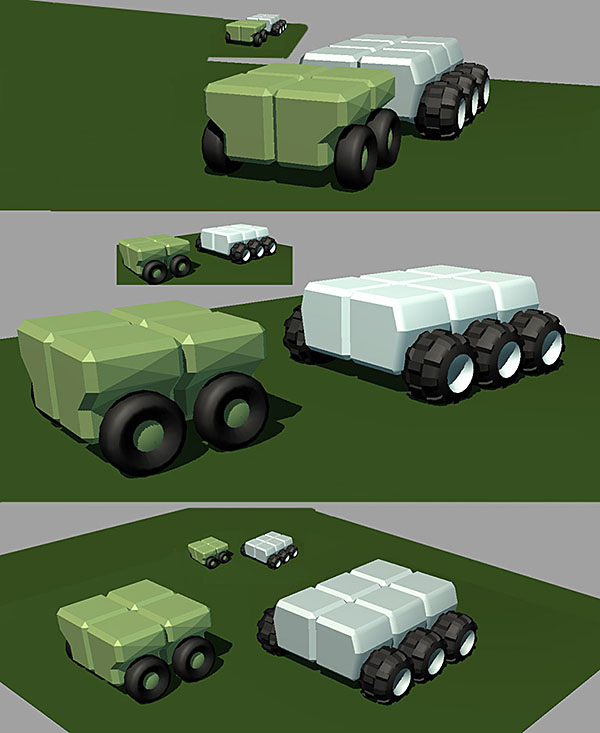 Very quickly I moved the exploration into 3D. These are some of the earliest, roughest test models where I was exploring how distinctive cubes might be made. These kind of rough and ready models are a great way to play with form. Also I was using them to test the legibility of the cube differences from near and far views.
Image 3. Very first vehicle construction tests blocked out and painted over.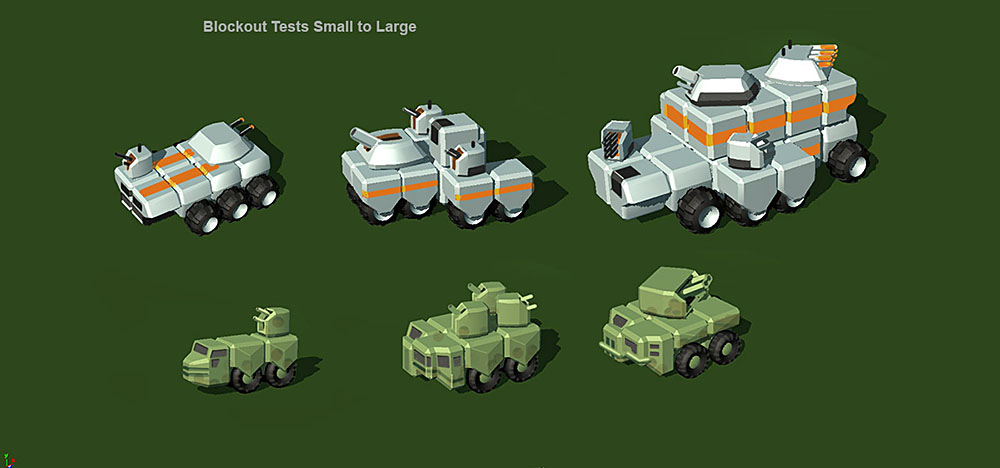 The concept and idea generation process almost always works best when you work fluidly between 2D and 3D. As soon as I had a few test blocks I started snapping them together and painting over the results in Photoshop, to modify them and explore adding markings and details. This is one of the first tests showing what kind of atmosphere a final vehicle might have.
Image 4. First partial set of test blocks for a corporation with functional components.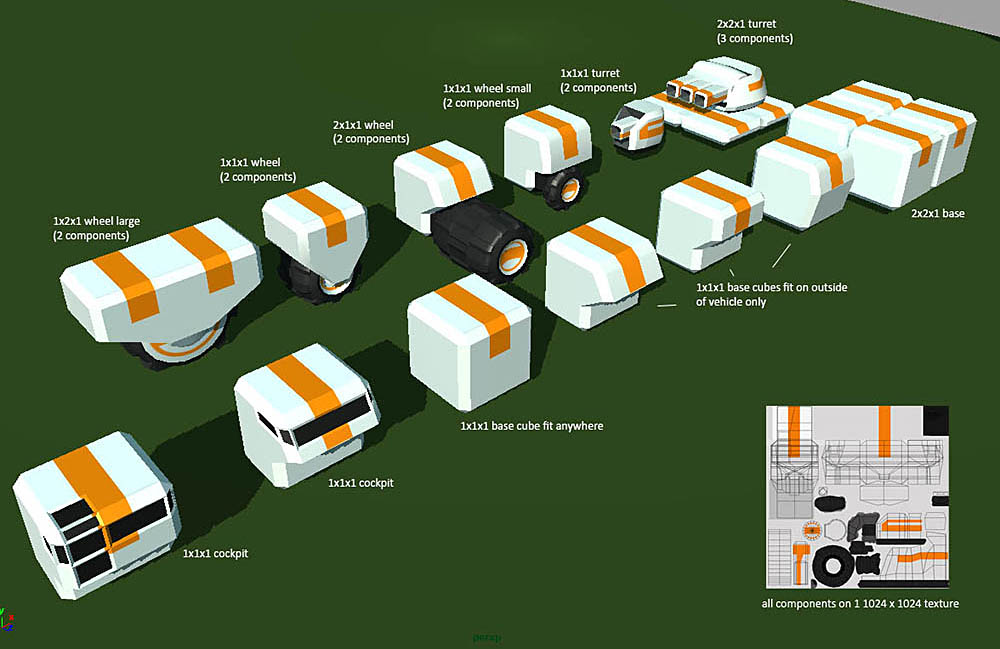 Game development works more effectively when you get a first pass idea into the game quickly, and learn from it. I produced this set of functional test blocks in the first couple of weeks to try out their look in game, and to test the pipeline for delivering them. The only place a player is going to see the content is in the game, so you need to be able to see things as a player would, fast.
Image 5. Early model tests exploring base block shapes for the GSO corporation.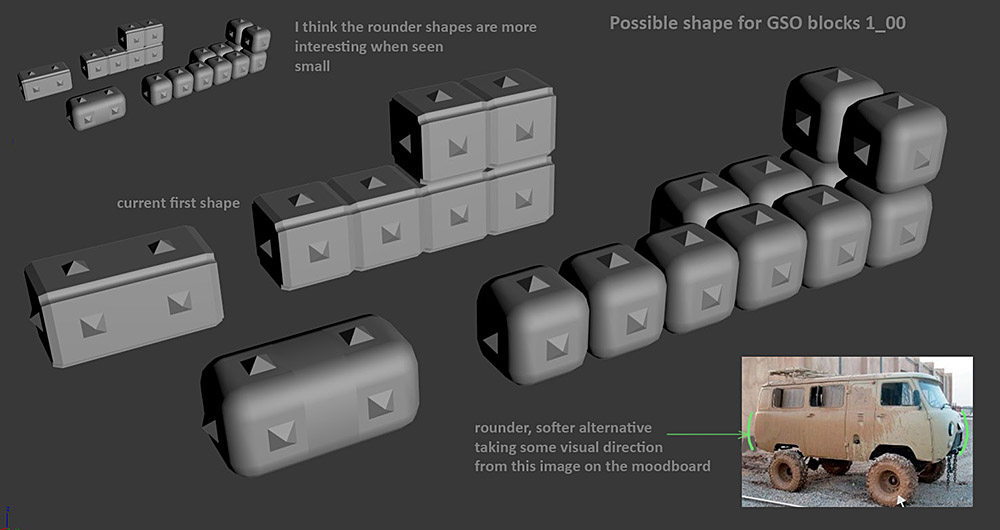 The GSO Corporation is envisaged to echo some style of 1940s, 50s and Cold War era lorries and trucks, with plain functional shapes that include some curves. We spent a lot of time looking at photo reference of crazy Eastern Bloc vehicle designs, and this was a huge influence on the evolution of GSO.
This image shows some test blocks looking at how different bevelling options on the cubes matches this style. Duplicating the models and viewing them in groups helped understand which shapes made attractive patterns when stacked side by side.
The image also shows the first appearance of little pyramid-shaped attachment points in the model. Initially I had imagined these would be best as texture detail. However, playing with the models it became clear the points were much easier to read when they had some volume. This is an example of how gameplay testing influences the ongoing visual design.
Image 6. Early model tests exploring options for the GeoCorp blocks and wheels.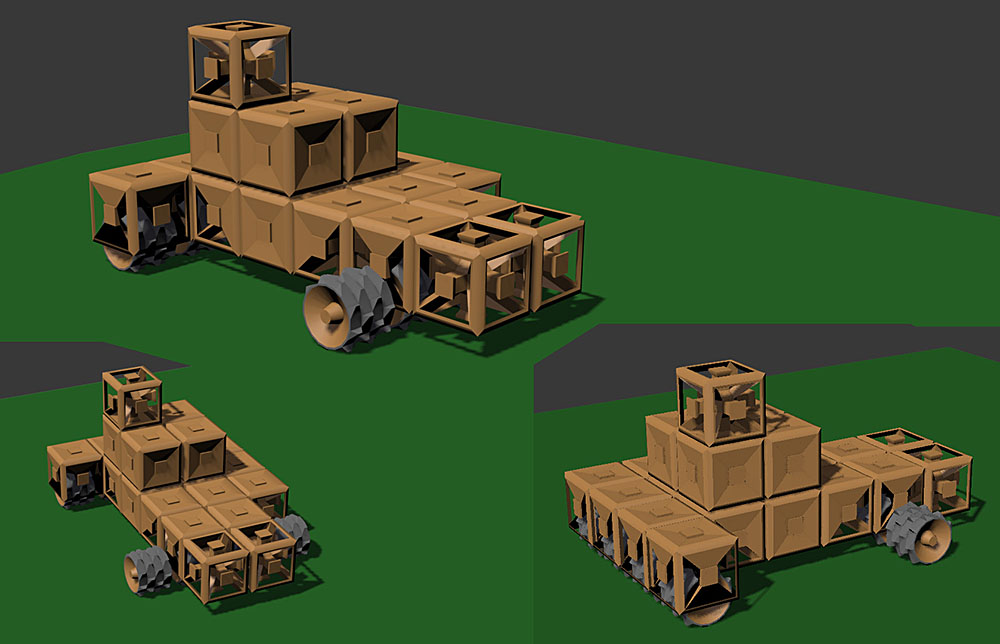 GeoCorp is designed to echo more industrial and mining machinery in its look. This is one of my model tests looking at a GeoCorp block style partly echoing storage tanks. The wheels are influenced by the machinery used to compact trash at large landfill sites.
Image 7. Experiments with texturing surfaces to include 'baked in' lighting.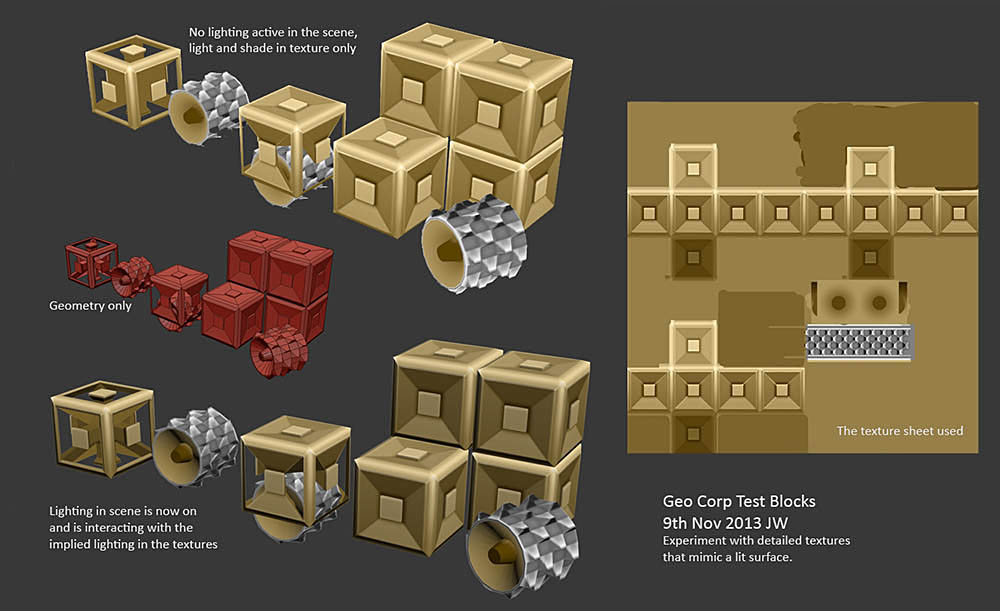 An ongoing question for me was around how much texture detail to include on any one component part. It's a hard balance. The components must be attractive but the goal is always to make the constructed vehicle (whatever that is!) to be the hero. The detail shouldn't overwhelm the whole and become distractingly noisy.
These tests show quite a lot of texture detail. While there were elements I liked, I pulled back from taking this further as it became rather distracting on large test vehicles. Also I found that directional lighting on the cubes was at odds with having the cubes tumble and roll to any angle and position, when the physics runs in the game. If the cube can be at any angle, having an 'up' direction to the texture makes no sense.
Image 8. An early vehicle concept with feedback on the required breakdown of volumes.
With the experimental groundwork done, and some clear style rules established for every corporation, the concepting work began in earnest. This image show Michal's first pass GSO concept, with my feedback. He had got the idea of modularity, but I had to explain more clearly how the cube-based parts fit together.
Concepting parts that make a whole is a very unusual process and quite a lot of time was spent initially with everyone getting comfortable with how the technical requirements would condition how the model concept should look. This image and the next one show some of the first cool looking concepts with feedback on how they needed adjusting to work in game.
Image 9. On-going iteration of concepts while the GSO style is evolved and technical requirements matched.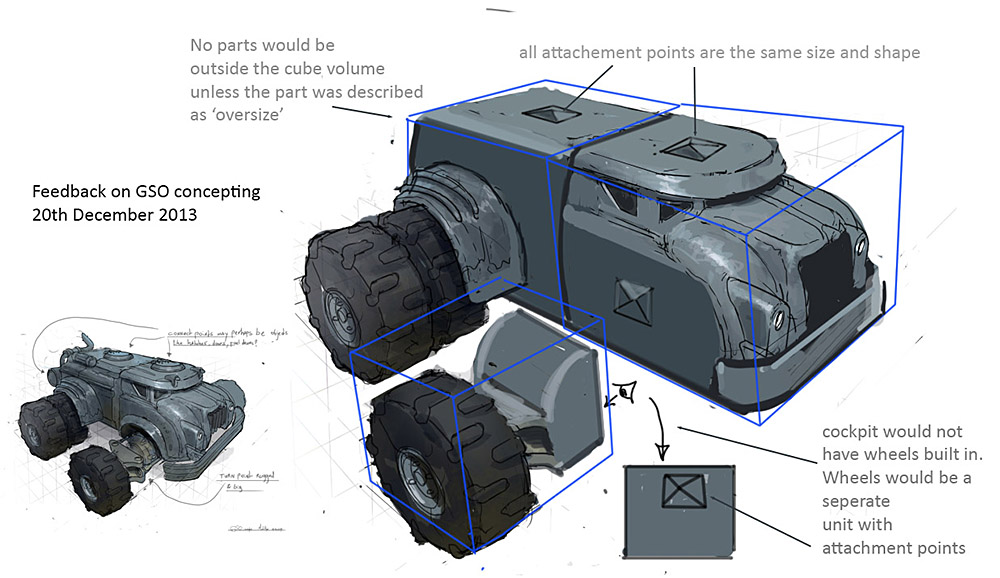 Concept artists are typically expected to make everything as beautiful as they can, but at this stage we were using the concept process to define the design rules behind the assets, so I constantly had to restrain our artists and ask them to simplify and focus on basic shapes. We were all feeling our way through this process!
Image 10. A model sheet with perspective drawings of all the initial components that needed making for GSO blocks.

Concepting is the initial laboratory for developing a look for a project. Some of that concepting is done purely as drawing, some as rough modelling and some as paint-overs on top of screen-grabs of test models. The aim with all these stages is to allow modellers to start production of assets needed for the game to begin as soon as possible.
As we got used to the process, we evolved a system of maintaining a 'model sheet' for each Corporation, showing simple sketches of each component design, ready for a 3D artist to work from. This image shows how the GSO model sheet incorporates all the information needed to make models to go in game.
Image 11. The first untextured set of GSO component models ready for testing in game.
A 3D modeller needs a good deal of skill and experience to interpret a model sheet's flat information into three dimensional models. Our awesome 3D Artist, Tucho, is really good at this, and we can rely on him to creatively resolve practical design problems while keeping the atmosphere of the original concept.
This image shows some first pass game models. These match the volumes needed and hit all the technical requirements as well as being an effective interpretation of the model sheets. At this stage there is deliberately now texturing as we review how the components function in game and in some cases go through many iterations before finalising a component.
Image 12. The first round of feedback on the models based on a visual review.
This image shows some immediate feedback on a visual review of the models for shape and volume and also adding some information about movements and rotations of sub-components we missed on the model sheet.
Image 13. Second round of feedback based on a functional review.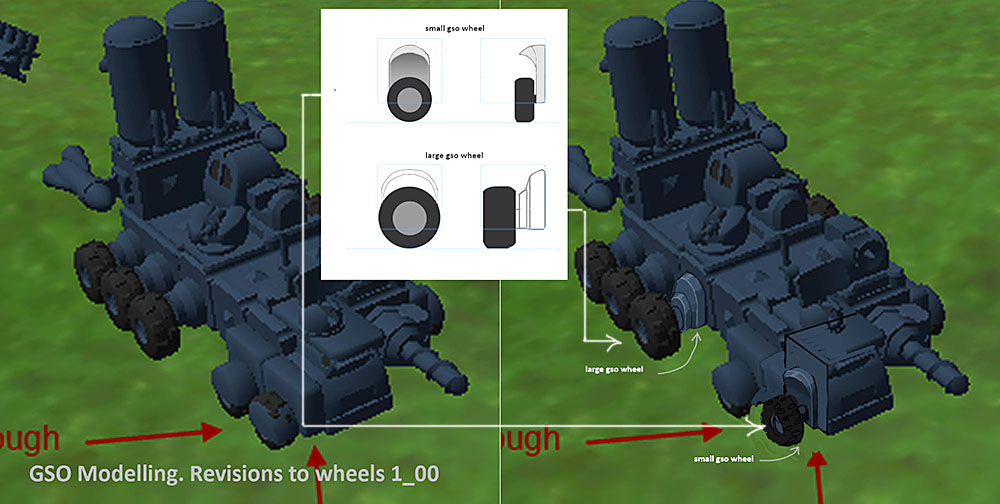 The real test is then live building with the parts in the game. With the GSO components I felt we were not getting enough visual clarity about the different strength of the different wheels. Also you can see a classic example of what happens when a 'paper design meets reality: the small wheels were clipping through the wheel-cover geometry when their suspension moved! Those arched covers would have to go.
This shows a rough paintover with some separate more plan type drawings of how the wheels need to be modified. This process repeated numerous times, and continues even after we have started showing the content in public. For example, we found that having two similar wheel designs at different sizes was not obvious to people new to the game, so we redesigned the small wheels again to have smooth tyres.
Image 14. Some parts like the GSO cockpit were iterated on many times.
For some key components like the cockpit this iteration happened many times. Here is a final paint-over feedback image I made for the cockpit. The square base shape was not sitting well on top of other blocks, and the view-screen shape was hard to read from a distance.
It's important with this kind of iteration that time is managed and communication is good so everyone feels they are pulling together to improve the game rather than going around in circles.
Image 15. The first GSO vehicles running in the demo build.
Payoff! Finally seeing the game running with a full set of GSO modules has been great. Even better has been watching crowds at EGX Rezzed and The Gadget Show playing intently with the demo and building, modifying and fighting with the craziest machines. We've come a long way from the first Biro sketch, and we are still constantly evolving in response to how people react.
I've gone on longer than I expected! Concept and look devleopment is such a fascinating and involved topic that it's hard not to. There's so much more to talk about, as well, which I hope to return to in future posts. Don't forget to check out the demo tomorrow!