So, you got a publishing offer? A contract for all-over-the-world retail publishing is already waiting to be signed?

Congratulations!
It means that one of the morons at the publishers HQ (people like me some years ago, ignorants who are usually too blindfolded to see the true brilliance of your ideas and will never accept you as the genius you are) are at least willing to make some money with your idea. How generous!
And although all of us insist that we love our humble indie developer life, you will now most likely feel like that:

I got a contract! I got a contract!
First of all: Take a deep breath. Calm down.
Don't be afraid: I'm not trying to talk your achievement down, as it is REALLY remarkable (morons, you know...). However I have a backpack full of experience that I want to share with you before you go out and order your new Mercedes.
This is my past experience AFTER I graduated.
However, I started as C64 dev in the 80ies when I was 9-10 years old and made a good students living out of rendering 3DS 4.0 animations mid of the 90ies. But, honestly, I enjoyed my career as journalist and editor more.
There are many projects listed above I´m definitely NOT proud of, but you can see, I know what I am talking about when it comes to the relationships between developers and their beloved publishers. And I know there is an estimated chance of around 85% that you'll most likely end up like that: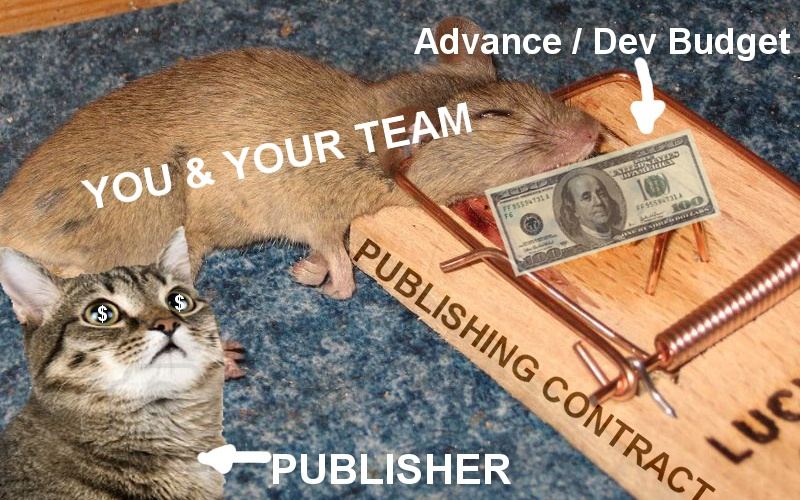 You wouldn't be the first one in THAT trap.
How to avoid that?
Here we go...
1. Check the credibility of your partner.
This means TWO things. First of all, check if the publisher you could sign up with is TRUSTWORTHY. Go to all previous independent developers he worked with, ask them how the partnership went. If it was good, they will tell. If it was bad, they will tell, too. And if they claim they can't talk because of the NDA signed, or if they explain only their CEO could tell but he's right now not available because of selling his kidneys in Egypt to get out of debts, do yourself a favor and burn the contract in an empty barrel. Dancing naked around the fire will boost your mood.
Second, check if he got the promised money for sure, and, even more important, if he will have it when YOUR payday has come. Unless your partner isn't Microsoft, EA, Blizzard, Ubisoft or the Emir of Qatar, the risk of bankruptcy or at least "financial issues" can NEVER be ignored. Don't fall for fancy office buildings, huge company cars or 10.000-dollar-business suits being worn by your contractor. It means NOTHING.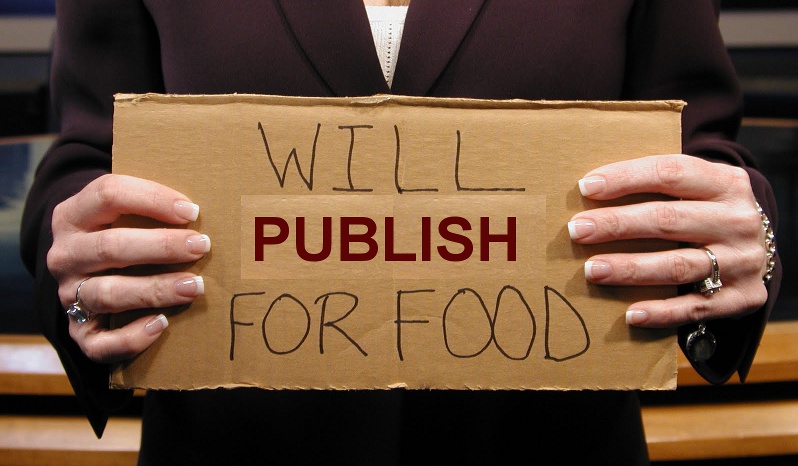 No matter how loaded your partner seems, the risk that he's already past the brink of bankruptcy and trying to get some money out of your ideas before everything melts down, is pretty high in the business.
Ask contractors working for the potential publisher, ask – again – other development studios, ask the Loca studios working for them. And ask your partner for a "non-deniable bank guarantee" over the total development budget.
Sounds paranoid?
LOL.
I have worked as external developer for 5 publishers. 3 of them went down. The total amount of money they owed me when they melted away (and which I never got refunded!) is simewhere around 100.000 Dollars (When I wrote the last time I had to sell my late parents house to survive, it wasn't a joke at all.). I want to spare you a similar fate. I want you to be successful, not bankrupt, in order to create many awesome games I will play & enjoy.
2. Check the milestone schedule twice. And then again.
Best case scenario: The release date in
your contract states "When it's done" and the development
budget is not limited, as you get a nice monthly payment no matter
what you deliver to the publisher in the respective month.
This
is as realistic as riding around the world with a faster-than-light
unicorn featuring a built-in ATM machine distributing your game when
its done.
Most likely you will have a quite tight milestone
schedule, you will get your payments based on the approval of your
delivered milestones, and it will make you feel like that: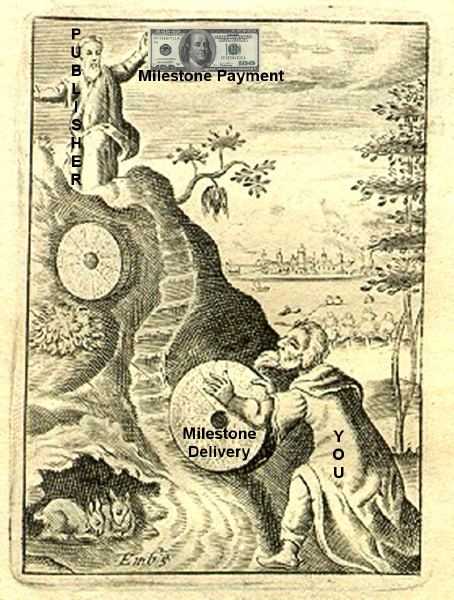 Work, slave! Work!
To avoid that, obey those guidelines:
- Be sure that the release date is realistic. If you believe your game could be ready in 10 months, set a GM date (GoldMaster Date) due in 12 or 14 months
- Be sure that the single milestones are realistic. If the GM date is 14 months from now, an Alpha (which is often described as either feature- or even feature & content complete except voice overs and cut-scenes) 6 months from now is NOT a good idea.
- Ensure enough time for debugging. Depending on the size of your project, 20 – 30% of the whole dev time should be allocated between "Beta" and "GM".
- Try to set assets-only (artworks, renders, videos, screen shots for press) milestones in between the huge "playable" milestones. These are completed more easily and the danger of a milestone rejection on that (leaving you unpaid for several weeks until you re-deliver) is almost 0.
- Make sure the first payments are high enough to ensure you can pay your freelancers or cover your costs of living even when 2 milestones in a row are rejected or the publisher is in troubles and cant pay. This might sound pessimistic, but calculating such a security buffer is really a good idea.
- Be sure the contractual milestone descriptions are bullet-proof. "Playable version" can be defined in 100 different ways, as "Alpha" or "Beta", too. You really don't want to have the publishers legal department explain to you what they meant and why you won't get a dime for what you delivered this time.
3. Check the financial terms
at least 5 times on 2 different days and – if possible – with a lawyer and an accountant at hand. This is the most important message, I can't tell often and loud enough.
Why? Well...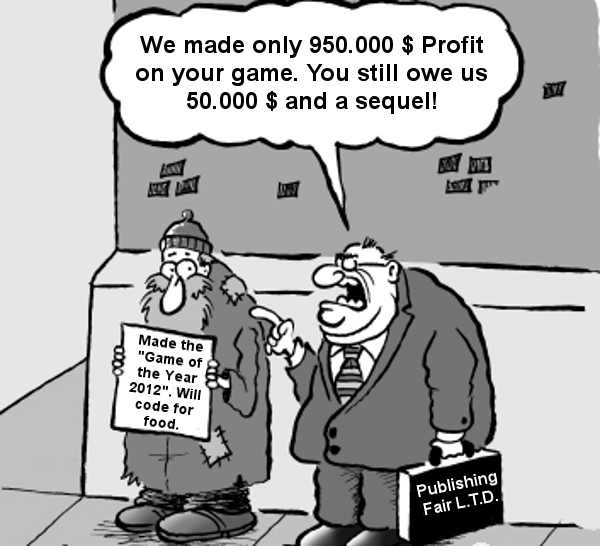 Yes, such a situation IS possible with the contracts floating around in our business.
Share-Deal:
Your contract states that you share the profits with the publisher and no advance payment is going to you?
Good.
At least for the publisher...
Let's cut that short: All development risks are with YOU. You have to finance the whole development, while the publisher will have to pay for production, marketing, PR, sales and most likely localization. Actually, this deal COULD turn out good for you if:
- The publisher has a marketing / PR / sales power you could never put up on your own and is really willing to use that resources to make your game a success
- Your share is AT LEAST 60% and the publisher is entitled to recoup only actual expenses (like paid ads and loca costs) against your royalties.
- You are at least 99% sure that you will get the revenue reports on time and truthfully reported, as well as your money paid.
- You are at least 99% sure the publisher won´t file for bankruptcy during the whole product lifetime of your game.
Advance / Prepaid / Guarantee:
The good thing is, you get money in advance to fund your game development.
The bad thing is, you get money in advance to fund your game development.
Sounds like I am insane? I am! But I'm also right on that one ;)
Well, I still remember the good old days when publishers paid the development budget (or at least the bigger part of it) as advance to the external / independent development studio and then, after release, paid a certain, agreed amount per each sold unit, from the first one on.
I guess this was shortly after WWII, at least it seems so distant to me now.
Today, almost all advances are payed as
ADVANCE AGAINST ROYALITIES
What does that mean? It means basically that all the development budget, all the milestone payments you need for getting the game done anyway, are a LOAN you have to repay with your Royalties.

Still doesn't sound bad?
Example:
*) Your dev budget is 200.000 Dollar.
*) Your Royalty Rate is 25% (which is already a very high rate if the dev budget is fully covered by the publisher).
*) Your contract states that there is something like a "marketing development fund" and a "production development fund", each set at 50% of the development budget.
*) The roys are calculated from NET REVENUES, the advance is recoup-able but not refundable (these two points are considered as developer-friendly)
Let's calculate:
200.000 Dollar + 100% = 400.000 Dollar
This means you get your first royalties after the virtual amount of all your royalties earned up to date exceeds 400.000 Dollar. At a rate of 25%, it means the publisher has earned net revenues of 1.6 millions (!!!!) before you get your first share. If he stays below, you get nothing.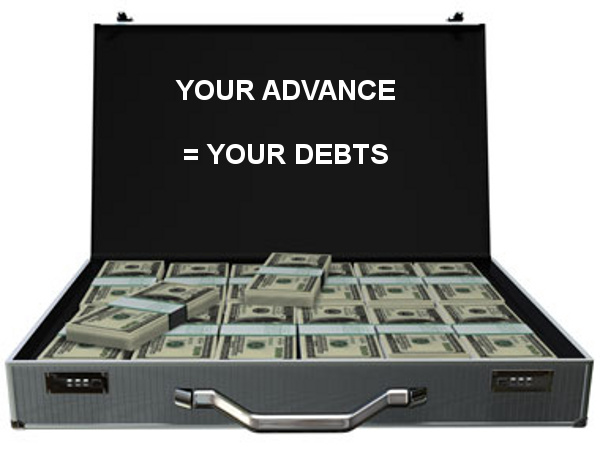 Never forget this fact. Never.
And this example is not the worst case.
Sometimes the roys are calculated from net profits instead of net revenues, allowing the publisher to recoup quite fictional "general costs assigned to project" which means you pay with your royalties for the company car, the sweet young assistant of the CEO, the food for the companies dog and everything else before getting a share.
And this is still not the worst case.
Although very rare, there are contracts floating around where the budget is not only recoup-able, but also refundable. Which means that you are in debt at the publisher if your royalties don't recoup the dev Budget + MDF + PDF. In our example above, it would mean that YOU owe the publisher 100.000 Dollar if he has made "only" 1.2 millions in net revenues.
I haven't seen such a contract in the last 2 years, but they do exist.
I have talked a lot about what will screw you – but what are good terms?
The best would be a fixed rate per unit, like 5$ per unit sold over 30$ retail prize, 4$ per unit over 20$, 3 for each above 15, 2 for each above 10$ and 1 buck for each 9.99 sale. However, this is hard to track, and even harder to administrate, so you won't get such a contract likely.
So, if the dev budget is paid against royalties and assuming the advances cover 100% of your development costs, ensure that:
- The MDF is not higher than 35% and the PDF not higher than 25% and all costs have to be proven.
- Your Roy Share is 25% or higher.
- You are at least 99% sure that you will get the revenue reports on time and truthfully reported, as well as your money paid.
- You are at least 99% sure the publisher won´t file for bankruptcy during the whole product lifetime of your game.
4. Keep your IP – at any costs.
This is a short one:
- Ensure that the contract contains no lines that could lead to your loosing the IP (intellectual property). Do not allow your IP to be used for securing claims of the publisher.
- Sections that state you have to deliver all source assets and compilable source code together with each milestone are to be considered equally dangerous. If you break up with the publisher it would allow him to continue with a hired team working on YOUR game.
- Ensure that the Publisher is NOT entitled to produce "derivative products" without your written permission. Better: Make sure you have all usage rights of the IP except the publishing and distribution rights for the signed project.
- Grant the (non-exclusive) usage of your IP for the shortest period possible, 5 years are OK, 3 years are better.
You made it this far?
Congratulations! This was a heavy load to read. And I really, really hope you keep the points in mind when negotiating with a publisher. Not all of them are evil. But they want to make money, and ripping off an inexperienced developer is pretty easy.