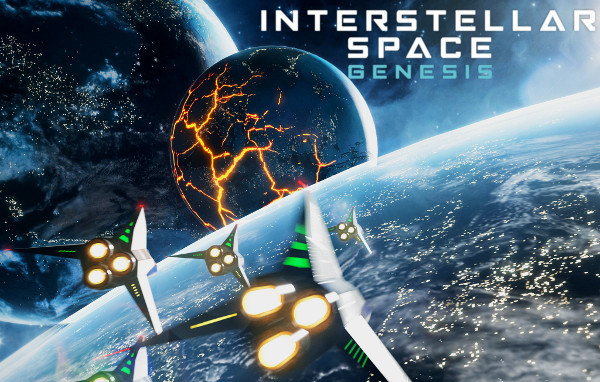 Hello IndieDB community!
In this article I will present the exciting game we've been working on for the past 5 years. I will explain why we are doing it, summarize its main features and let you know what's the current development status at the time of this writing.
Interstellar Space: Genesis, or ISG for short, is a new turn-based space 4X strategy game for the PC currently in the making by Praxis Games with the help of members of the SpaceSector.com community. In ISG, you're the emperor of a space faring civilization. You will explore the wonders of space, expand your influence, exploit the riches that await you and exterminate any opposition that defies you or is in your path.
Why make ISG?
Around 2012 there were very few turn-based space 4X games in the market. And the ones that were available at the time were not hitting the mark and not scratching that itch for a complete and satisfying turn-based space strategy game experience. And then was when the team behind the SpaceSector.com news and reviews website decided to make theirs the task to create a great new entry in the space 4X genre. And also because there is no such thing as too many 4X games! :)
Then Project Space Sector was born, later renamed to Interstellar Space: Genesis. Our mission: - to develop a worthy spiritual successor to Master of Orion 2, the great space 4X game of the 90's. The game would pick up from MoO2's formula, and evolve it in a fresh and innovative manner that would allow the player to experience a 4X game that is new and exciting.
Main features
Turn-based tactical combat: We keep with the Master of Orion 2 formula but with some novelties for an even deeper and satisfying turn-based combat experience.
Free space-based movement with range limits: Your ships can travel to every star as long as there's no celestial object in the way and the destination is in supply range.
Rich exploration mechanics: A more realistic galaxy where black holes, neutron stars, exotic stars, brown dwarfs, white dwarfs, nebulae, asteroid belts and rogue planets await you, all playing a distinct role in the game. Some of which will need to be revealed as you play! Explore systems on site with your survey ships or remotely using your deep space scanners. Explore ancient ruins and prepare to discover the unknown!
Leaders and Espionage: Leaders not only have skills but also traits and desires for additional personality. Leaders accumulate experience, level up and you can choose which primary skills they improve next and even which secondary skills they obtain or upgrade. Some leaders will have espionage skills and you'll be able to send them in espionage missions. Spy missions include sabotaging military installations, tech stealing, go into deep cover to obtain intelligence information and psy-ops missions to influence your rival's leaders into joining your cause.
Ship design: Customize your ships, send them to battle and witness the results of your creation in action with full control!
Race customization: Design your own races with their advantages, disadvantages and special abilities for increased fun, variety and challenge.
Deep colony development and terraforming model: You can see the colonies up close, see the buildings there. You can build planetary improvements, empire projects and even wonders. The worlds are procedurally generated. So, each game will have different planets and terrain views. You can see your planets evolve, and no planet is equal! Terraform your planets or opt to enhance their current ecology instead, your choice.
Random tech trees: Not all techs are present in every game and players may have different tech trees in each game. Discover research artifacts that boost certain research fields and unique techs that can only be found in derelicts or ruins exploration.
Rich and reliable diplomacy system: You can make and break treaties with the alien races for trade, mining rights, research treaties and alliances. Expect lots of personality, a reliable system (where you understand what's going on!) and meaningful and real cooperation.
Define your space civilization wants and desires: Shape the way your empire explores the stars and develops by choosing which cultural path you shall take in each game. Will you be an adventurer, a tycoon, a knowledge seeker, or a mix of these?
Races with different ideal planet types: Play with races with different biochemistries, which prefer different environments and have unique abilities or powers they can use during the game.
Deep economic model: Mine asteroids for minerals, volatiles or study them for research. Exploit interstellar tourism or research in dead stars, and obtain strategic resources that unlock new key technologies and other advantages.
Events: Galactic events, colonization events and exploration events will make the universe feel more alive, one where people have wants and desires and where you'll be making interesting and tough decisions that will help shape their fate.
Development status (as of August 2018)
The current release, which you can pre-order and play immediately, is Pre-Alpha 10. PA10 lacks many features and has many placeholder graphics still but it is a solid and fully playable build that can be played from start to finish.
The next release will be Pre-Alpha 11. This will be very representative of what to expect from ISG gameplay-wise because all the core features will be available for the first time. This will be a monster release that will require all hands on deck, so that we can get balance to be just right. Expect Pre-Alpha 11 to be out around October 2018.
As we have said in our latest dev update, we've just reached a very important milestone, where all the main features are in. Now we enter the final stage of development where it's all about improving, polishing and finalizing all aspects of the game. We're almost there.
We're making the most complete and comprehensive Turn Based Space 4X ever developed. We mean it, we believe that we will achieve that soon, and we count with your support to make it happen! So, please tell your friends about ISG, people who loved the Master of Orion series but also space 4X games or strategy games in general. We're not there yet and we'll be needing all the support we can get in the meantime. So, please consider pre-ordering the game now as that will help accelerate the development and help us deliver the best experience we can at release.
Thanks!
Adam Solo & MalRey
Developers of Interstellar Space: Genesis
Praxis Games
Interstellar Space: Genesis is a new turn-based space 4X strategy game for the PC currently under development by Praxis Games. The game is currently at Pre-Alpha and pre-orders with instant access are open! Feel welcome to open threads and discuss any topic you'd like in the game forums.
Screenshots (Pre-Alpha 10 - Graphics not final!)