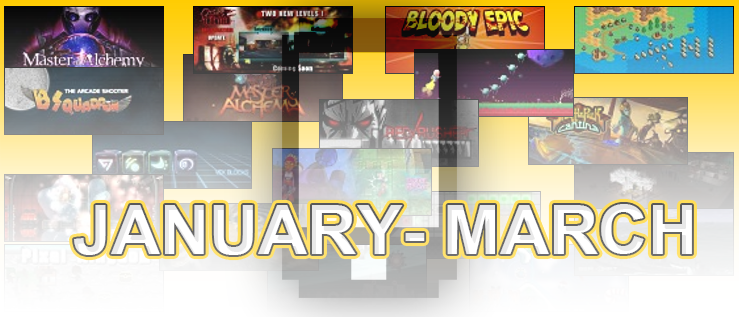 Year in Review 2013 Quarter 01
January through to march saw a great deal of promising cross platform releases, classic puzzlers and out of "our/this" world adventure games, check out the releases and vote for your favorite and dont forget, to check the other news for this period.

STINGOUT is designed as an arcade shooter in the sci-fi theme.
The Player controls a gun which is mounted on a rail system using touch-pads.
Dam the spread of the shapeless and viscous liquid mass by bombarding from afar with selectable cannon, rockets and powerups, Firing is literally done from all barrels! Whilst having to avoid contact with the mass.

H2Flow is an exciting 2D water physics based puzzle game for PC / MAC / iOS / and Android. Reshape your environment with your bombs, barriers, and bricks! Guide the flow of water to the drain!

Hazel Dazzle is a sci-fi, fantasy action-adventure that adds some comedy and takes place at a tiny universe with minute living planets whose inner side hides giant dungeons to explore. It is an iPad video game that uses real 3D not just as a visual feature, but also as a part of its gameplay.
Other Featured Releases in Q1: