Hello, all! It's been a good while since we've posted a devlog, but we here at DVNC have been hard at work for Monochrome. Specifically: preparing for Monochrome RPG's very own Kickstarter campaign! In these last five months, we've been researching, strategizing, hiring, onboarding, updating, and every other -ing you could think of to put our best foot forward on this!
That being said, we noticed during our research a very big problem: the available information for "how to make a Kickstarter" is scattered, very rarely specific to games, and sometimes even inaccessible for devs with no background in sales or marketing. As such, we're making a series of posts to document our process going through our Kickstarter: from prep to publish! The best way to read the full article is from here, at our official monochrome website! However, for now, here's the tl;dr and a short-form summary of what we talk about in our first installment in the Kickstarter series:
​
TL;DR
Validate the idea or use of language through forms, social media, etc.
Build a community (at least 250, preferably 500+) through marketing
Start engaging with Kickstarter campaigns on social media 2+ months ahead of your campaign
Create a demo/prototype product (MVP or Vertical Slice would be great)
Make sure your page is designed like a million dollar campaign (best foot forward)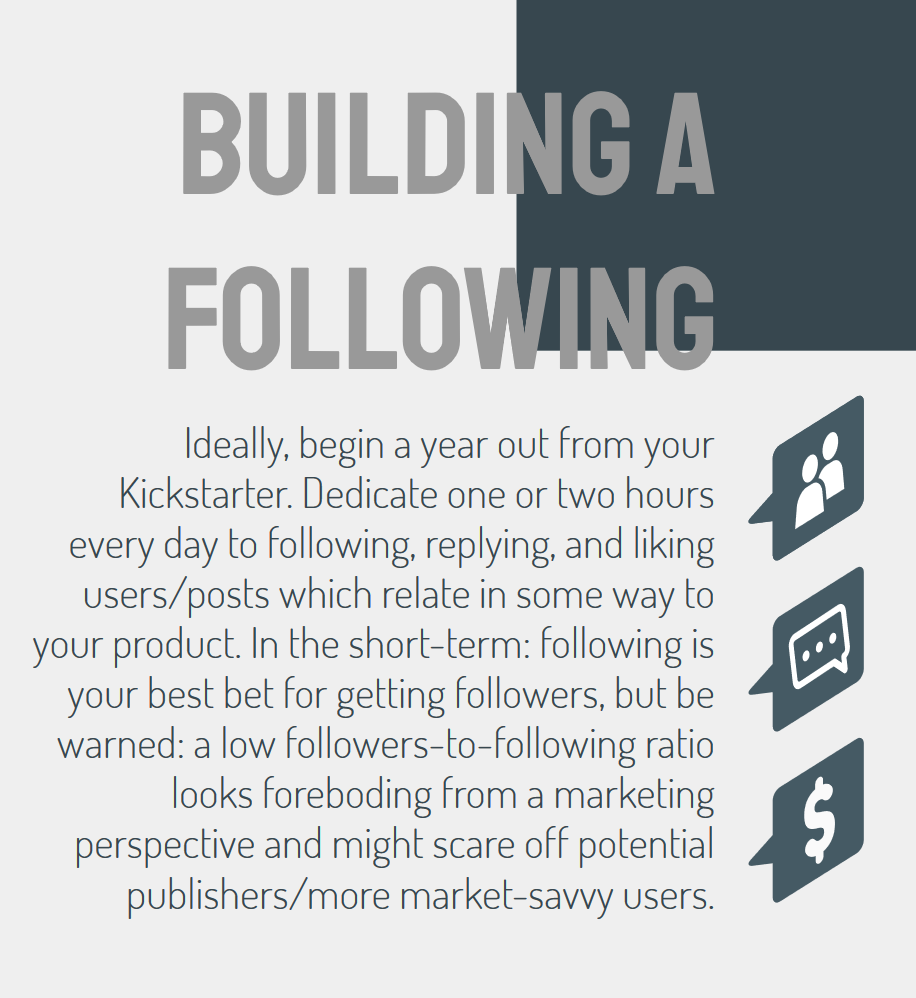 Quick List of Tips/Tricks (better than TL;DR for closer to campaign or Kickstarter emergencies)
This list of quick tips and tricks will be updated with the distilled strategies that work prior to our campaign in late September.
Go on Kickstarter and find relevant projects. Highlight the full campaign title (to get specific search results) then go through the first 5 pages of google and learn: what social medias they used and how they used them, what their website looks like, what news/blog websites they were features in, and who helped promote their campaign (streamers, journalists, developers, employees, etc)
On Twitter (or any other social media of choice with Kickstarter projects), search "kickstarter" and then your type of project such as "videogame" or "indiegame". Once you find relevant Kickstarters, you should:

Add them to a list
Engage and comment on their profile (3-5 times)
Find their latest posts mentioning the Kickstarter and start engaging with people who engaged with their posts (comment/like on profile's that retweeted the Kickstarter's tweet)

If you have a budget (even a small budget) we'd recommend starting to test paid advertising as early as possible. Use follower campaigns to build an audience while also learning what messaging and visuals resonate with that audience.
Once again, we highly recommend visiting our official website page for the full article!​​ Also, please consider checking out our Kickstarter preview!​​ If you like what you see, you can even follow the project to be notified when our official Kickstarter campaign opens.