Celebrating their placement together in the IndieDB Player's Choice awards for 2021's Indie of the Year, Hedon: Bloodrite, Dread Templar, and Forgive Me Father have been bundled together on Steam with a 15% discount!

The #2 Indie of the year 2021, Hedon Bloodrite, lets you immerse yourself in a crystalpunk underworld where the visceral combat of the 90s' FPS games blends with the exploration and puzzle solving of classic dungeon crawlers and adventure games. Beginning as an ambitious DOOM 1/2 total conversion with bucket loads of personality and personal vision, the game has evolved over the last few years into a gigantic offering, rife with the marrying of DOOM nostalgia and new creative direction. The most recent (and free) Bloodrite update added a significant offering to an already remarkable package.
The #4 Indie of the year 2021, Forgive Me Father, is a dark retro horror FPS set in a comic book style world inspired by the novels of H.P. Lovecraft. As the only one left with full senses, you begin a journey in search of answers and relief. Another 2.5D shooter, Forgive Me Father takes things in a very different direction to Hedon, cementing players in an eerie world of cultic madness. Sanity mechanics have a direct effect on gameplay, where varied enemy types and the hand-drawn comic-book style both immerse you in the game's environment. Currently in Early Access, the game is already a formidable playthrough and seems destined to grow more impressive over time.
The #7 Indie of the year 2021, Dread Templar, is a fast-paced retro FPS that combines 90s classic shooter elements with modern skill-based FPS controls. You are a Dread Templar who entered Hell seeking revenge. But in order to get it, you have to fight your way through the dark realm! Taking combat into 3D, Dread Templar is at once a love letter to and an innovation on Quake-era shooters, with low-poly, grungy aesthetics. Blood and gore is abound and though also in early access, is another game that proves it deserves your money and your time right now.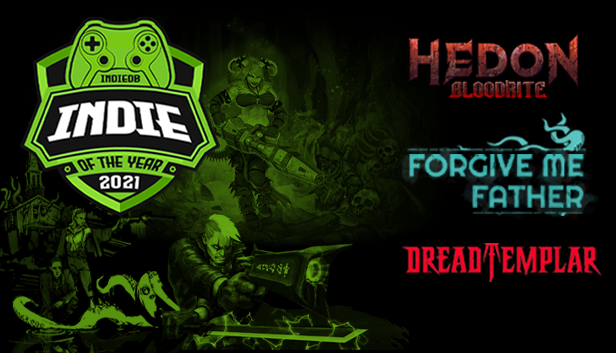 The bundle is currently available on Steam for 15% off on all three titles, which is more than worth it for three solid, innovative retro shooters. All three were selected by our very own site users for their quality so if you were one of those who voted for all three, then this bundle may just be your dream come true.