Now that our Kickstarter is in full swing, we got a groovy new announcement!
Like many of you, we're big Minecraft fans here at Wicked Loot. I personally spent countless hours in Minecraft creating massive structures, ships and stuff which inspired me to see whether I can build a voxel game that focused on big battles. Which got me thinking: Could we make it wicked easy to take your Minecraft creations and put it into our game? The answer is: Yes!
We are planning on launching a Minecraft Import Tool (MIT), and this video walks you through how it works.
Even at this early stage (yes, the color transition is still a bit wonky!), we got the tool to support the popular file format Minecraft Schematics. Which is great because there are already thousands of things that other Minecraft creators have conjured up and shared. One of the best sites out there, run by our friend Endimmion, is a portal to tons of great user created fortresses, dragons, ships, castles and more.We plan to have this tool around the same time as our alpha launch, so we can gather feedback on how to make it better.
To be clear, our goal wasn't to support a tit for tat feature conversion from Minecraft since our game is more about battles and Mojang's masterpiece is more about… mining… and crafting. But we're curious to hear what you think!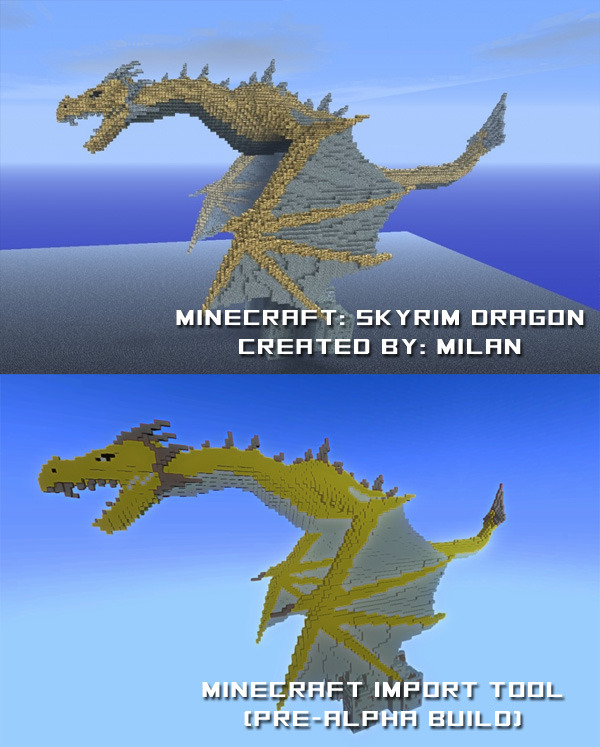 We LOVE voxels. And we think it's about time it had a spotlight next to pixels and polygons. What makes voxels so great is that it can potentially make it easy to share game assets from game to game. We'd love to help facilitate that, especially for user generated content. Stay tuned for more news about support for other file formats soon!
Don't forget to back us on Kickstarter!
John Master Lee ** Game Designer ** Wicked Loot