So I may've said that there won't be a patch inbetween 0.5.5 and 0.6.0. I've changed my mind because of some recent changes to the GUI system in that I've fixed up the FPS drops caused by having the GUI enabled which is a pretty important issue.
One of the first changes is an indication of when you're bleeding by tinting the body parts icon: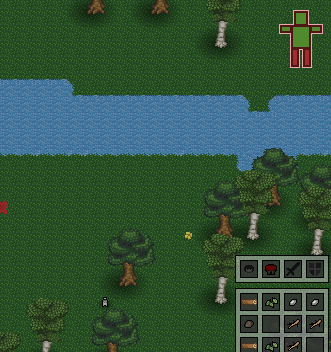 Blind mode will now be unlocked for all difficulties and tips have been removed from blind mode worlds and unforgiving worlds.
The new building system has been added. Now, you will need to use a variety of materials to create your buildings. Huts will now require leaves and logs and all materials can now be added by dragging the material from your inventory and dropping it onto the building.
Lastly there will be a new GUI for the various bars (i.e. hunger, blood, etc) but I'll unveil those when they're ready.
Hopefully the patch should be out fairly soon: possibly this weekend or at the very latest next week.