Narrative / Storywise | 'The third eye on the cross road'




Storywise and Narrative :
*No spoiler, just some key concepts*

A game thrill narrative themes is to create curiosity ,suspense ,mythical and horror experience.
With Choice and consequence system are great format to tell a story into collision of these themes.
As The big overall story is being laid there but not directly narrated,
Instead subtly engaging you in with quests and your own length investigation by the game 'sense' mechanism.

There's no main story-line or quest. So,you may experience the story each time with different pacing and theme depending on your choices and order of your constructing narrative. I think that is something that can only be beautifully done in Game. While Movie media is only active in their way of telling story, Game have its way of capable on being passive. Its add replay value and create individual experience for player and make them specially yours. A week,7 days Hotel stays is the game rigid time-frame that design to be controlled but yet freedom in its pacing.

while the thrill events is the appealing key. the main theme will also be surrounding on the idea of 'hotel' / an alien new place for you!. an escape for the depressed, to take yourself out from your context, and being so far far away that feel like there wont be consequences, to temporary leave your identity and create new one in new environment where no one know you for a period of time ,which could be a good epitome of a role-playing game. Giving yourself vacation to go thru either just relaxation or some hardship situation for a change, either to re-identify or re fresh or just to lose control. which hotel is my fit setting for modern 'a role-playing' game.


Here some rough sketch of diagram on how the game overall choices would work :
*apologize if it was confusing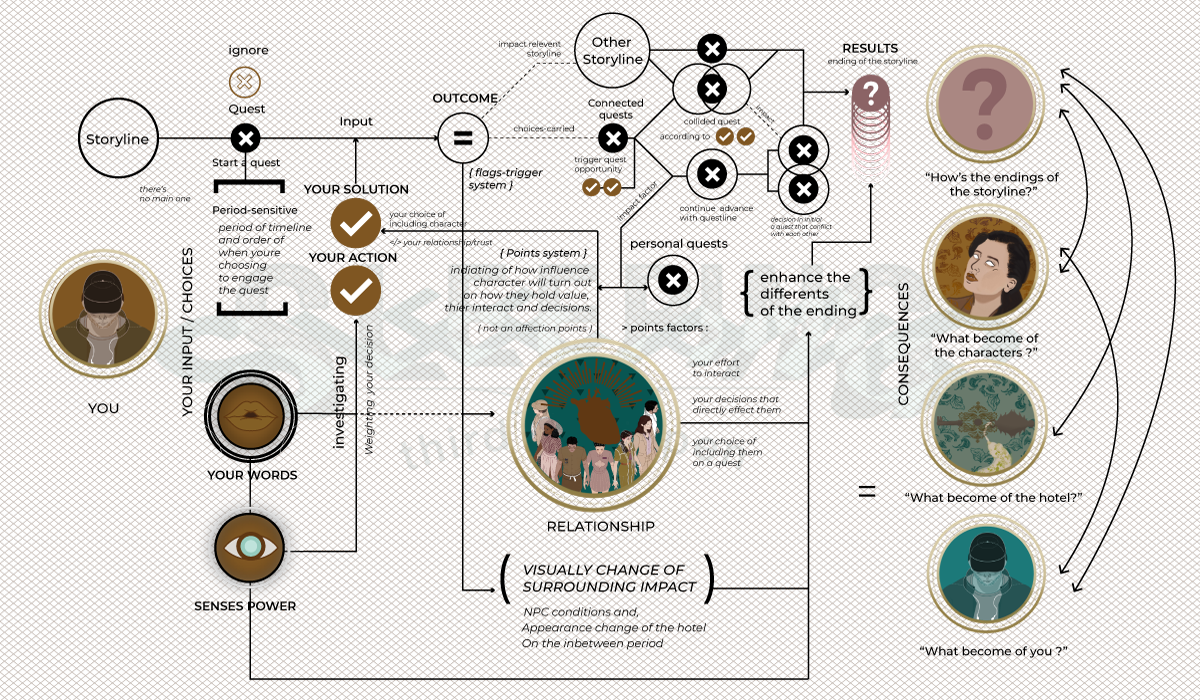 Choice and Consequence diagram

note :
Kent Hudson recently had a wonderful GDC speak on his game Dynamic narrative,Novelist is an inspiration of mine in great decision design on points systems that deal with narrative of conflict and dilemma for you to balancing and compromising. Additionally,The detail changes of surrounding is something i'm inspired and adore so. it's a tiny bit but yet effectively giving satisfaction at least for me in game's acknowledgment your action.


---

Tiny note : On Black art theme and setting

As Southeast Asian black art lore are not commonly represented.
I reckon there are some similarities in The black art and believe around the world.
From Poland's folk lore , Louisiana Voodoo, to Cambodia shaman. Inspired by none other than
The Witcher 3: Wild Hunt's adaptation of polish folklore. The Water hag to that flying blue glowing baby 'botching'.
i find some similarity in Thai folklore as well. The botching lore is almost similar to Thai's in superstition world,
The making of 'Kuman Thong' or translated 'a golden boy'. a practice of necromancy to use unborn miscarriage fetus
conducting the proper ceremonial ritual to invoke for bring prosperity and spirit guidance. how interesting is that! or creepy...
---