Before anyone gets too excited, I have to, regrettably, start out on a low note -- No, we don't have a game for you right now. Development is a painstaking process, and we have multiple people working on the code from multiple ends, but today, we still can't release.
That being said, many grand symphonies have started out low. It is my pleasure to introduce to you a beautiful piece of art created by our newest composer, Alessandro Penna, aka "Doggit" - The Underwater Theme.
This, along with a space theme by the same talented composer, will be available for you to download shortly.
Now that you've something nice to listen to, I can begin to fill you in on some of the mysteries of development. All aspects are still coming along quite nicely, and we've been developing a lot of new ideas and trying to find holes in old ones to fill. Personally, I've been doing a lot of maths, which will aide us in the future, but can already tell you a lot about the game. Gallileo once said that "Mathematics is the language with which God wrote the universe." We're using C++ and OpenGL as well, but the process is fairly analogous.
Since you will be evolving on a planet, it's a good idea for me to elaborate on how the planet will work and be constructed. This might get a bit dense, so I'll try to find some pictures to help out.
Our planet is a cube, but not an ordinary cube- it's distended into the shape of a sphere so that it resembles a planet. We use the cube because surface coordinates and mapping are easy to do on a cube, and can be easily transferred to a sphere mathematically. Our planets will essentially be very complex versions of this: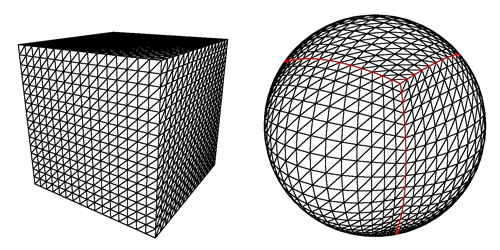 Only the geometry of the original cube can be maintained, so we can only have a certain level of detail. We've based the following figures on an edge length (for each single unit on the planet's surface) of 3 meters. Of course, they'll all have slightly different lengths when distended, but the original length will be 3m.
Given that, we've discussed using a 4096*4096*6 tile arrangement for the cube, which would result in a total flat surface area of 474.36 km2. People often make comparisons between thrive and spore- spore players estimated the total surface area of a spore world (including areas that you couldn't visit because they were underwater) to be roughly 1.5 km2. This means that a planet in thrive will have at least 316 times more area to explore than a spore planet. And you can explore it underwater, which brings us to our next bombshell.
We've assured you that you can play as an underwater organism in Thrive, and that's a promise we plan on keeping. However, we've always discussed in depth the possibility of creating a civilization underwater, and always agreed that it's a distinct possibility- to a point.
The problem is that just about every technology known to man requires a certain prerequisite technology, that we've had for a long, long time, and that is impossible to have underwater. If you're some sort of genius, you'll have already guessed that that technology is fire. Fire is a prerequisite for metalworking, which pretty much defines all technology after the stone age. Underwater, you'll never be able to work metals, and therefore will be trapped in the stone age forever, unless you:
Are given technology by another race (we call this being "uplifted")
Are amphibious, or somehow develop technology that allows you to be amphibious
Unless either of those is fulfilled, you're not going very far. And believe me when I say that we've explored every angle, from underwater volcanoes (not hot enough), to seawater batteries(difficult to control if you somehow build them underwater), to electric eel farms (ridiculous) to try to find a way to work metals underwater. Sadly, we've found none.
Our number one concern after we'd finished the evolution concept (which has been tweaked a little, but remains basically the same), was the Tech Editor. Unlike the OE it should be able to build anything, and doesn't have any certain hierarchy with which to build it. We've recently done a lot of conceptual work on the TE, and created a basic conceptual framework upon which to build it. Here's a quote from the thread:
Someone wrote: Structural Design Tab- for supports and the internal skeleton of the tech contains different beams, boxes, etc that will support the surfaces and FPs laid onto them.

Surfacing Tab- for the smooth surfaces of a TO, the walls of a building or the sheetmetal of a car
Internal Systems Tab- the tab in which FPs are placed onto the structure

These tabs don't need to be used in any specific order (unlike the OE) so you can drag out a FP and then build up from it if you wish.

There will be several different tools for shaping in the surfacing and structural tabs, which we should discuss in greater detail soon. These tabs will also hold some simple machine FPs so there won't be a need to constantly shift from one tab to another If you are making, say, a folding chair, because its hinges are "joint" FPs.

A materials tool is present in all of the tabs, which allows the user to select the materials that a structure, surface, or FP is made of. FPs will be modified through spore-like handles.

Here's some ideas of my own:
FPs can be edited further through "deep editing" where their exact attributes can be modified numerically, through sliders, etc. to fine tune their shape, structure, and behavior to the player's desire.

In the FP tab, as well as the other two tabs, there are symmetry options just like those in the OE, so radial, bilateral, and asymmetric settings can be switched between. However, in the FP tab, there are more options. FPs can be "symmetrified" so that two of the same FP will have all of the exact same attributes, and if the attributes of one are changed, the attributes of all are changed. If the player wishes to stop symmetrification, they can remove one or all the FPs from the symmetry group.
If that doesn't get you excited, see the top of this thread.
That's not everything that's been happening, but I thought it would be appropriate for you all to know what's going on. Please, if you have any questions, ask them here, and if you know any programmers, send them our way.
Mine and the team's best regards to all our fans,
~sciocont, Revolutionary Games Team Lead
-A more in-depth look at planet-making can be found on this brilliant website.