Many people Do not know the Geometry and Areas of Australia. so this will explain it all for you.
-- Stage One:
Spawning.
Remember When you Spawn there is a Locker to your immediate left.. That contains your starting equipment.. You dont have to take it, But I recommend taking all of it.
First Journey:
If you Dont Know Your way around Australia.. or Where you should go.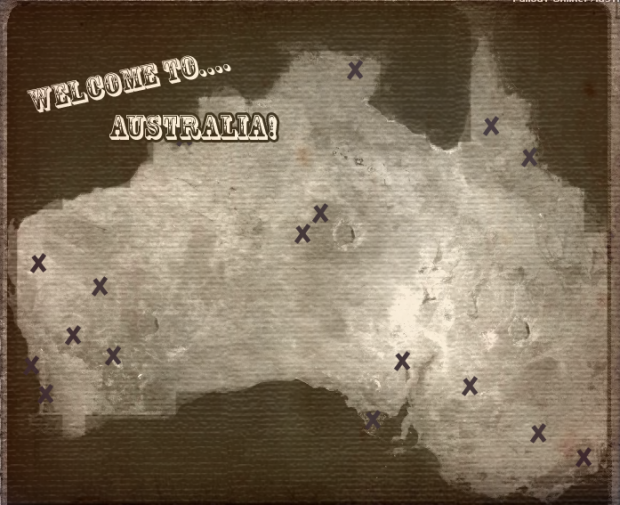 Each one of those "X" Markers is a Town/Location.
WARNING: Before you go ahead and start walking around... The East and South-East areas of the Country are DANGEROUS. It is highly recommended New Players do not proceed in that direction.
The North-East Markers Show the B.A.S ( Brisbane Alliance of States ) its a Strong City built within Fortification and Internal Strength. It dosent expand it upgrades its interiors.
The Center markers are Military Installations.. nothing Important..
The Far South Marker is "Adelaide" The Most Populated area in the Wasteland. Its quite a large city with lots of Casino's, Mafia's, Strip Clubs and other Things of Criminal natures.
The Far South-East is the New Australia Republic ( N.A.R ) and its Colonies Greyford and Broken Hills.
They are a Strong Nation that is constantly raiding B.A.S, There Nemesis Nation.

Guide to Crafting and Other things of That Nature.
To find Ore and Minerals, Go into a Random Encounter that has a mountaneous cliff-side with what looks like lots of stones and rocks pooling over the side. using a sledgehammer on these rocks will give you Ores and Minerals.
To Find Fruit and Water: ( REQUIRES OUTDOORSMAN )
Fruit grows on Green Stalk plants.
Water is found within Green Gum-Trees. After Hundreds of years of Post Apocalyptic Heat and Radiation. The Tree has evolved into a Half Tree-Half Cactus. it Stores its own Water
Cotton is found around Water Trees often. but it can also be found in towns. it looks like a small green shrub
Desert Gords. they look like a tall bush, can be found in Encounters. ( Dosent Require Outdoorsman to Pick up )
Architecture:
To become an architect to Craft Small Towns, Vaults, Trading Posts, Churches Ect you need to find an Architect NPC.
One can be Found in the NAR
One can be found in Broome.
One can be found in Broken Hills
One can be Found in Parkes
Weapons, Ammo, Armour Crafting Ect
You dont need to be trained to make anything, you only need to gain more repair and science skills. this will unlock some items on your fix boy which you can then craft.

Robot Craft
Robots can now be Crafted!

Vehicle Craft
Vehicles can now be Crafted!