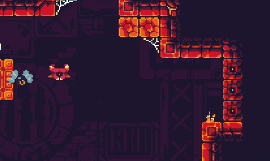 Hey Bringers!

We are super pumped to finally unveil our new game that we are making with sound designer Joonas Turner and publisher Dear Villagers.

ScourgeBringer is a super fast-paced rogue-platformer. You can image it as a blend between Devil May Cry and Celeste. You can jump around, climb and slide on walls, and slash, dash, smash, blast ALL THE THINGS!
Discover our reveal trailer to celebrate:



Join us on Discord or subscribe to our newsletter to get weekly updates about our progress on the game!

You will get the chance to possibly join the alpha / beta of the game and interact directly with the team!

We're looking forward to show more content and blast our way through Steam!

Cheers!