Weekly Wrap-up Highlights #9:
08/01/2016 - 08/15/2016
These past couple of weeks have seen some additional polishing added to Mischieviots. I've reached out to two music artists for creating additional music and sound effects for the game and am looking forward to seeing how it all works out.
Private alpha continues
Our first adventure, "The Gathering", is fully playable now with about 2 hours of game play available (more if you take your time and far less if you really rush it). The boss is now complete and you can now "finish" the adventure upon defeating the boss. There is enough equipment and spells available to take you up to level 12, but current testing seems to land you around level 8 by the time you reach the boss.
Mischieviots remains in private alpha testing as we continue gathering all kinds of feedback on the mini-adventure being used to test out all the mechanics of the game. If you are interested in helping out with bug finding, feedback etc, give me a shout and I can help you get started!
Our first trailer released!
I decided recently that it was probably time to start working on at least one trailer for Mischieviots. Since RPG's are typically more heavily story based, it is sometimes hard to show "action" in their trailers, so I wanted to have a little fun with it and this is what I came up with:
Day/Night Cycles
To add in a bit of variance to the game, I decided to try out a day/night cycle that would roll over often enough to actually notice it. All four stages are used: Dawn to Day to Dusk to Night. and each one will slowly shift into the next. This day/night cycle is applied to both the exploration maps and combat; so if you happen to get into battle during night, you have to fight in the dark! I've been considering bonuses/penalties for various things during day/night, but haven't put a lot of thought into it yet. Here's a quick picture of what combat looks like at night: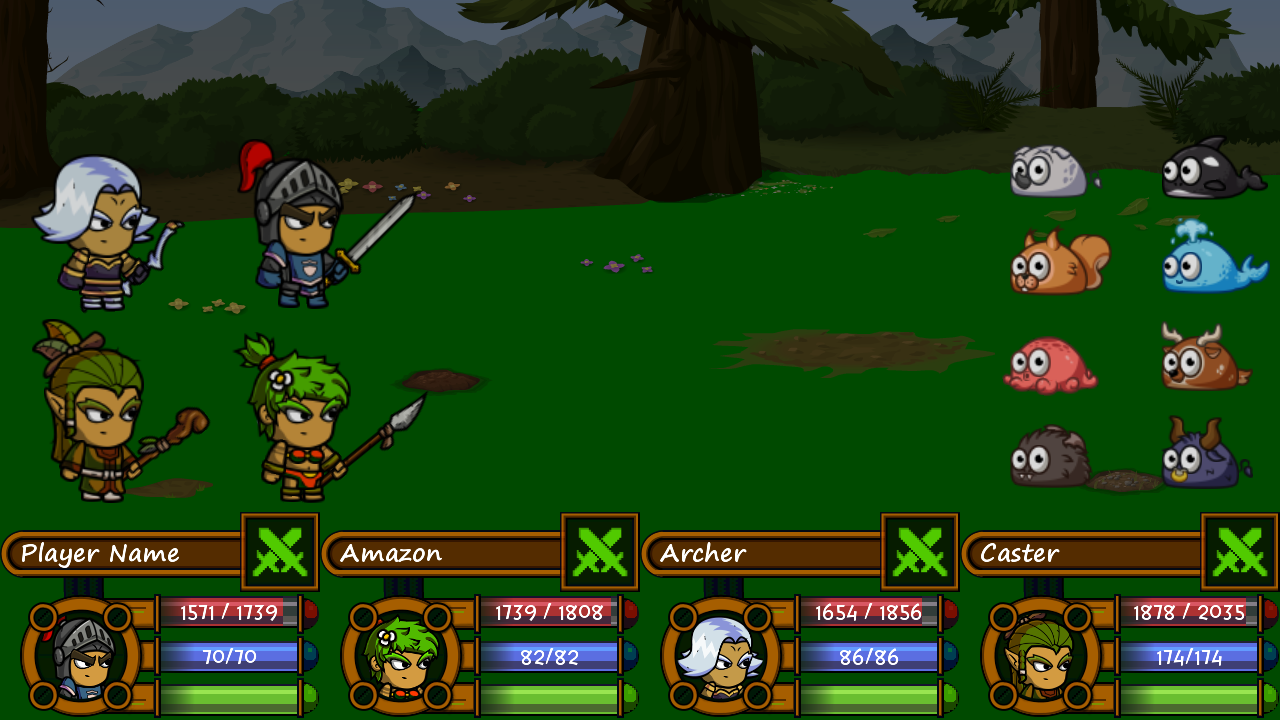 Screen Shaking
A while back someone suggested to me that I should add in screen shaking during combat for special attacks to make them feel more exciting. Since the last update I've gone and added in this screen shaking and fully agree; it does add some nice effect to their attacks. I then decided to also add the screen shaking to outside of combat during "mini-scene's" giving them a bit more feel also. Here's a couple GIF's showing off the screen shaking in two places:
Updated Combat and sounds effects
This past week I've received my first batch of sound effects to be used for combat. I also decided to try and spice up the combat itself a bit more by adding in a variance of attacks instead of the previous "always the same one". For example, previously when the knight attacked, he'd always use his "slash" attack. Now, he'll choose from one of four: Slash, Chop, Thrust and Throw. Depending on how many targets he's attacking, he may also choose more than one of these in a single attack, really mixing things up. Here's a really quick video showing the new combat adjustments along with some of their new sound effects:
Want More?
If you're interested in reading more about Mischieviots, or catching up on older posts, feel free to visit us at: