Weekly Wrap-up Highlights #10:
08/16/2016 - 08/28/2016
These past couple of weeks I've been focusing again on polishing and bug fixes. There have been a few visual things changed that I'm going to share today.
Private alpha continues
Our first adventure, "The Gathering", is fully playable now with about 2 hours of game play available (more if you take your time and far less if you really rush it). The boss is now complete and you can now "finish" the adventure upon defeating the boss. There is enough equipment and spells available to take you up to level 12, but current testing seems to land you around level 8 by the time you reach the boss.
New special attack for Bandit
The Bandit in the party started running into the same problem the Archer did. Due to their weapons only ever having a single target option, they always ended up feeling a bit lacking in the damage. To compensate for this I gave the Ice Archer a special attack that did party damage and made it available quite often. Since the Bandit also ended up having this same problem, he now also has a similar attack (although slightly higher level). Here's a quick GIF showing off his new attack: Flurry of Fire Knives!
New optional in East Forest
This week I've added in a new optional fight in the forest just outside of town. The first time you come across our little "friends", they may be quite a bit tougher than you, but that shouldn't stop you from at least trying as you can return later and try again.

If you do beat them (first time, or even later) you do get some nice toys in the chests that are hiding behind them; so it's worth it!

Here's my first attempt as a fresh-from-town level 2; it doesn't go so well…
New item added: Magical Compass!
Should you defeat the optional in the East Forest, one of the items you'll obtain is the Magical Compass. This handy little item allows the player to teleport directly back to their town from any place in the game. Here's a little GIF showing us using it: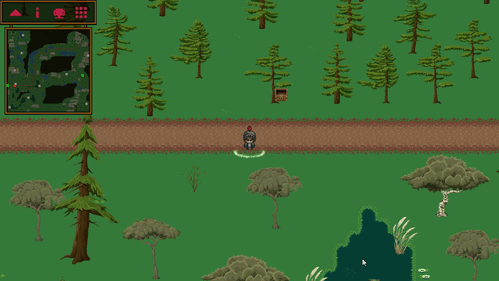 Want More?
If you're interested in reading more about Mischieviots, or catching up on older posts, feel free to visit us at: