Greetings to all!
After the important announcement last week (if you missed it, go here to read it first!) we wanted to honor our agreement with the community and inform you about the game's development. We'll take this opportunity to show you one of the aspects of the game being (re)made for the current version of Warlander. This time we'll talk a little bit about the map which you use to traverse the game's world. Keep in mind that all of this is still a work in progress, so your feedback is quite welcome!
When you start the game, you'll see a procedurally generated map of the world with the interconnected arenas, each with different challenges. As you can see in the example given here, you may choose your path and encounters will vary. Also, because of procedural generation, the map will be different for each run.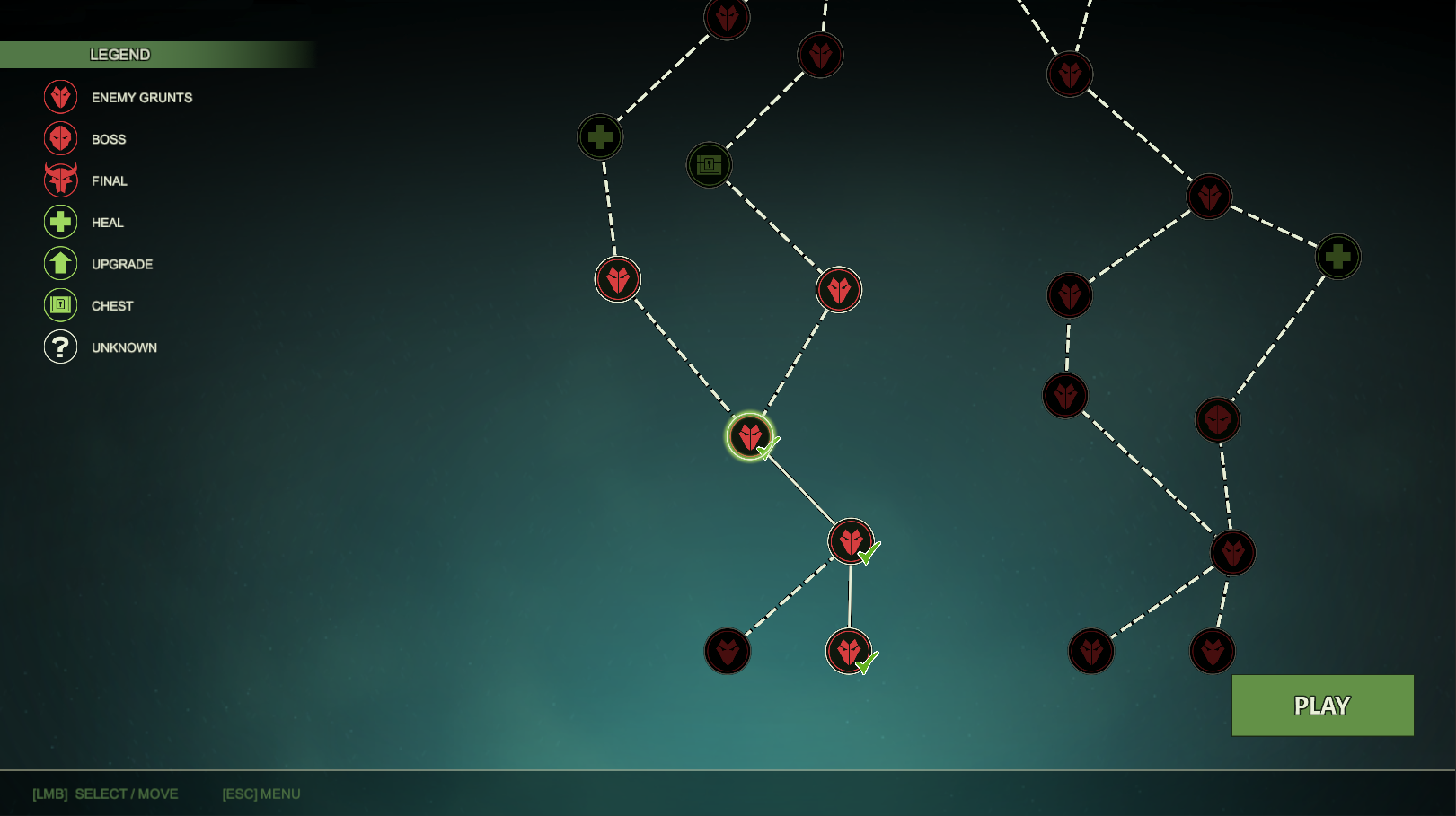 MAP - WORK IN PROGRESS
In most of the encounters, you'll have the opportunity to show your swordsmanship skills and kill all the opponents. In some, various bosses await you and you must fight like there is no tomorrow. Other encounters are more rewarding and give you the possibility to heal yourself, obtain an upgrade from the great Devourer or get a random buff that will last until the end of the run. Or, you may risk it and enter an unknown node and face perils or blessing with equal chance.
Each time you reach an intersection, you are offered a choice and it's up to you to decide where the path will take you. Do you take the road with fewer enemies but fewer possibilities to earn XP and body parts, thus devoiding yourself of upgrades? Or, do you go full rampage mode and look for as much combat as you can, to crush anyone who dares to challenge you? Each choice has its ups and downs, but in the end, it's your choice that drives you on the path. And remember, vengeance cannot be sated - only tempered.
By offering the players a choice to forge their own path, and by changing it each time you start the game, we believe that the game feels new each time it's started. Each run will feel different and offer a unique set of challenges and benefits. We'll talk a little bit more about the arenas you'll face in the weeks to come, and we hope this blog about the map and the way the game will work was interesting enough for you. As always, wishlist us on Steam, and also join us on Discord, Twitter, Facebook, and Youtube.

Until next time,
CDG Team