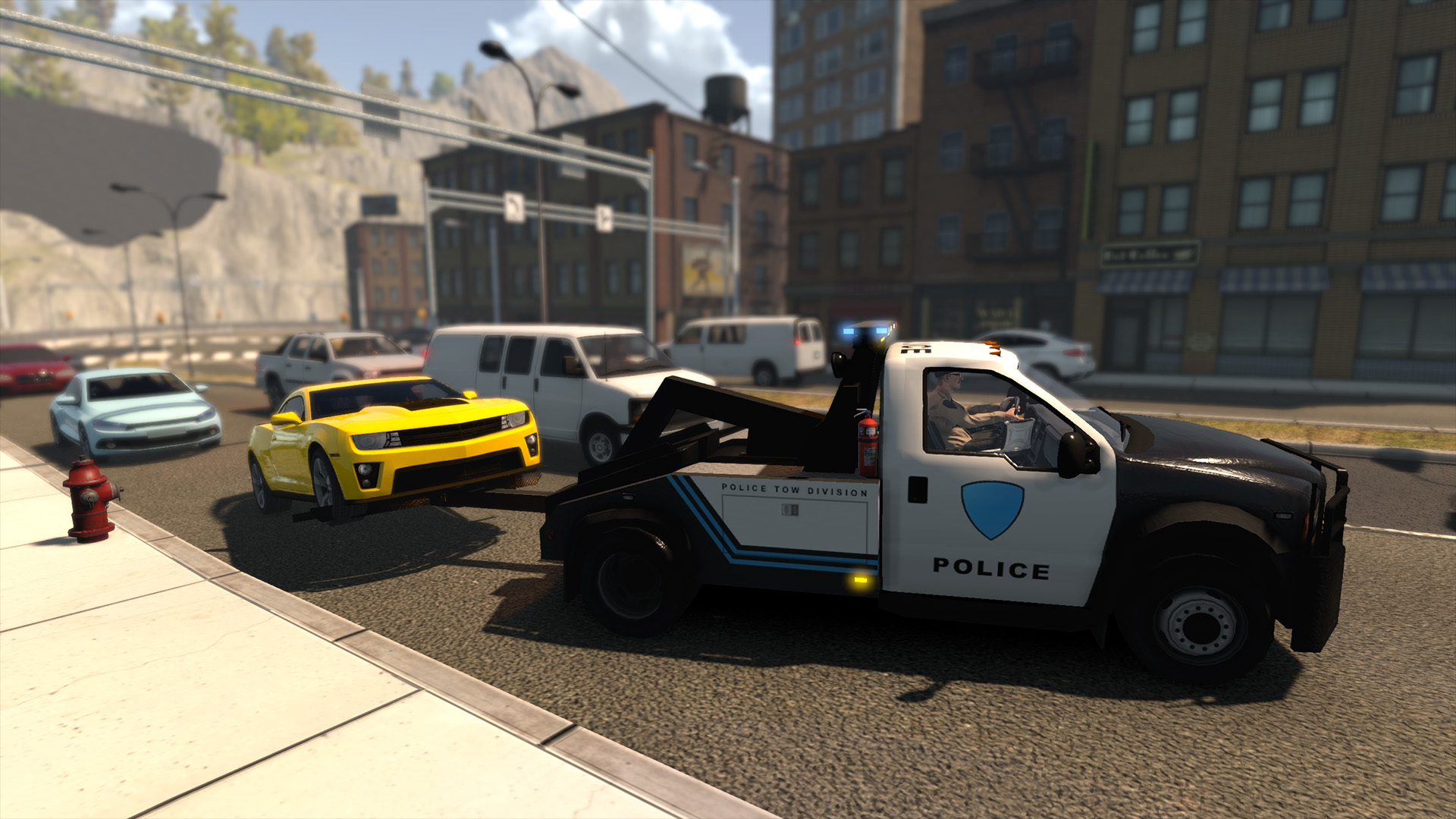 Hello all,

The Flashing Lights February update is now live, introducing a player-controlled tow truck and towing callouts to match, along with a brand new arsonist callout! Read towards the end of this announcement for the full patch notes.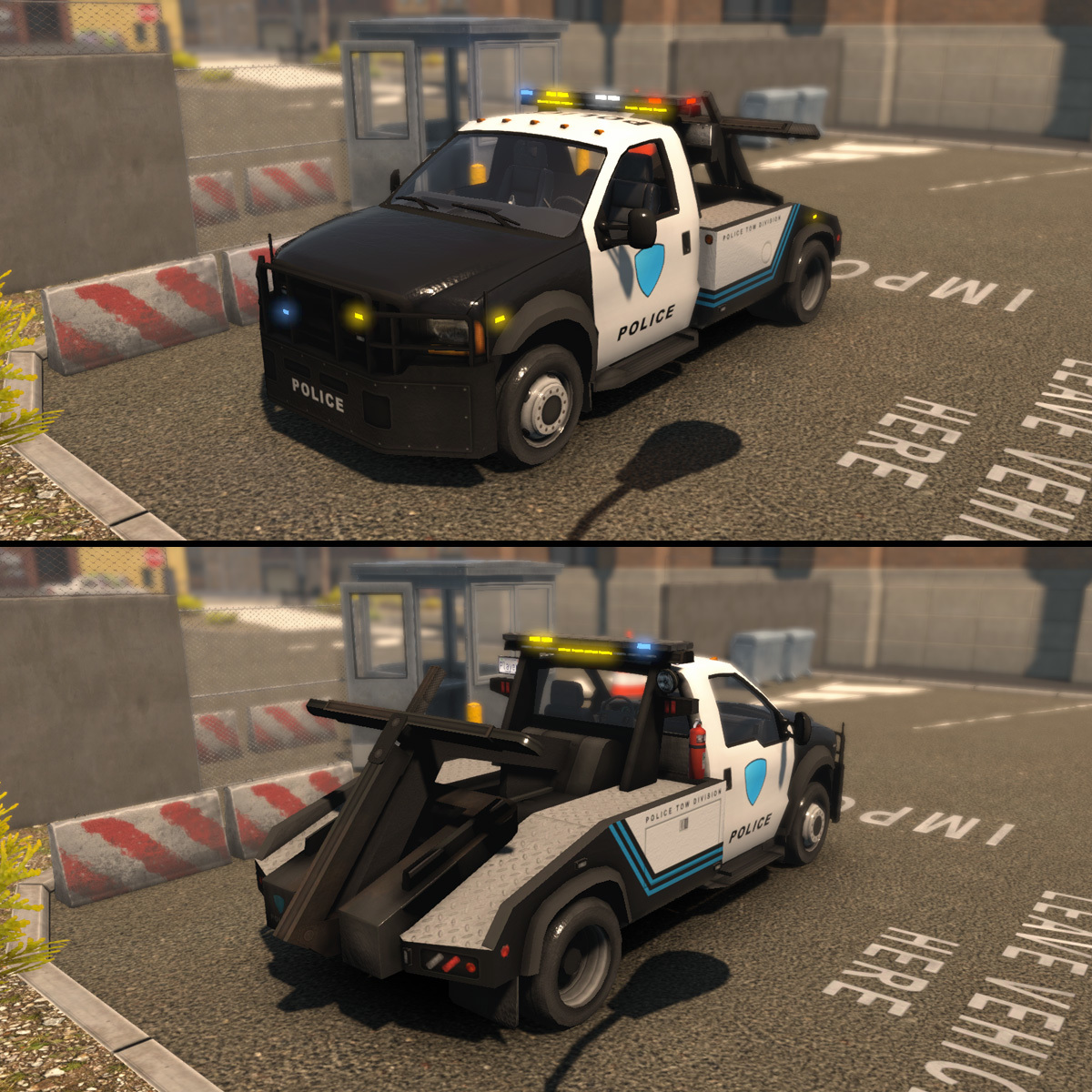 Don't forget all of the exciting additions coming up in the March update, and remember that we have some major background work going on too.

New content has always been a priority and will continue to be so throughout 2020. However, we also recognise that Flashing Lights' foundations need work, which is why we're focusing development on some major background work over the coming months. We'll be releasing more details on what exactly this means in the future, but rest assured that the game should look and run better once this work comes to fruition.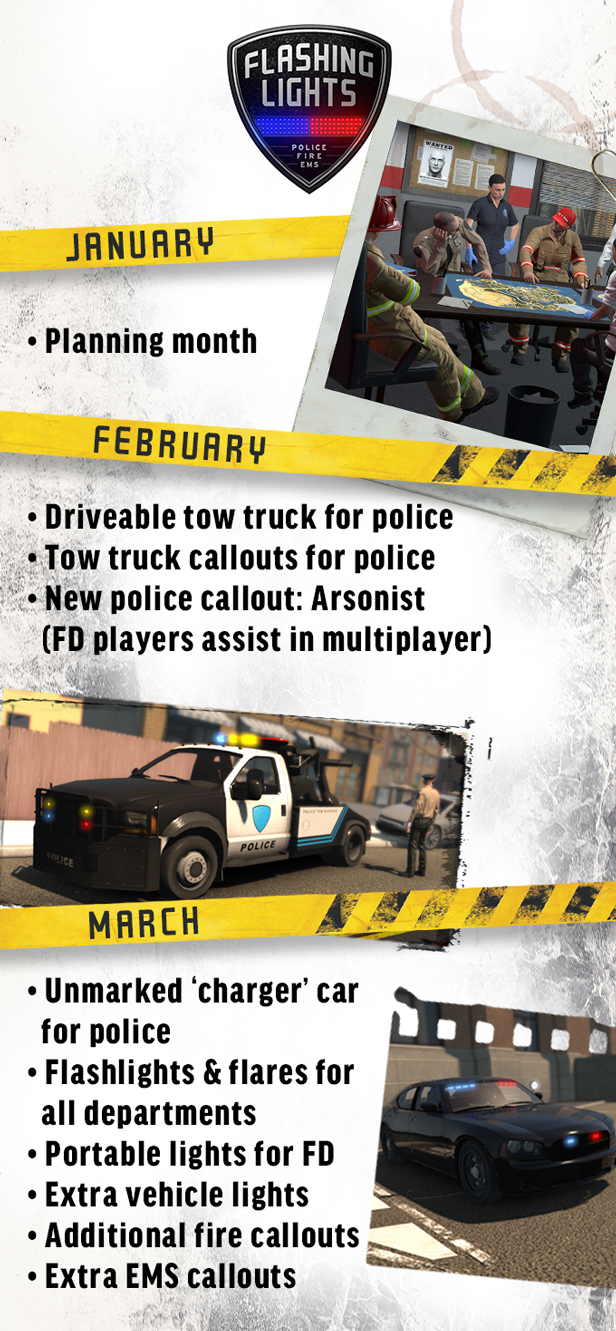 Want to Learn More About Tow Trucks?

Did you know that tow truck racing is a thing IRL? Find out more interesting tow truck facts in our blog - we even have one Flashing Lights code to give away to a lucky commenter!





February 2020 Update Patch Notes
New
Tow truck for police (use the arrow keys to operate and the J key to connect/disconnect)
Vehicle impound area added at police station parking lot
Tow callout "Vehicle blocking driveway or access" [ID 1023], 10 random locations
Tow callout "Vehicle parked without permit" [ID 1024], 7 random locations
Ability to tow Aggressive driver car [ID 1000]
The ability to tow ticketed vehicles to impound
The ability to tow suspect cars from police assistance callout [ID 1005]
The ability to tow wrecks from vehicle incident callouts in multiplayer (except calls involving spreaders)
New parking ticket category for areas in the city with permits only - any vehicle without permit can be towed for points. Look out for "Warning - Permit Only" signs
Arsonist callouts for police [IDs 1018-1022] and for fire department [IDs 2013-2017] - in multiplayer, a police player can tag along and help out a firefighter player on the mission and vice-versa
Suspect surrender chance increased in general, with an additional chance increase by every shot hit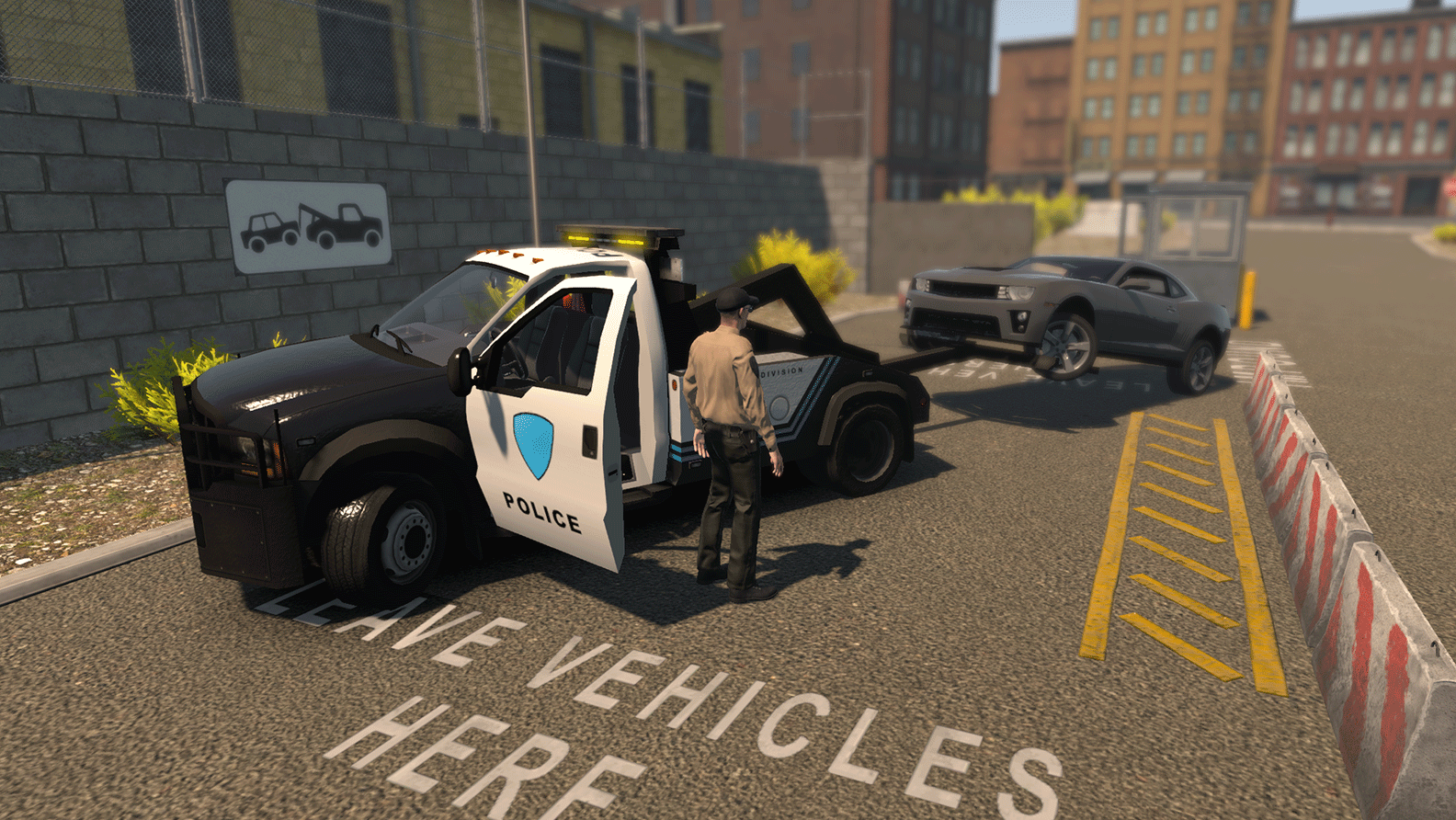 Fixes
Fixed an issue with water spray sometimes ignoring fire
Fire should no longer go out by itself after water spray has stopped
Engine sound and waypoint system now turns off when NPC gets out of their vehicle
Vehicle wheels now detect dirt roads, the grip has been adjusted
Tickets no longer disappear after leaving and returning to same area
Note: We have updated our privacy policy as we have introduced a third party tool that helps us with understanding how the game is performing. If you wish to read the updated privacy policy, you can do so here - jump to the 'WHEN YOU PLAY (SOME OF) OUR GAMES' section for the new stuff.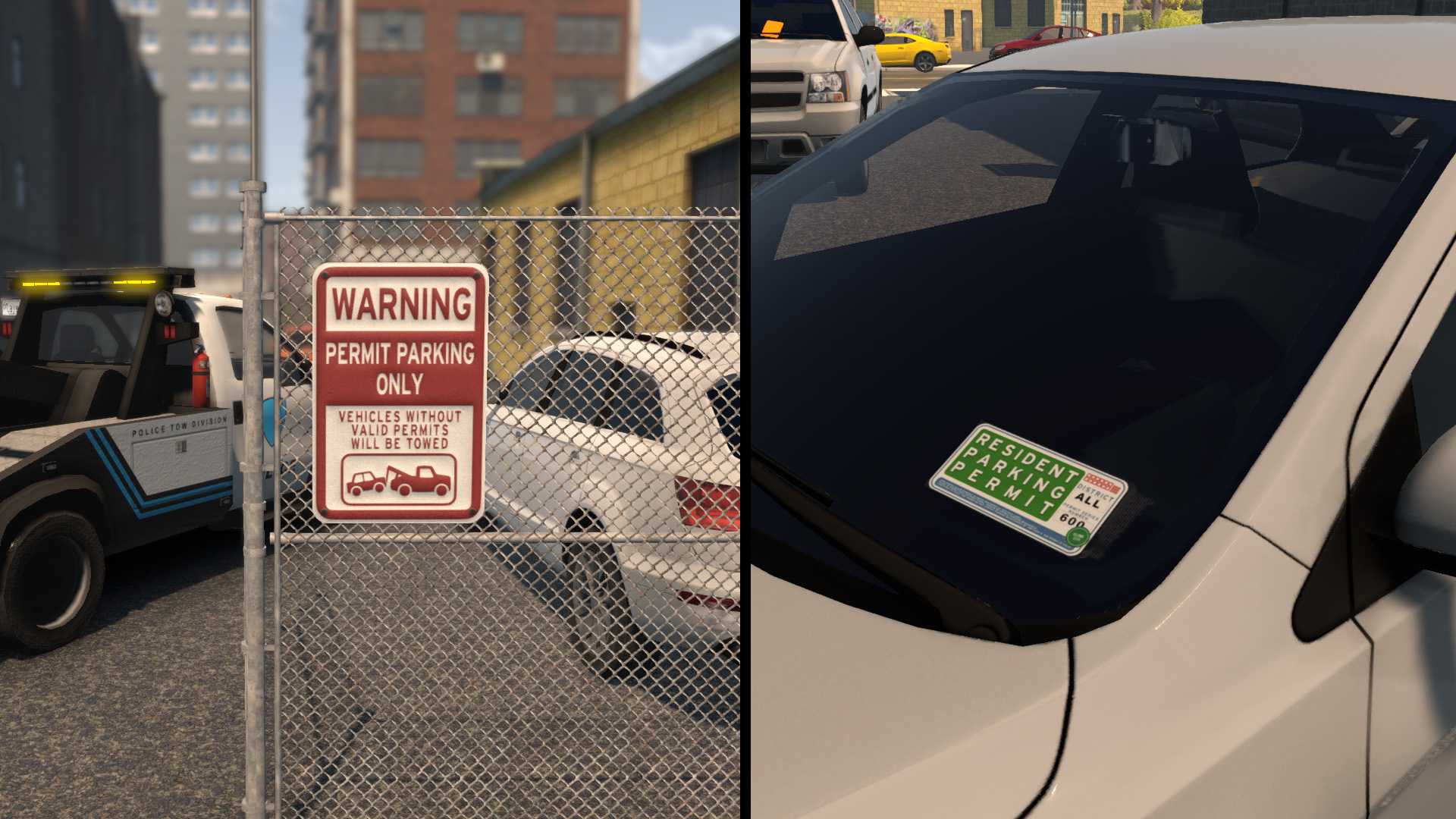 Remember that the Flashing Lights community localisation project is still ongoing - if you wish to help translate the game from English to another language, you can find out more here.

We hope you have a great time with the new update!

Thanks,
The Flashing Lights Team