Hello all,

Flashing Lights' May update has arrived! This month is dedicated to bug fixes, and you can find the full list of patch notes below.

As we explained when we announced the April, May and June 2020 roadmap, this month was dedicated to rounding up and fixing lots of smaller issues - we recognise that there are still larger issues present in the game, and we are continuing to work on them.

Some of the issues run deep, which is why Nils is undertaking the large scale background work. However, we also know there are lots of smaller issues, some of which have been present for a while, that we would like to address. On their own these small issues are not game breaking, but we know that once some of them are addressed it will make the game much better. We appreciate your support and understanding that bugs are a part of Early Access development.





Fixes
Active missions now cancel when a host leaves the server in multiplayer, to prevent callouts and dispatch freezing
EMS players can now pick up patients with the stretcher who have been treated by other players
Deliver to Court (ID 1016) and Escaped Convict (ID 1025) callouts previously got stuck and never finished in multiplayer
NPC Tow and Prisoner Transport pathfinding logic now matches with that of NPC EMS, improving arrival at the scene and laying the groundwork for further AI improvements in the future
NPC Tow and Prisoner Transport now use the same vehicle models as players
NPC tow truck driver now gets out of the car correctly
Tow truck's controls pop up now displays correctly
Tow truck camera now pauses for 5 seconds before also rotating back to default position
Mugging and Shoplifting call suspects no longer are missing stolen goods when frisked
Fixed an issue with pedestrians levitating in the air
Occasionally NPC drivers would be invisible. This is no more.
Traffic vehicles now do not do not swerve as fast as they did when you approach them with sirens on
Traffic spawning stopped when player parked on road side at random locations
Player character's neck rotation limited
NPC Tow previously did not pick up vehicles after traffic stop chase
Disabled ability to cuff and uncuff NPCs while they sit in police vehicle
Added barrier to the curved steep road near the south city exit to highway, to prevent player and NPC pickup transport falling
Arsonist call (2013) NPC fire truck moved
Various missions' despawner location updated to prevent instant despawn after mission completed or cancelled
NPC traffic obstacle detection range increased
Ambulance and Tow engine sound loop adjusted
Fixed various sound glitches
Player no longer gets out of vehicles on sides that are blocked
Fixed an issue with parked White Vic cars levitating above the ground while towed
Player SUV model engine hood fix - previously you could see front lights through vehicle body
Player SUV glowing seatbelt props texture adjusted
NPC suspects no longer slide and fist fight at the same time
Aggressive driver call (ID 1000) previously did not end the mission if a player registered the suspect at police station
NPC car in in aggressive driver callout (ID 1000) no longer despawns if a tow truck has been called or is being towed by a player.
Aggressive driver call (ID 1000) did not end if the host did not accept the call or was playing as EMS or FD
If another Aggressive driver call (ID 1000) is accepted while previous car is being towed, the new call no longer shows the old location, bugging the new mission
Missing flashlight for EMS female #2 character is no longer missing
Spotlight offset altered when used from interior view
Host no longer receives reputation points for police NPC prisoner transport when not playing as police
Siren now syncs correctly for NPC Tow and Prisoner Transport arrival in multiplayer
We hope you enjoy this update, and cannot wait to keep on improving and expanding Flashing Lights throughout 2020! Take a look at the Q2 2020 roadmap if you are yet to do so: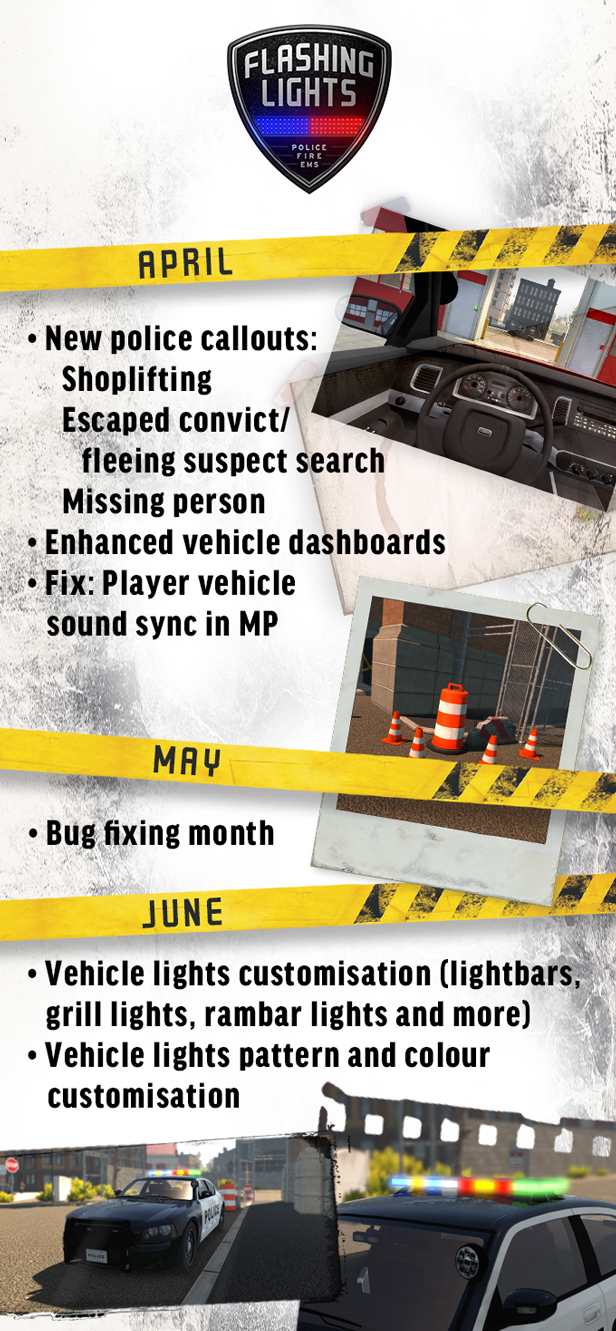 As previously announced, developer Nils Jakrins is also continuing with some major background work that will ensure Flashing Lights is bigger, better, faster and stronger before the end of the year. More on that in the coming months!

Thanks,
The Flashing Lights Team