Update 8: Merry Xmayhem & New Documentary
It's the Holiday Season! So fire up Interstellar Marines and dive into a very special, holiday-themed version of Mainline Winter with an all-new gamemode and some highly unusual Christmas surprises.
Update 8 also introduces our first version of stats and achievements. Kills now provide Training Points which build towards your Training Rank. Every 10th rank gives you a special Steam Achievement to wear proudly.
The Making of Interstellar Marines: Episode 1 - The First Update
This is the first documentary in a series our videographer, Jonas, will be making. It shows the good, and the bad, of working on a game such as Interstellar Marines. We hope you enjoy it.
Team Photo
A few days before Christmas and "most" of the team got together for a special celebration. 2013 has been nothing short of miraculous for us. It has been a wild, exhilarating and unforgettable ride, and none of it would have happened if it wasn't for you - the community.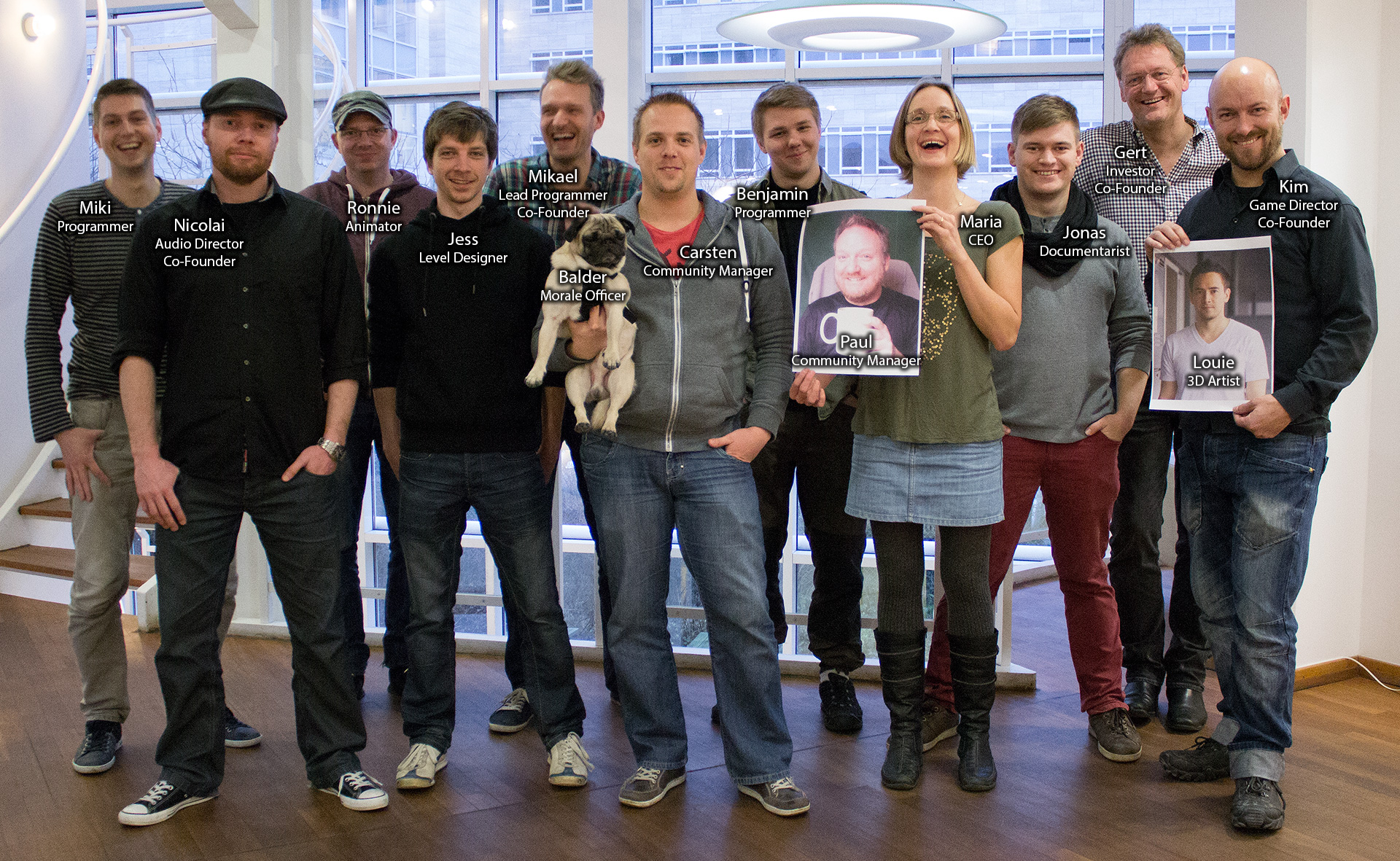 Version: 0.5.8
Released: 18th of December 2013
New Features
ADDED: Support for tracking Stats and Achievements.
ADDED: Training Points (TP) gained for kills (other ways of gaining will be added later).
ADDED: Training Ranks based on TP that unlocks achievements.
ADDED: Merry Xmayhem surprise game mode (includes seasonal achievements - get them while you can!).
ADDED: Training Point info to in-game UI.
ADDED: SARA speak when Suit System is enabled/disabled.
ADDED: Kill message area (no more kill messages in the chat).
ADDED: Win/lose music to round end.
ADDED: Jump and Land sounds.
ADDED: Weapon aiming sounds.
ADDED: SMG Xmas decoration.
ADDED: T-IM101 gift/spawn/pain/idle/kill sounds.
ADDED: Christmas hat to T-IM101.
ADDED: T-IM101 (increased shoot damage and armor).
Improvements
UPDATED: Mainline Winter with xmas theme.
UPDATED: Profile page in main menu with Training Points/Rank.
UPDATED: Relevant UI with player Training Rank.
UPDATED: All SARA sounds.
UPDATED: Emissive strips always visible on teammates.
Fixes
FIXED: "Existing players won't be auto-assigned to teams on new rounds."
FIXED: "Profile button not selected after clicking it."
Known Issues
Names UI is capped at 8 players in Xmayhem game mode.
View jittering may occur when jumping on lossy networks.
Audio may cut off partially/completely on weapon/helmet sounds.
Other players will seem to float above or interpenetrate while standing on a moving dynamic platforms (network smoothing will exaggerate this effect).
Keep the great feedback coming!
FOR THE LOVE OF THE GAME,
Your team at Zero Point Software