---
As A Crimson Searchlight is a detective game, processing information is part of the core engagement. It gives you the details about the suspect's life in order to make the decision whether to erase them. It rounds out the universe that these stories take place in and roots you firmly as an acting character in the world. It is fundamentally important to us that you feel like you are an inspector for this investigative department in a future metropolis.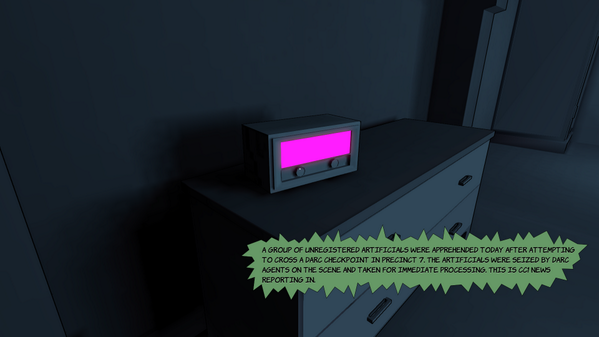 Most of this information delivery takes the form of environmental storytelling. For example, finding a gun or pill bottles in an apartment says something about an occupant. New assumptions are built and then placed together in a forming picture of the suspect.
However, in some cases, objects needed to be interacted with in order to understand the world these suspects inhabit. Just as you can find and open a newspaper in order to read the latest events, you should be able to turn on the radio or hear voice mails. Who the suspect associates themselves with or the kinds of things they read and listen to is a pivotal part of their personality - a personality that you are dissecting and analyzing.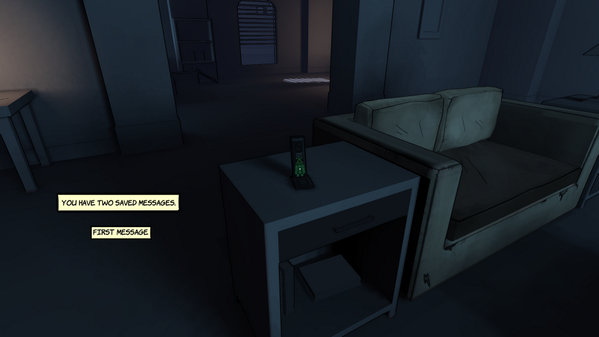 So, we wanted to experiment with a type that matched the game's stylized aesthetic. Being a comic book fan, I looked through a bunch of noir-esque comic books and decided to experiment with the dialogue box system. We'll have to really see how this goes in play-testing, but so far people have been enjoying the mix between the game's atmospheric/minimalist aesthetic and the comic-style text.
In some cases, we're also experimenting with allowing the player tap into the agent's knowledge of the world. The player is relatively unaware of the world at the beginning, so little notes come up time to time to fill in information (for example, that the gun in this occupant's apartment is a 'Komodo' series and is often found in the outer precincts). Rather than doing an exposition dump of all the details in this world, the player should chip away at it piece by piece and become familiarized with the terminology and social norms.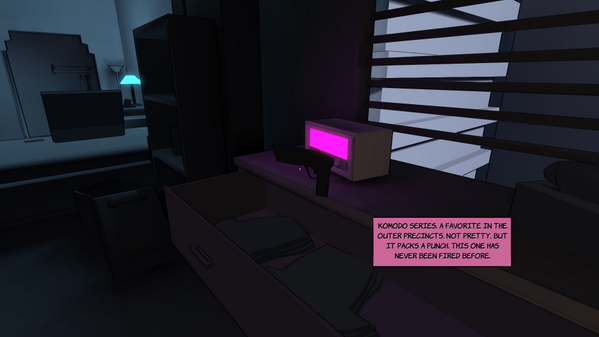 In other news, we were posted on Indiestatik a little while ago. It's an awesome read and we thank Chris Priestman for the write-up.
We're also up on Greenlight Concepts. Votes won't get on us Steam, but it spreads around the awareness of the game even more. So if you're really excited about this (and why shouldn't you be? Who else is going to investigate these androids?), give it a vote. We will, of course, let you know when the real Greenlight page goes up.
There's some really neat stuff coming down the pipeline. I hope you guys like neat cyber-noir technology!
Much love,
-Dillon