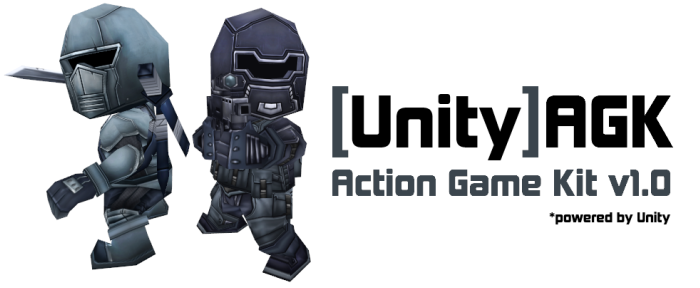 BUY NOW! UnityAGK v1.0 (early release) for ONLY $25 at Sellfy.com
Official Website: Unityagk.com (under construction)
Support E-mail: info@kuroato.com
UnityAGK: Action Game Kit v1.0 *powered by Unity
*No Programming Required; Easy to Use Action Game Development Kit!
UnityAGK is a Complete Game Project and Tool to help you easily create Tile-based Action Games, such as Hack and Slash or Shooter Games. Create a Gauntlet-style Dungeon Crawler, Fantasy Hack and Slay, Sci-Fi Shooter, or even a Zombie Game without Touching a Line of Code!
Features Included:
Drag and Drop Character / Game Setup
Hack and Slash Combat System
Shooter / Projectile Combat System
Music and Sound FX System
Basic Enemy AI (Search and Destory)
Player and Enemy Spawn System
Health and Power Up System
Third Person / Top Down Camera
Keyboard+Mouse Driven Controls
HighScore / Score System
Main Menu and Options System
C# Script (commented)
UnityAGK Game Demos:
BUY NOW! UnityAGK v1.0 (early release) for ONLY $25 at: Sellfy.com
PLEASE NOTE: this is a special early release version of UnityAGK; *NO DOCUMENTATION is Included, but you can SAVE $10 OFF Until the Official Release on the Unity Asset Store Priced at $35 USD. *Support will be Limited during the early release as we work on Documentation and Video Tutorials.
*Software Requirements: UnityAGK is not a standalone product. Unity 4.2+ Software is Required. Please visit Unity3d.com for more information.