PRIVATE ALPHA HAS STARTED
VERSION 0.11.0 KINGFISHER
Private alpha for UemeU has officially launched together with a new 0.11.0 Kingfisher version.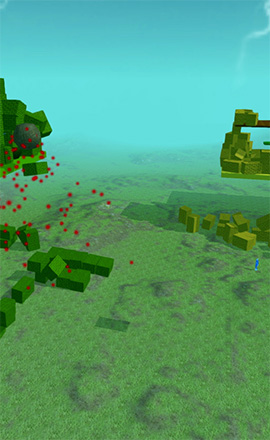 As we wanted to make our alpha more stable than many developers' final release versions, updates include numerous bug fixes. We have worked very hard to deliver an experience that's as smooth as possible.
On top of that, we have added a few features that will help both entry-level and advanced players a great deal in understanding the way the game works, to make the best use of sand box environment.
One of these features is called U-Func and it allows you to attach the function to the object in an instant. For example, you will be able to make an object movable in Play Mode in just two clicks, all thanks to U-Func. Some of our new "always-active" objects are available through U-Func as well – signs & boost pads, both of which could be used to create better adventure maps in UemeU.
In this week's play session, we have given each team a chance to show off their skills in playing "Angry Birds"-like games!
Each team had to build a fortress in order to defend the flag on their own platform. Then, they have used the ammunition they've created to knock the fortress down! Destruction ensues.
Be sure to check out our Fortress play session here.
Want to check out UemeU for yourself? Pre-register at UemeU.com to be among the first to get your hands on an alpha-release copy!
Thank you!