The brand new July balance patch for TS:Reborn update was just sent out, bringing players up to version 1.0.1.4 if you're keeping score at home. Your launcher will automatically prompt you to update before playing. If you haven't played in a while, you might have missed important updates for the Launcher itself, and might need to apply those as well.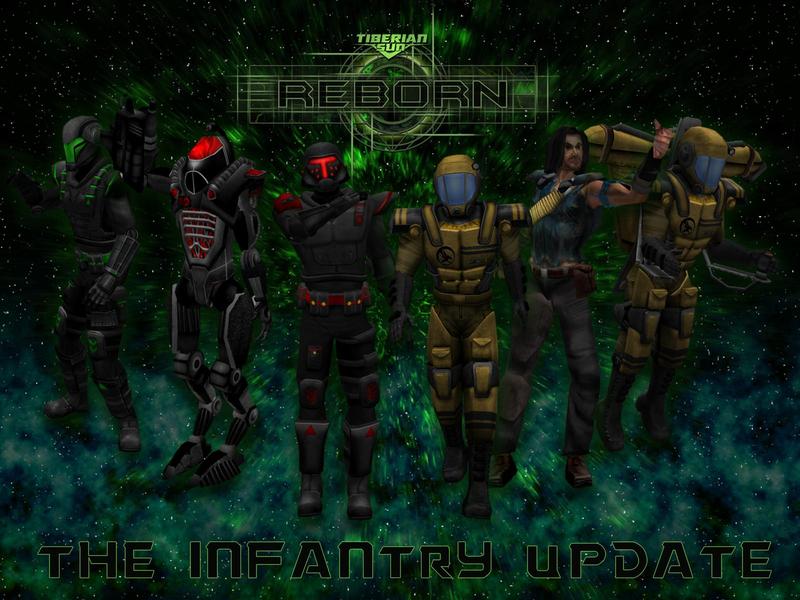 The goal for this patch was to correct several pressing issues with infantry combat, in the form of bugfixes and balance adjustments. Also included are stability improvements by the engine crew, some crash fixes, performance enhancements, etc. Plus we've included a variety of new graphical effects for weapons, a new crosshair, and more.
If you've had difficulty running the game in the past, or were unsatisfied with how infantry were balanced, you will probably be pleasantly surprised with this update. Some highlights:
Bugfixes
All infantry have had their hitboxes revised (your shots will connect more accurately now)
Worldbox discrepancies have been corrected (you will no longer "stick" to walls after soldier purchase)
Vehicles can no longer enter the passageways on TS_Field
TS_Field waterfall performance impact has been reduced with a new effect
TS_Snow map mesh fixed to remove gaps/holes
TS_Snow laser turrets fixed
TS_GrandCanyon map blockers fixed
TS_Isles "pool party" fixed (Hand of Nod no longer contains water)
Infantry skinning (rendering) process 600% as efficient as last version-- rendering nearly 80 soldiers simultaneously previously ran at 30 FPS, and now runs at 180 FPS.
Deformable mesh rendering process 150% as efficient as last version-- test case previously ran at 180 FPS, now runs at 270 FPS.
Decals/bullet holes now respect level lighting
Balance Changes
Projectile extension for knife, crowbar, and disruptor (sized projectiles)
Added small cash/score reward for disarming EMP mines
Added $200 cost to GDI Disc Thrower and Nod Rocket Soldier
Set $300 cost (50% increase) for GDI Officer and Nod Elite Cadre
GDI Officer and Elite Cadre can be purchased without Barracks/Hand of Nod
GDI Officer now has the portable SAM launcher, independent AA soldier is removed
Increased Disc Thrower and Nod Rocket Soldier hitpoints
Increased Elite Cadre grenade explosion radius
Increased Elite Cadre rifle-to-grenade switch speed (time reduced by 20%)
Increased Elite Cadre rifle and grenade reload speed (time reduced)
Increased Disc Thrower explosion radius
Increased Disc Thrower damage
Increased GDI Medic heal range by 66%
Increased damage and ammo supply of Uzi/SMG weapons slightly
Increased Toxin Rifle velocity by 50 m/s
Increased Toxin Rifle accuracy (twice as accurate now, e.g. half as much error)
Increased Umagon sniper rifle spray slightly
Increased Cyborg run speed slightly
Increased Ghostalker projectile speed and damage; can pierce up to one soldier
Increased Ghostalker splash damage radius
Increased Ghostalker hitpoints by 50
Increased Cyborg Commando splash damage radius
Increased Cyborg Commando splash damage, but decreased direct impact damage
Increased Devil's Tongue flame tank damage by 50%
Increased Wolverine projectile speed by 200 m/s
Increased Wolverine accuracy (twice as accurate now, e.g. half as much error)
Increased Tick Tank's existing deployed armor bonus
Increased Stealth Tank missile damage
Increased Cyborg Reaper rocket damage
Increased Cyborg Reaper webbing radius
Increased laser damage versus infantry
Increased missile damage versus non-air units
Decreased Hover MLRS range by 10m
Decreased Jumpjet rifle range by 10m
Decreased Jumpjet rifle damage by 15%
Decreased Nod MRV repair rate by 15%
While we have a small internal team of testers, we cannot test all circumstances and catch all bugs; some problems only become evident with higher player counts. Please help us as we try to improve our patch turnaround time by reporting issues in our bugtracker or ask for help on our forums if you have any problems or concerns.