We've been hard at word these last weeks, and we've been keeping secrets as well which isn't usual coming from us.
The game needed a twist, something more to it, something to make it shine from other titles. That's why we've been thinking very hard about the tiny details and figured a lot of stuff out about the game's vision.
That's why this article's title is The Vision 2.0.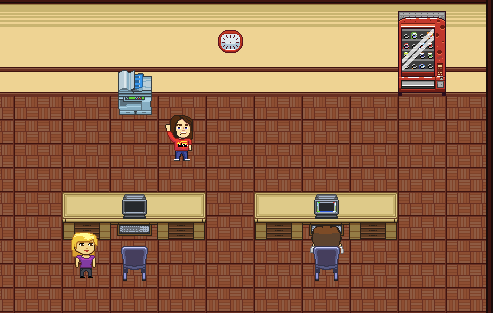 Please keep in mind that this is the game's vision and proposed ideas. Many of them will be implemented in the game but some others might not.
Basically the whole thing has changed. Time for example has taken a realistic twist with day/night cycles with actual date & time. So a day might last two minutes instead of alpha's 3 seconds.
Employees have been totally rethought. Now there will be multiple employee classes. Janitors will work during the night to clean the office while IT Guys work during the day to support the others employees and to fix their broken computers.
Another huge step will be the introduction of a main character. At the beginning you will have to choose someone you want to represent yourself in the game (indiegogo backers will be in this character list, there might be other occasion to get on that list later) and this chosen character will be your main character. You'll be reading his thoughts, talking with him, help him take important decisions about the office and its personal and other actions will depend on that character. This will bring a bit more personality and story to the game, with a more intimate feeling.
The game won't be right-click-to-move anymore. At least not all of it. Employee AI will be fully implemented giving them the ability to fl their own needs, work, go home, take decisions, etc. Why? Because of how big it can get.
A powerful engine will perfectly handle hundreds of employees on the screen at the same time. So you will be able to start alone in your mom's basement and end up as world known gaming studio with hundreds of employees!
Finally we've been thinking about a real-estate system. The game would feature a way of visiting new offices, with the possibility of buying/renting them and then build everything from the ground up. There's also many surprises about the building part of the game but this will be for another article!
Basically the idea started small, and it starting growing everyday. Dozens of notepads away, the idea became a real mature vision, something of its own and I cannot wait until next demo!
Thanks for your interest, there's a lot more coming for IGS so stay tuned!
Meanwhile follow us on Twitter at @IndieGameStory2