PLAYING CAT AND MOUSE
"During our recent play, we have been banging our heads over an ever emerging problem. How could we properly reward player skill during the process of doing battle with other players. Something we really enjoyed in game play was the fact that once you died in FPS mode, you auto hopped into the next closest unit.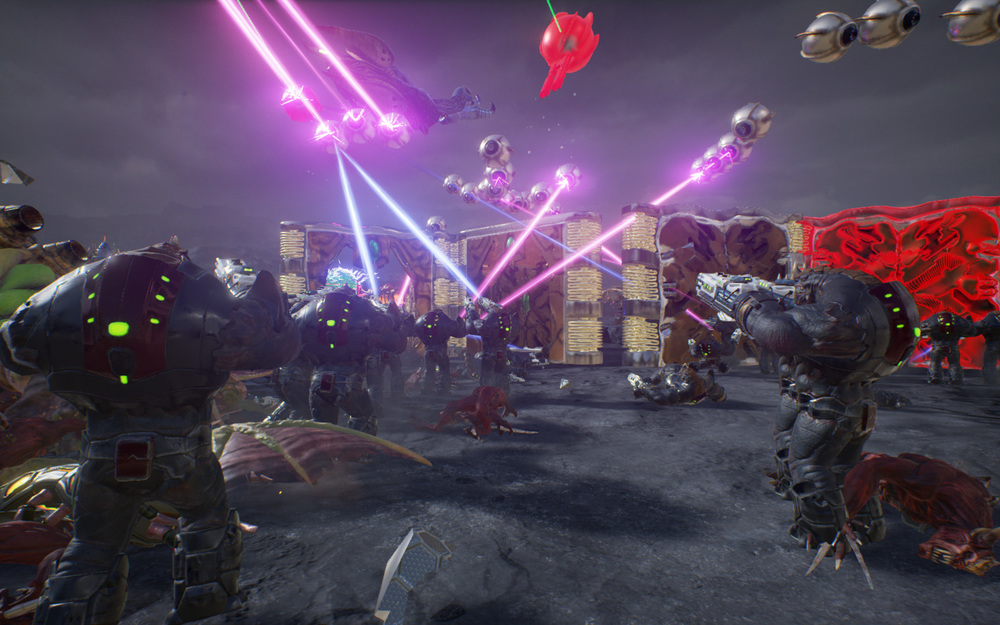 This hopping kept the player in the battle for a longer period of time and allowed him to continually push ahead. The player penetration was really amazing, if not godlike, in some base sieges. However, it presented a problem when the first attacking player always won in the end. The defending player couldn't get ahead of the onslaught in his effort to go on to conduct his own offensive battles.
Death penalty added!
Now, when you die, you have a rejoin delay. The delay scales longer as the match time extends. What we learned is that there was no fear of death and every battle was a mass kamikaze. Player skills didn't matter as much and there was no cat and mouse scenario where you would back off a more powerful player. In fact, the game was mostly about killing non-player units. We believe this is a better way to keep the players godlike, reward player skill, and keep the game from going too long. It also refocuses the attention on killing players first and units secondarily."
Read about other changes we've made to the game in our blog here.
TEAM COLORS CONTINUED...
Now that we have have colors implemented for our units, we decided the buildings could use a paint job as well. It helps really tie in the feeling of your base belonging to you and your team. So please enjoy what we've made so far!
I personally am really loving all the new colors.
ALPHA PLAYTEST
If you enjoyed this update and would like a chance to be apart of our Alpha Playtest, please join our newsletter! Subscribers will be the first to be invited to play, so sign up now!