In Terraforming Earth, players take control of three unique AIs, each designed for a specific terraforming task. The operation was headed for Proxima Centauri, when suddenly all life disappeared from the Solar System. Our heroes: Opportunity, Curiosity, and Spirit are heading down to Earth to restore life and put together the pieces of the mystery.
Previously, the game used some Robot Master sprites from Megaman as placeholder for our three main heroes. Now they have served us well and may retire to be replaced by these three pieces of cute specialized hardware.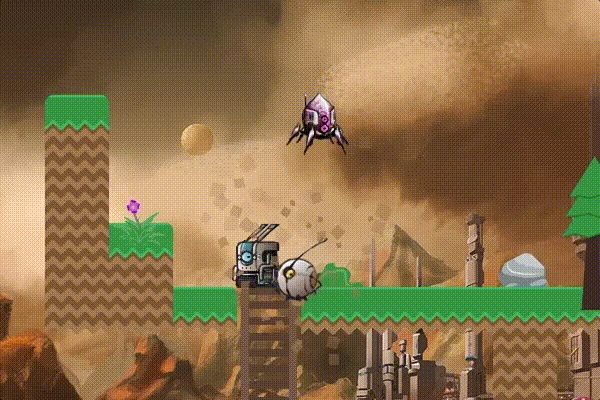 Let us introduce them one-by-one!
Opportunity is our down-to-earth, get-stuff-done engineering AI. Its actuator, OP-1 or Opi is specialized in lifting heavy objects and moving stuff around. If you leave AIs idling around for a while, you will see some weird superpowers, so Opi will soon learn how to rewind time. And of course, it gets around by rocket propulsion, mostly because jetpacks are fun.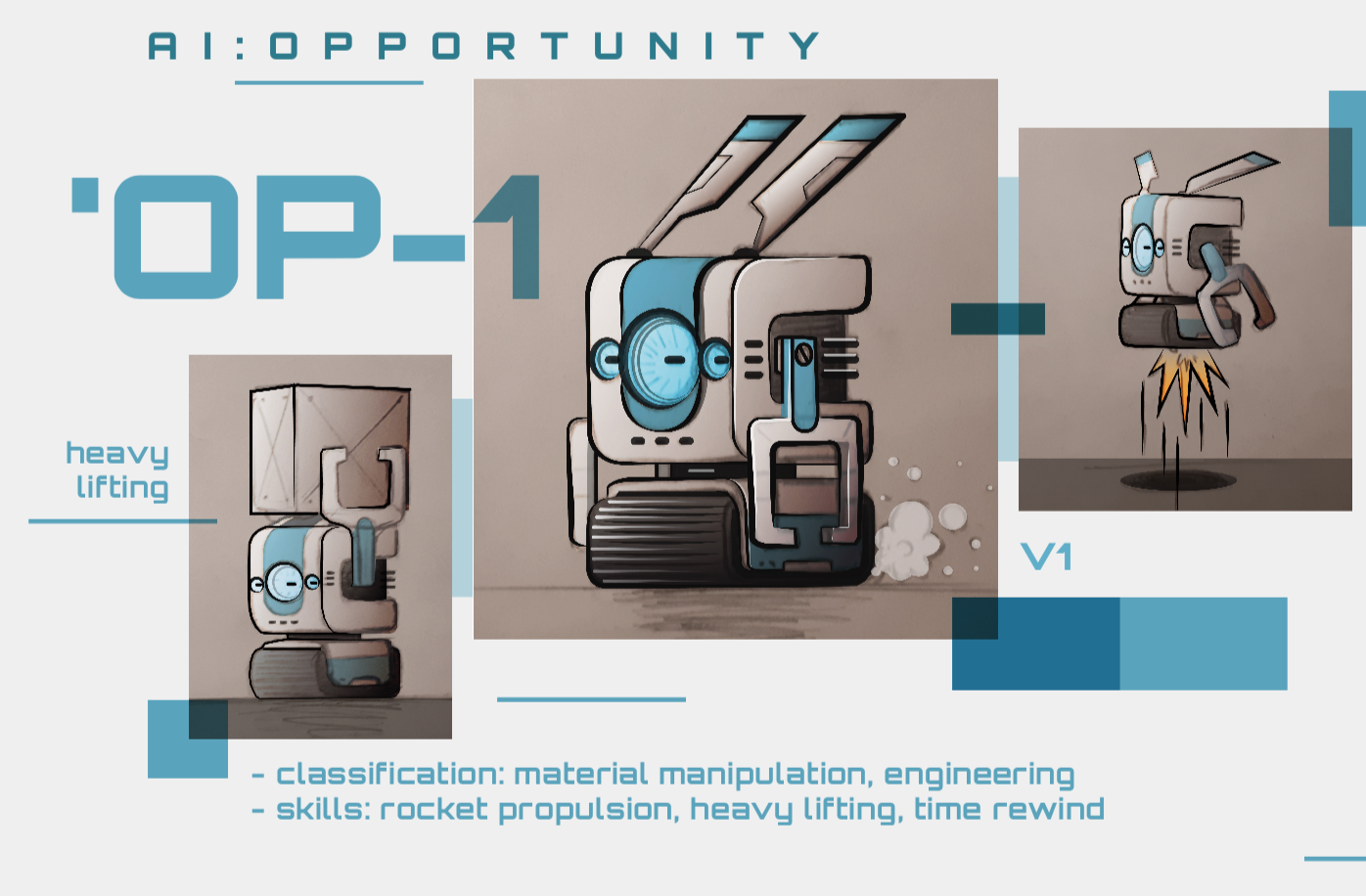 Opi was inspired by general purpose humanoid robots, although we pivoted from those inspirations quite a bit by giving it more of a specialized heavy-duty construction machine look.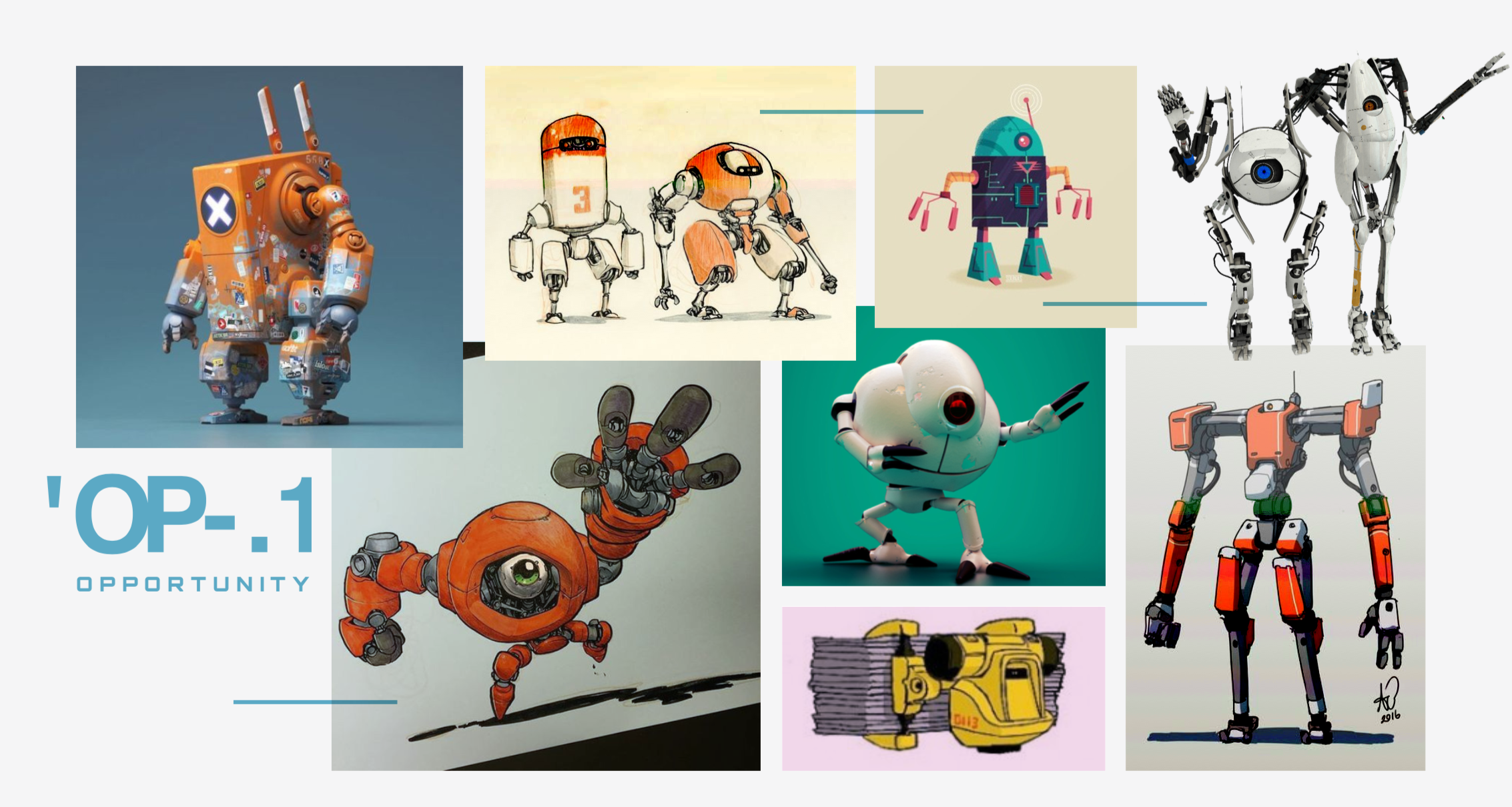 Our next AI, Curiosity has its own actuator design: QR-1, or Curi. Curiosity is all about science and untangling mysterious phenomena. Its robot is full of sensors to collect environmental data for research purposes. Having learned about the nature of bosonic particles, it quickly applied the principles of anti-gravity to its own design. It can levitate and reverse the effect of gravity in a small area.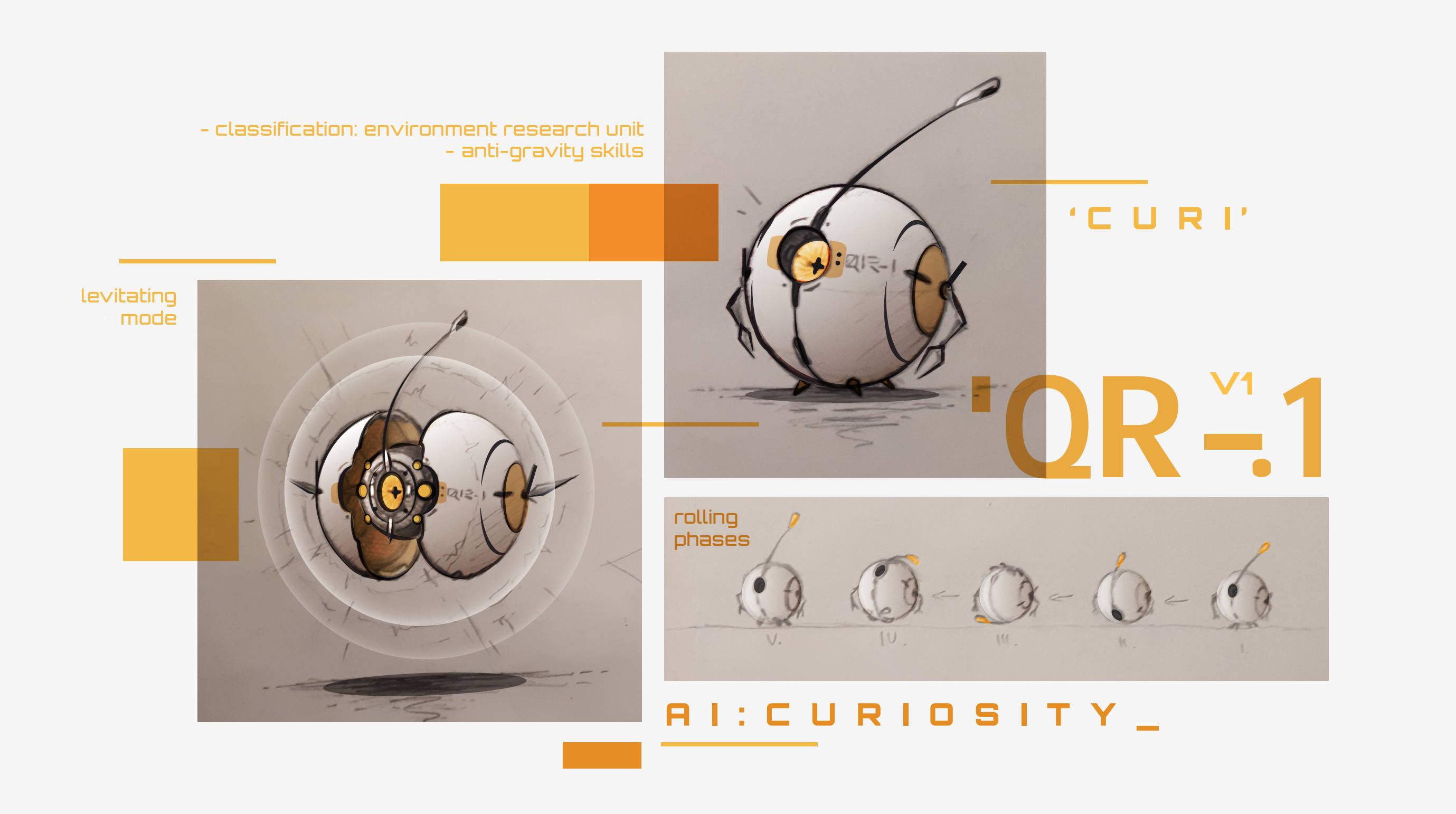 Its spherical shape is mostly inspired by the AI units of Portal's GladOS, as well as BB-8 from Star Wars.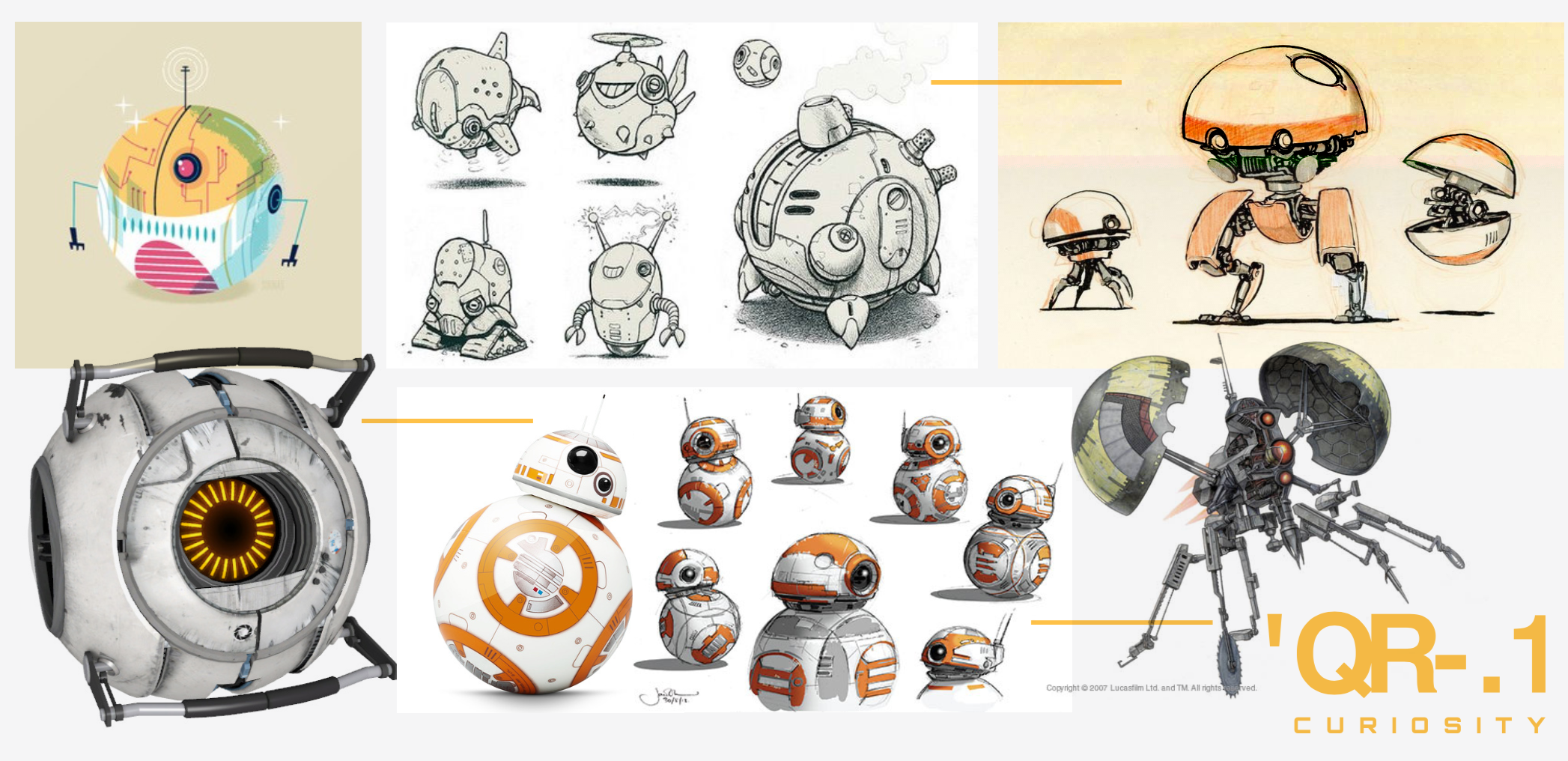 The third AI, Spirit was designed to preserve samples of terrestrial life and spreading it on Proxima Centauri. Now that circumstances have changed, and life is gone from the Solar System, we are pretty glad that its SP-1s are around, containing backups of life. Its actuator, SP-1, or Spiri, can be upgraded with nanobotic skills, like teleportation, which is very useful to get around obstacles with its otherwise clunky body.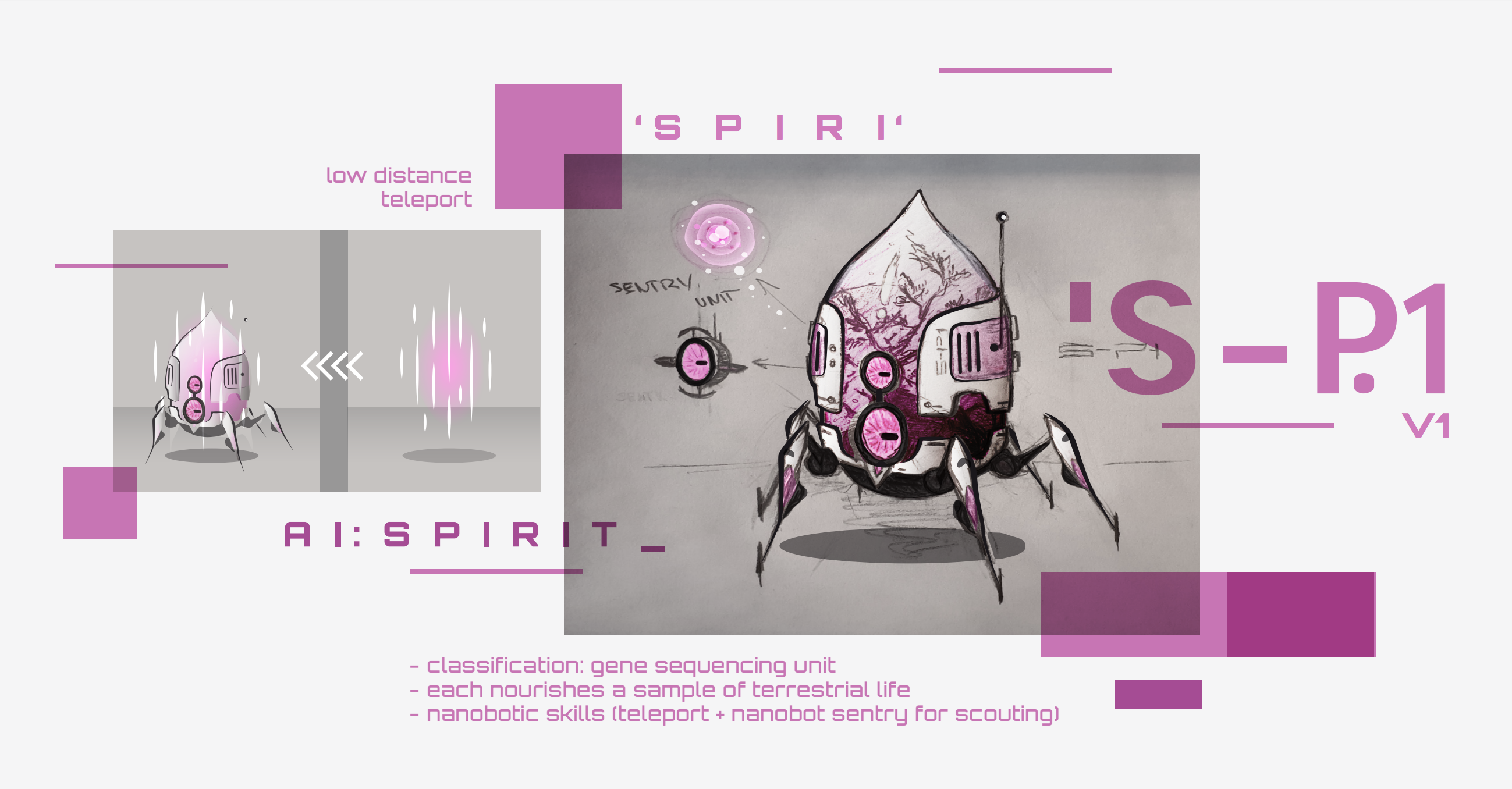 Spiri was inspired by... terrariums on spider legs? Apparently, that is a thing. Oh yeah, and Tachikomas ❤️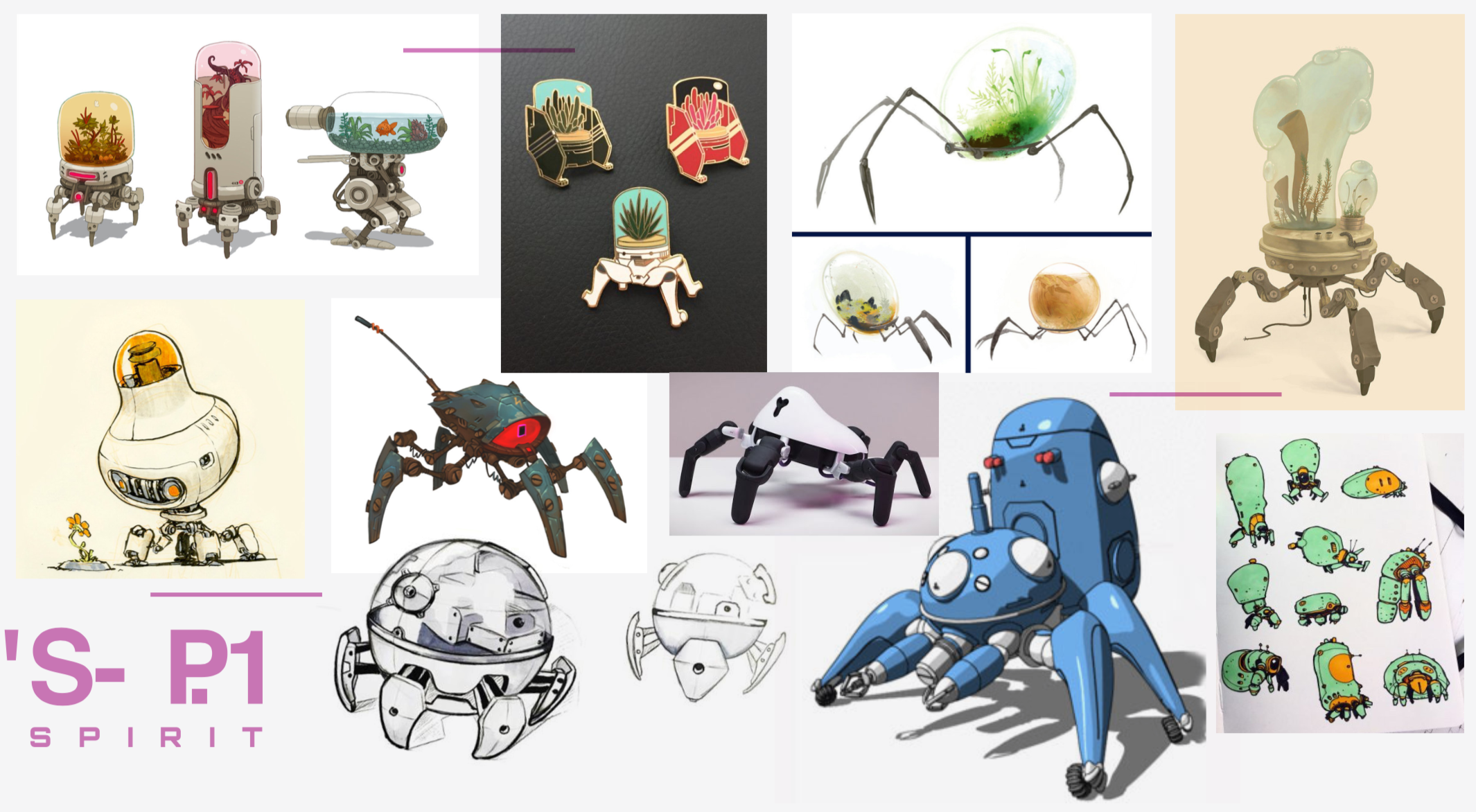 We wanted to go for a cute-but-functional utility droid designs of WALL-E and Portal. We wanted to have some overarching design element that connects the three designs - we decided to go with the eyes (also a'la Portal).
We also wanted to introduce something unexpected in each design. Excavators are rarely rocket-propelled, spherical drones don't usually levitate and let's not even talk about teleporting spiders.
The concepts are already rasterized into the game, although there are no animations. If you enjoy playing with half-baked products and have cool insights about game design, we invite to join our playtesters on our Discord server. You can find a download link to the demo in there, talk to us and the community, and leave your feedback.
How did it go? Do you like these designs? Let us know in the comments!