Let´s be honest to ourselves: Although Into the Dark is considered as one of the best-looking games ever made in FPSC, and despite some magazine reviews that clapped our back because of some crisp textures and nice shadows...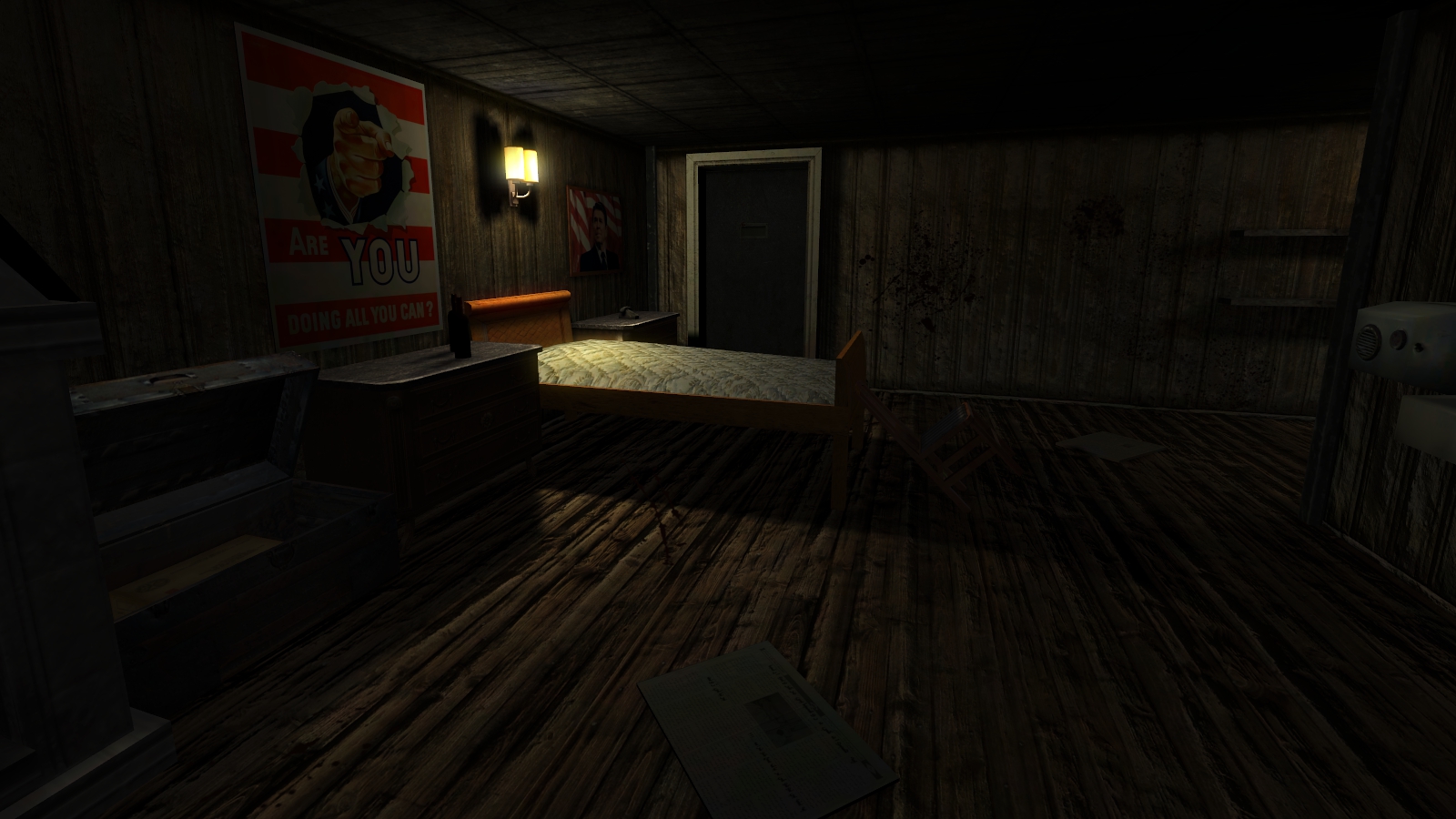 ...the graphics are still not at the level we wanted them to be. We will wait for the final engine decision for "Into the Ice", the sequel already announced (spoiler, spoiler) in the outro of "Into the Dark", for the first alpha of "FPSC-Reloaded" to arrive, however, we have already nailed down some issues with our art & render pipeline that will be useful no matter which engine will be choosen for "Into the Ice".
First, we had different shaders with different looks for the environment (the segments) and the static entities (basically all props that couldnt be moved around). In addition to that, the texture resolution of many props, and the level of texture details on them, were significant lower than those of others and especially of the segments texture in some levels were we had HD environment textures.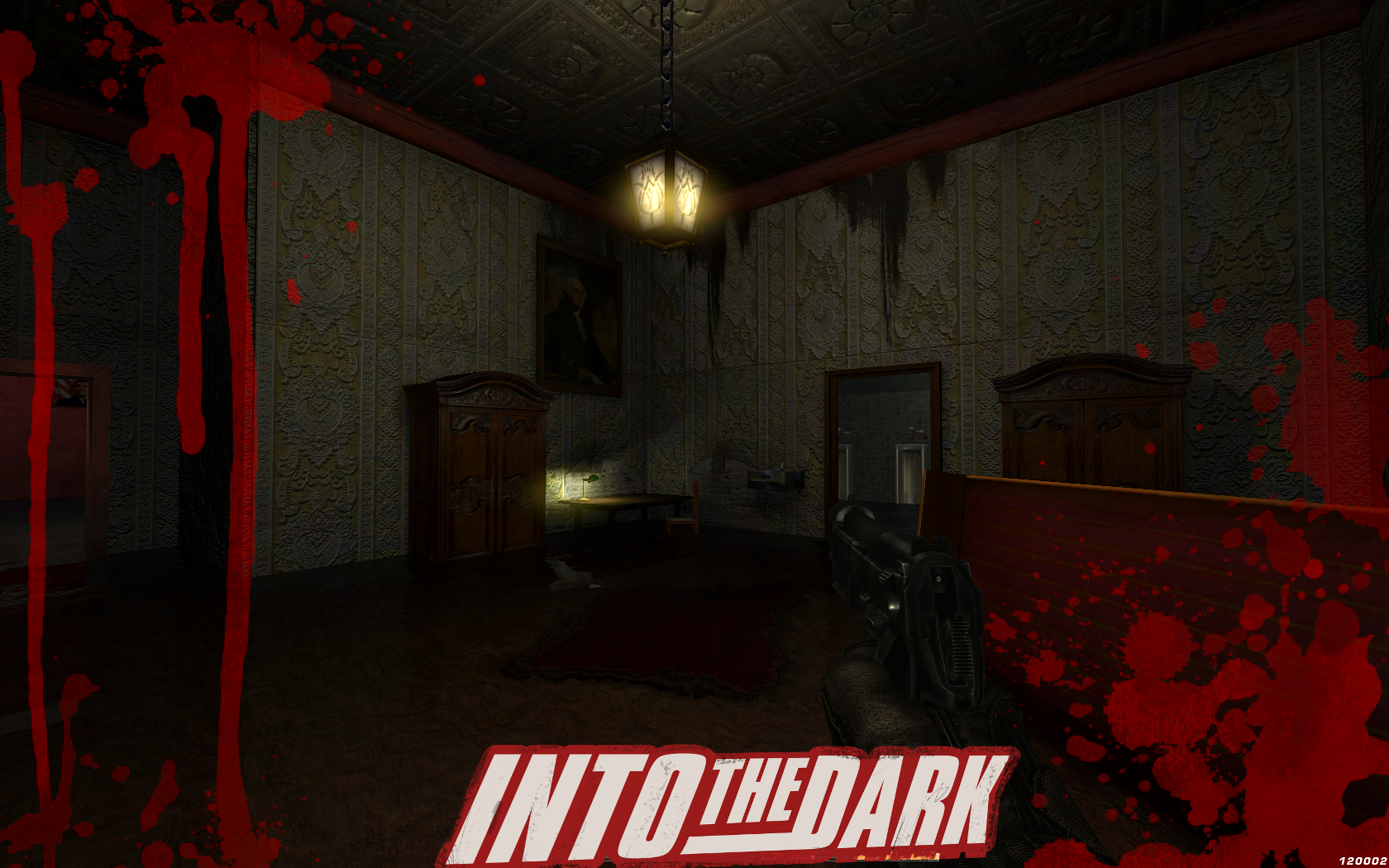 Here you can see that the beds surface is both shadered in a different way AND suffers from a lower resolution compared to the wall and the wardrobe.
So we implemented a guideline of "unified texture details & shading", which means, that the resolution per squarefoot (or squaremeter) ingame has to be always the same, and the shading, which includes the bumpiness and the specularity of the surfaces, has to be unified. This doesnt mean that a wood has the same specularity as wet iron, it simply means, that an inch of depth on a surface generated via normal map has to have the same visual depth ingame on all surfaces.
The results of the new approach are here:
Everything fits together in a organic (well, here rather in a steel-rust-concrete), believable way. Here we still miss several props and surface overlays that make the scene more crowded, dirty and believable, but it walks into the right direction.
Another improvement (and the only one engine-related) was replacing the white dot fake reflections of our windows with scene-adaptive reflection textures. Due to performance issues we don´t want every single window and reflective surface to render the scene, so we made a semi-automatic system that takes screenshots from the respective screen and uses them with a special alpha mask as reflection base: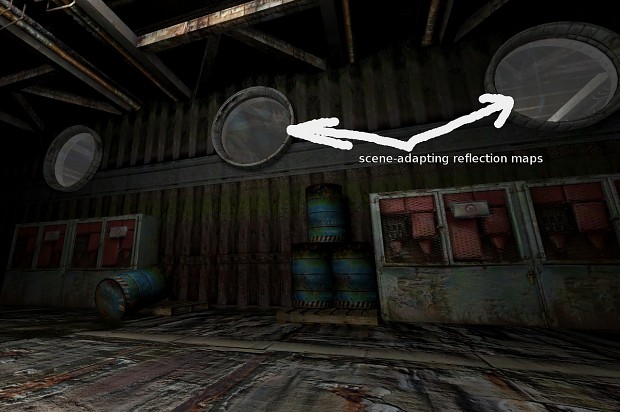 This looks good enough and doesn´t cost a single frame speed!
And, as we were already asked severa times, we can tell you that this all is indeed a part of the first level of "Into the Ice". Of course there can be huge changes, especially if you consider that we will most likely change the used engine (and hopefully to FPSC-R. if that doesn´t turn out well, most likely to Unity).
By the way - Unity Pros can already contact us to talk about this option!
However, you can get NOW a first glimpse of the science / military station you will infiltrate prior to your mission in XXXXXXX (removed due to spoiler-alarm for "Into the Dark". Of course you will have to use either your wits or your guns to survive encounters like these: