Hello, everybody! Today marks 2 years since the official start of The Arcane Relics™! We've progressed a lot this past year, even more than the first. Here's an overview of what we've completed-
Before & after images displaying areas in the game a year ago compared to today:

The HUB, where you presently begin the game.
---
The Homestead has been spruced up quite a bit since a year ago. Previously, it consisted of a nearly empty house with only a goody chest for storing items. Now, there's quite a number of props. Also, the windows and doors are now operable.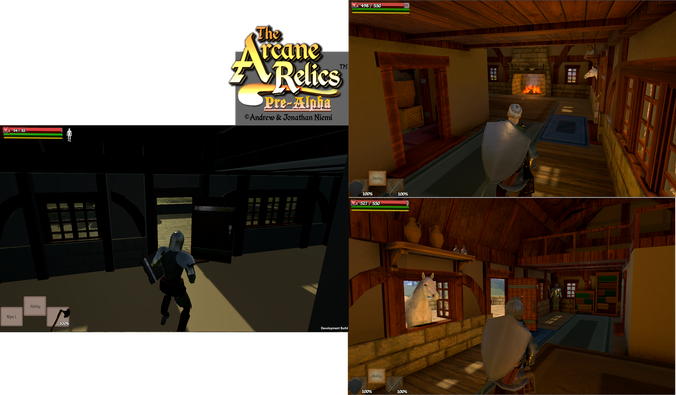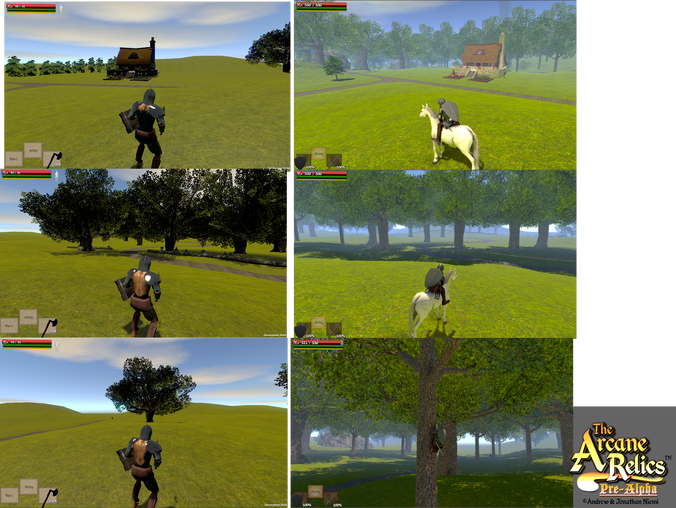 (Hopefully you can tell which side is from a year ago…)
---

The town has seen the most improvements. There are now actual buildings that can be entered such as: the General Shoppe, Smithy, Tavern, Apothecary & some residential buildings.
---
A lot of features have been added since last November. A few worth mentioning:
Independent Split-screen Menu Navigation (Players used to have to take turns in their menus…)
Improved controller support
Lunging Attack
Magic Abilities
Tree Climbing
Horseback Riding
Dialog (Reading signs, bartering, and talking to NPCs)
Alchemy
Repairing damaged equipment
Skill Groups: Arms, Arcane, & Cunning
Armor Racks & Bookcases
New Critters: Chickens, Rabbits & Hornets
There have been many, many bug fixes as well.
---
PAST WEEK
This past week, Jon has been working on the last 'big' thing that we'd like to get in before our first public demo release, improved AI brains. I created some directional unarmed attacks (hooks, uppercuts, & backhands).
Believe it or not, we are getting closer to the public demo! See our updated roadmap for the next version: Roadmap v0.0.22
Take care.