Squad Modding SDK released on Epic Launcher

In conjunction with Epic Games, Inc., the developers at Offworld Industries are proud to announce the release of the official Squad SDK, you can download it today by clicking the Get Unreal button at unrealengine.com.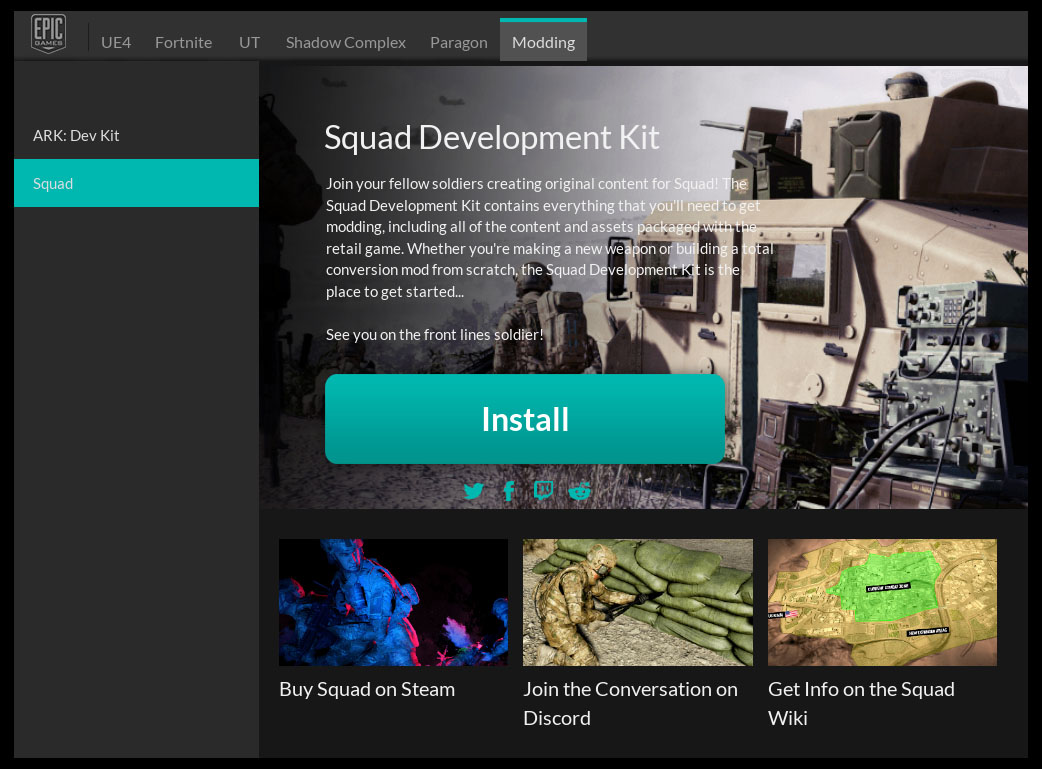 The core of Offworld Industries were members of the Project Reality Mod for Battlefield 2, as well as RoyAwesome being the Lead Developer for Empires Mod for Half-Life 2. We are where we are today because of the access to mod the files of our favorite games years ago. The team has had a goal since the first days of this company to Pay It Forward and release a full SDK to the public to open up Squad to modding and assist the next generation of realism FPS modders bring about the next iteration of tactical teamwork based, paced and strategic FPS. Several founders will devote substantial amounts of their time bridging between the modding community and the official branch.
To celebrate Squad gaining a SDK tab next to Ark and Paragon, RoyAwesome is a guest on the Unreal Engines official Twitch channel, on Thursday June 23rd 2PM Eastern, 6PM GMT HERE live, you can watch the replay video here later this week to learn more about the future of Squad modding and the nearly 1500 member Modding community that has grown on Discord.
---
Squad Organised Play

Itching for some competitive and special event Squad? Check out the following:
SquadOps sponsored by BlueFangSolutions at SquadOps.gg. A structured role-play style event running each weekend, for those that want to take their Squad experience to the next level.
Squad League organized clan vs clan tournaments at Squad.gg. Currently running exhibition matches!
Community Clan Fight Night, a weekly event for the last 26 weeks and growing.
---
Hi Squaddies,June has been an extremely busy time for us, with work on Version 7 well underway and a majority of the team focusing on getting vehicles into your hands! Without any further adieu.. Here is what we worked on in June!
Systems
Vehicles Update

A lot of work has continued behind closed doors with respect to vehicles, namely sorting out the physics, handling, player interaction and gameplay systems involved. Below is a heavily Work in Progress video.
Vehicle handling is something we are paying careful attention to, and with that a sense of reality in responsiveness and drive capabilities of our vehicles. Not only physical behavior but also input responses are tweaked for each vehicle. Different tires and suspension designs have strength and weaknesses. For example, the technical is much more nimble compared to the armoured Humvee. This is going to provide some very interesting bits of asymmetry with the way these vehicles will be used, with Insurgents and Militia factions opting for hit-and-run tactics while the Americans and Russians prefer more stout but slower convoys to move around the battlefield.Production has made significant progress since the beginning of the month, with Effects dealing mostly with what happens when a vehicle is damaged or destroyed as well as handling different damage types, Audio with general engine and drive sounds (the video above is not the final product), Animation with passenger behaviour and vehicle weapons.Logistics has also been heavily worked on in the next version, where vehicles now play a huge role in keeping FOBs supplied and armed. In the next version, Construction and Ammo points will be regenerating at a significantly reduced rate, encouraging the use of vehicles to run logistics from main base to FOBs in the field. In the first release of Logistics, the supply will be channeled from vehicle to FOB, rather than dumping all of the supplies into crates. What you will see is a rough first implementation of the system, and we will be developing it further in future iterations.
Upgraded Radial Menu

As part of our expanded redesign of our User Interface, we are upgrading the look and functionality of the Radial Menu used by Squad Leaders and ordinary Squad members to access kit roles and deployables for construction in the field.
One exciting development to accompany this upgrade is tying the marker system with the Radial Menu, meaning that Squad Leaders can place map markers via pointing and marking with the Radial Menu, in addition to placing it directly onto the map.