In this week's installment of Something's Brewing, we're happy to take a look at the guy that keeps the band - and the brew - going: Hammer & Ravens Founder and Lead Developer, Emiliano Pastorelli, affectionately known to us all as Doc Hogan.
Fierce but fair, unstoppable but a bon vivant, always with his trusty doggo Olaf, he is the man with the plan and the one who uses the old adage "pedal to the metal" as the team's warcry. Before you proceed any further, a good piece of advice, Emiliano chose not to talk about his culinary skills. Do not mess with his high standards around food... you have been warned.
Without further ado, we give you Emiliano!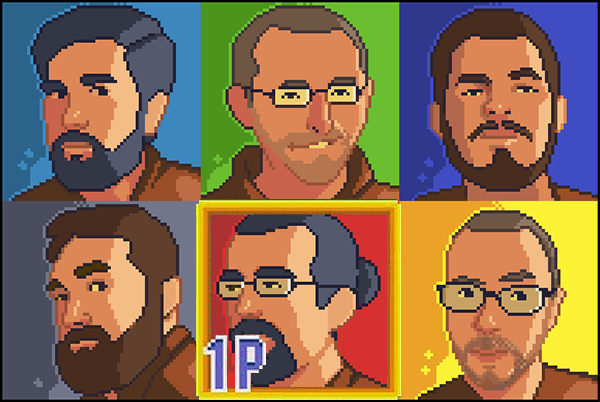 -- What is your professional and academic background and when did you start developing games?
I was doing my very scientific (but also very fun) Ph.D. around virtual reality and microstructured materials, also working as a Visualization Infrastructure engineer at the university. One day - almost by chance - I enrolled in a "Game and avatar programming" course and my life changed. If I remember correctly it must have been around 2010. I made a Game Maker RPG game called Asathorr for the course, and after that, I just couldn't go back. I began using Unity around 2012 for freelancing (multimedia apps for museums, promotional mobile apps, etc.), and then in 2013, I began working on a first game to learn. Years later, that game was released as Empires in Ruins.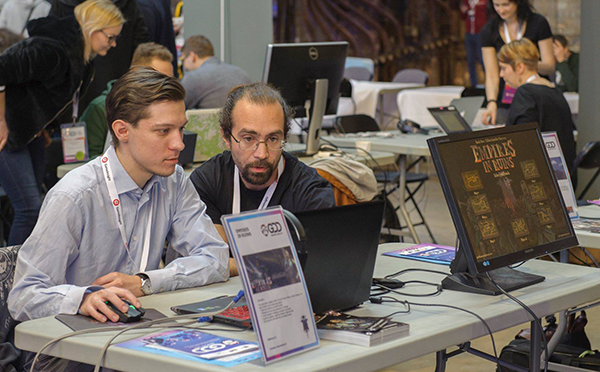 -- What inspired the design behind Ale Abbey and what's your design approach in general?
My design ideas changed a lot in the last 10 years. I went from a more chaotic and punishing style (the player has to suffer and all gameplay needs to be emergent and not strictly designed) to a much more reward-oriented and structured design. I think I learned a lot from EiR, what was right and wrong, what people liked or didn't like, and I devoured a good number of design books over the last few years. What was more important to me, rather than learning new things, was to give a name and some guidelines to concepts that I was already familiar with, but hadn't been using in a structured enough way.
Ale Abbey was inspired by my passion for brewing, my appreciation of monastery ales in specific, and by years spent (since early childhood) playing tycoon games. It's a product-centered tycoon, the likes of GameDev Tycoon or the ancient The Movies. I wanted it filled with positive energy, rewarding rather than punishing and almost zen in certain aspects. A game about positivity and ale!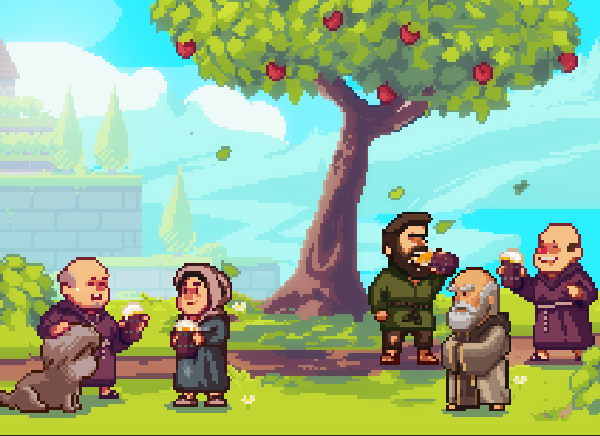 -- What kind of games do you play, and what kind of music do you listen to?
I play a lot of games, from strategy (both turn-based and real-time) to open world, from management/tycoons to FPS. I was never a huge fan of shooters (twin-stick style, but we did make and release one regardless!) or platformers. I also struggle with games that lack lore and plot, especially if their gameplay revolves around roguelike/lite loops. I guess I need clearer objectives when playing.
Music, well, that depends on the mood, but I usually go for Metal (Heavy classics, but also Folk, as well as some Death and Power), Punk (classic, surf or skate punk, 90s kid style), or Reggae/Ska when I want to relax. I listen to a lot of other stuff, but definitely, these 3 are my favorite ones. Sometimes I will also catch myself listening to country or old-school rock from the 70s (Bruce Springsteen, CCR, etc).


-- What's your story with beer and brewing?
Some 7-8 years ago we got a brewing kit with a friend. We made a brew and it turned... terrific. Terrific as in undrinkable, awful, uncarbonated, and tasting like stale old yeast and farts. We decided to take a break that lasted 2-3 years, at which point I asked him for the kit and started brewing on my own. It was after a short holiday in the Ardennes that I had a chance to try a crazy amount of delicious Belgian and monastery beers. Although the hipster beer revolution was already booming, I didn't have much love for IPAs and such. It was that encounter with Belgian ales that changed me.
So I started brewing again; the first few times with kits, then straight to all grain. With COVID and the first lockdown, things exploded. I started brewing like never before, 3-4 times a month, and even though I did slow down a bit, I haven't stopped since. I still produce small batches (12-14 liters), but at least 10-12 of them will take place between Autumn and Spring (due to house temperatures) and only a couple during the Summer. I have also brewed some mead and cider in between!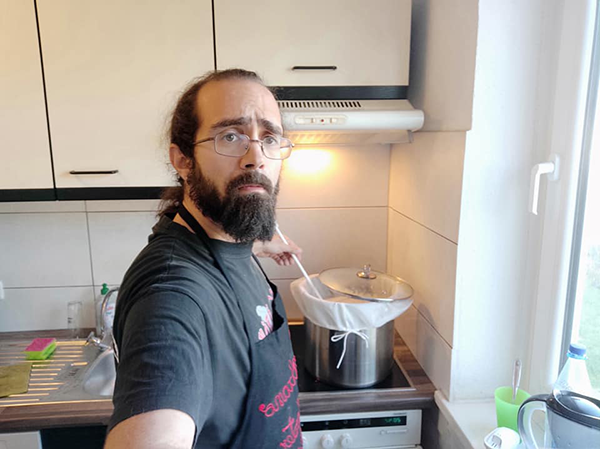 If you want to pester Emiliano with questions about game development or brewing, you can find him on Twitter or on our Discord server where he usually posts about food and beer he so happened to have consumed!


Thank you for your time and see you all next Friday!
-- Hammer & Ravens


Do you want to know more about Ale Abbey and chat with the team? Follow us on: