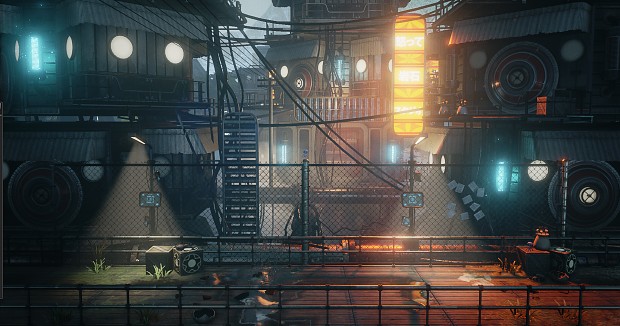 We at Angry Rock Studios are pleased, and honored, to announce that we are making our recently announced game Düm Bot with the highly anticipated Unreal Engine 4!
Really, the team is seriously thrilled over here, I cannot state that enough, and we want to thank our friends over at Epic and the team who created the amazing Unreal Engine for giving us this humbling opportunity to work with this amazing new engine. We've only been transitioning to the new engine for a few weeks now but we can already see the amazing differences this new engine brings to Düm Bot and gaming as a whole. Düm Bot will be able to really shine with UE4 and we're going to continue to push the boundaries of our creativity.
We could not wait to share this news with all of the people watching our progress so far and giving us their support, it means a lot to us and really helps motivate us to keep going. The team will continue to look towards the players and the past for inspiration as we move forward with this amazing new technology. Even though we're trying to push the envelope in any ways we can manage, we want to reiterate that Düm Bot is a game that will call back to old school action platforming, the kind of stuff you had to blow the dust out of to get working, you know. The games you left running for days because saving wasn't an option (we will have saving), and the easter eggs, oh the easter eggs. We're trying to blend the best of both worlds into a 3D Action Platformer that also has a heart (well, Robots don't have hearts, and zombies, well the heart is there, but the status of the heart is questionable...).
Unreal Engine 4 is allowing us to spend less time worrying about some of the most tedious areas of game develop and focus more on getting the most fun and polished experience out as fast as we can. The new visual capabilities of this engine are nothing to gloss over either, we swapped in assets and environments into the new engine and instantly saw a marked improvement. We'll be doing our best to make the most of it.
Thanks again to all of our fans so far and to everyone at Epic for making this groundbreaking engine,
The Team at Angry Rock Studios