Happy September!
It has been an excruciatingly long time since our last update, but I assure you we have been hard at work! In this update we will go over the latest information about the status of development, showcase a brand new player sprite, new HUD and latest level!
There is a LOT to share below so let's get started!


We would like to start by unveiling the re-design of the sprite for Aurora Delacroix. When development of Anathema began in October 2014 we began using pre-made, royalty free assets available on the web to make pre-rendered sprites. As development has progressed we became disenchanted with the design currently in the demo. We knew that it was important to give Aurora some original flair of our own design.
Around May 2018 we reached out to our friend, Craig Daversa with Pyroklastic Games who has a great game that can be found here, that has worked with us on prior artistic portions of Anathema and gave him a rough design sketch of what we wanted to do with Aurora's design. Craig began modeling the new design for us and we were off to the races. After many collective man-hours modeling, rigging, weight mapping, texturing and animating, we give you the new design of Aurora Delacroix. Many thanks to Craig for this as we could not have pulled this off without him.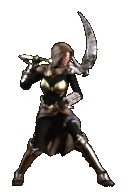 For good measure, here is a comparison of how Aurora's design has evolved throughout the years. As you can see, the design has changed almost entirely since the original concept in 2014, but some design elements were developed into the 2015 revision and maintained into the final design.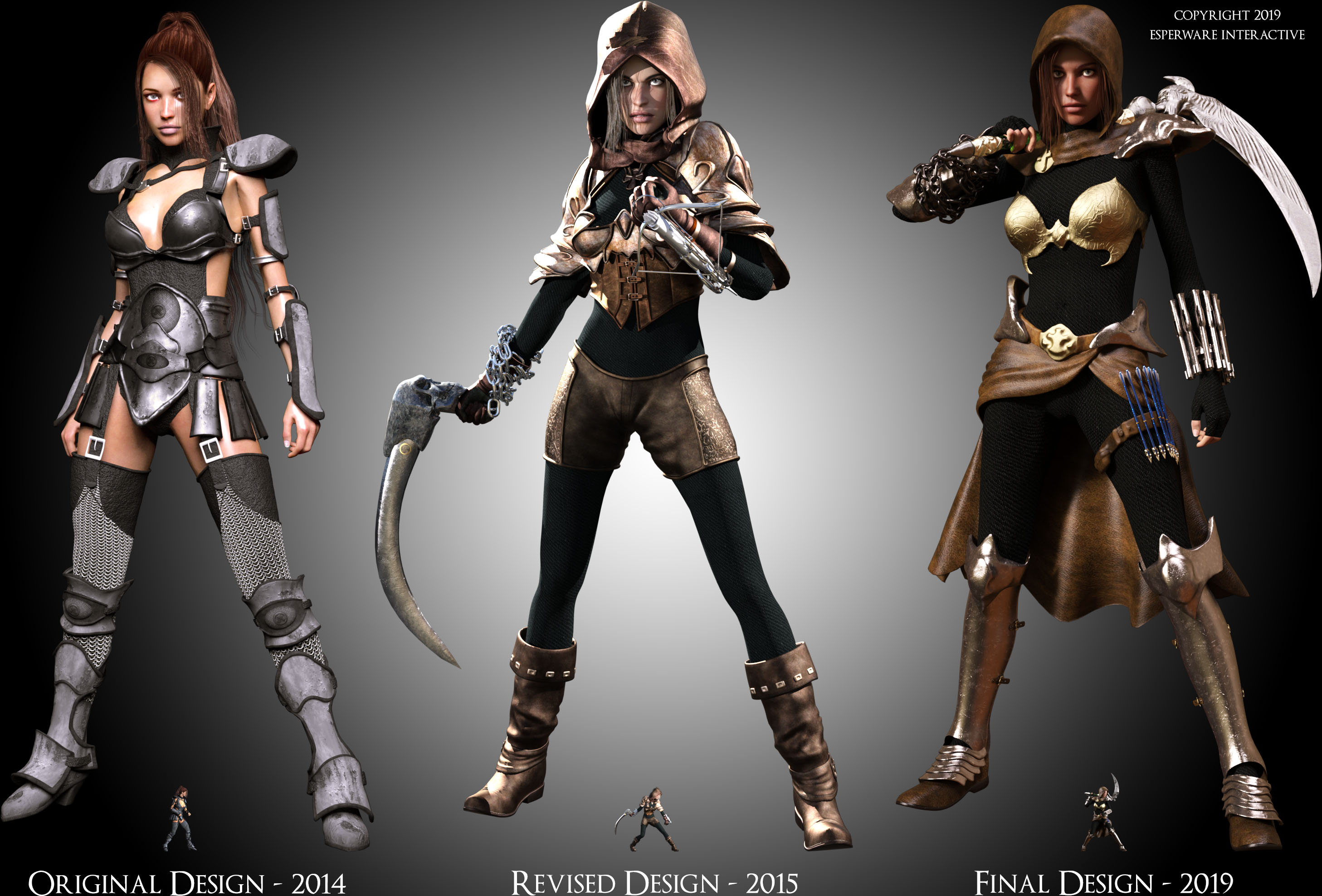 We have also redesigned the boss that challenged quite a few players we saw on YouTube Let's Play videos - Aeron, the First Vampyr. The original design was something that just no longer fit the vision for the game, so it needed to be updated as well! Gone is the silly purple/red hair color and odd body-wrap she once wore. This look is much more streamlined and in-line with the character's story.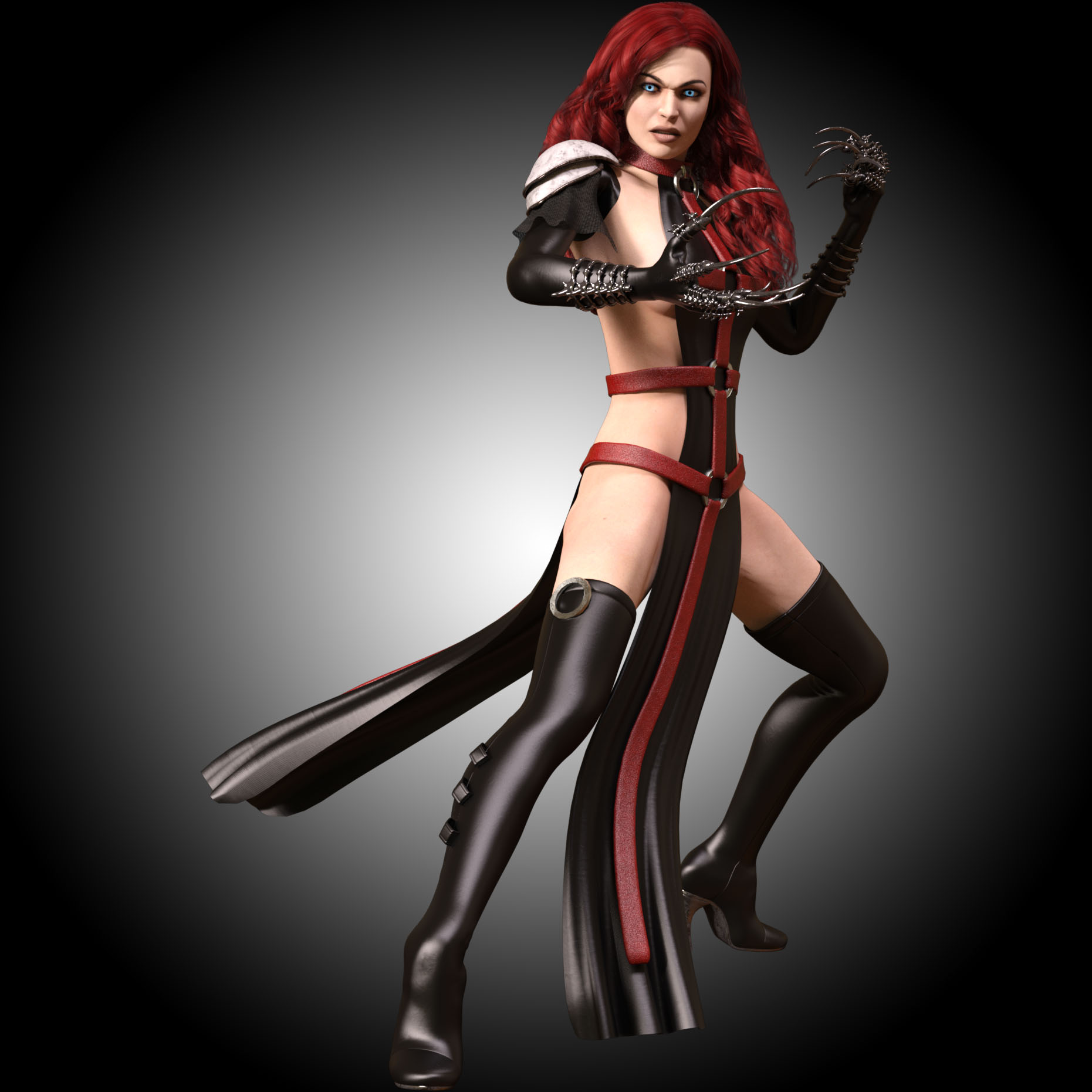 A proper development would be incomplete without a look at a brand new level you've not seen. There were a few glimpses of upcoming levels at the end of the demo, but this is the first time we've publicly showcased this new level we've been hard at work making.
This is the Ossuary - the level you will find yourself in immediately after the confrontation with Aeron as seen in the demo. When developing ideas for levels, we would always try to come up with elements that would help set it apart from prior levels. The graveyard is basically the training ground that lets players become accustomed to the game's mechanics. The forest begins to test those skills with some tight platforming in the treetops. The swamp slows the player down with jumping between vines and the log ride. What sets the Ossuary apart is it is a non-linear level, unlike the prior three stages.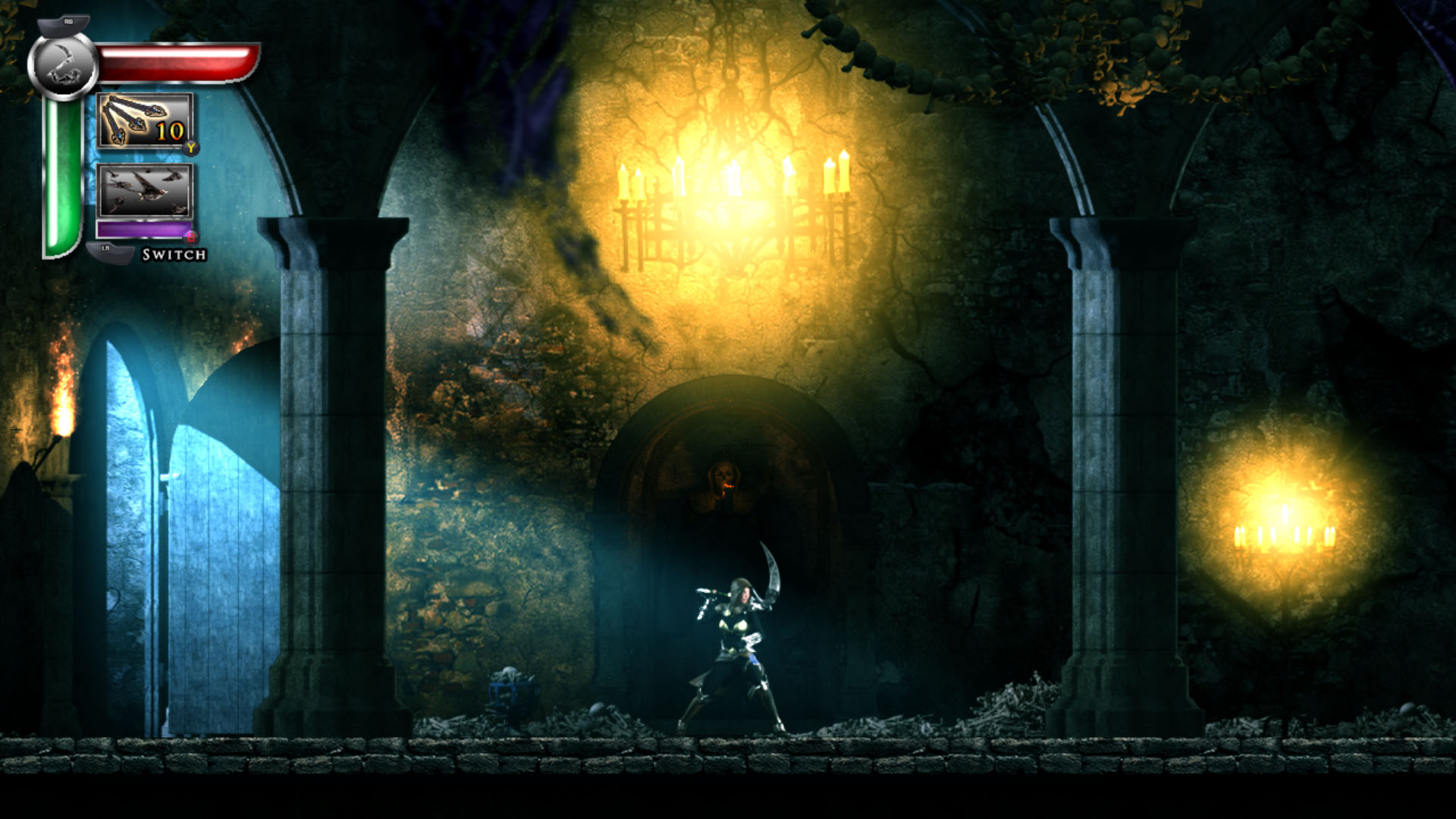 Anathema is quite often mislabeled as a metroidvania because it is assumed since it has visual elements similar to Castlevania, it must be a metroidvania. In order to be such a game, it would have to be designed for the player to obtain new abilities to access areas they previously could not. Anathema is nothing like this - it is a classic style platformer that plays more like the NES and SNES Castlevania, Ghosts 'n Goblins, MegaMan and Ninja Gaiden games. There are no mechanics that require you to backtrack to access previously inaccessible areas. Players can return to previously completed levels to obtain powerups they previously missed if they wish, similar to Mega Man X, but it is not required for the progression of the game. However, in the Ossuary, players are free to take any of the multiple routes they wish in any order, but they must all be completed before the player can progress to the next area. Each route has a switch that will unlock the exit, guarded by a powerful Vampyr Elder. Throughout the Ossuary are new enemies the player has not previously encountered that we hope will challenge and keep the player's heart rate up. The Weeping Angel can be especially surprising...


As you can see in the above screenshots, the player HUD has been completely redesigned as well. We gained some great feedback from the demo release and used that to make the HUD more intuitive and simplified. The HUD now maps the corresponding buttons the player designates in the controller setup to the corresponding mechanic.
The bottom box with the deathbringer will only be visible once the player obtains their first deathbringer powerup. As the player amasses more in their inventory they will be able to switch between them on the fly in-game. Deathbringers will still operate on a cool-down mechanic like in the current demo which was changed from the original release that consumed souls that were shared with subweapons.




As we move into the five year anniversary when development began, it goes without saying that this game is taking quite a while to make. There are three main people working on this game consistently in our spare time outside of our day jobs and family lives. Game development is difficult and elongated, but it's fun and rewarding as well. We ask that you please be patient with us as we continue to hammer away at the game. We're making great progress and have even set an internal goal for a release date; but since that is an internal goal and not concrete we can't share that now. We don't want to make promises we can't keep (sometimes consistent development updates are hard enough to keep up with), but rest assured once we know a solid release window we're going to share it!
Currently we're dividing into different tasks to cover more ground. The voice-over for the script has been recorded and cutscenes are in their pre-visualization stage. There will be a Story Mode as well as an Arcade Mode that skips the story and focuses solely on the gameplay, but the story is quite hefty and was a monumental task in of itself to write, edit and direct the voice over. Just look at the size of the script with standard script formatting...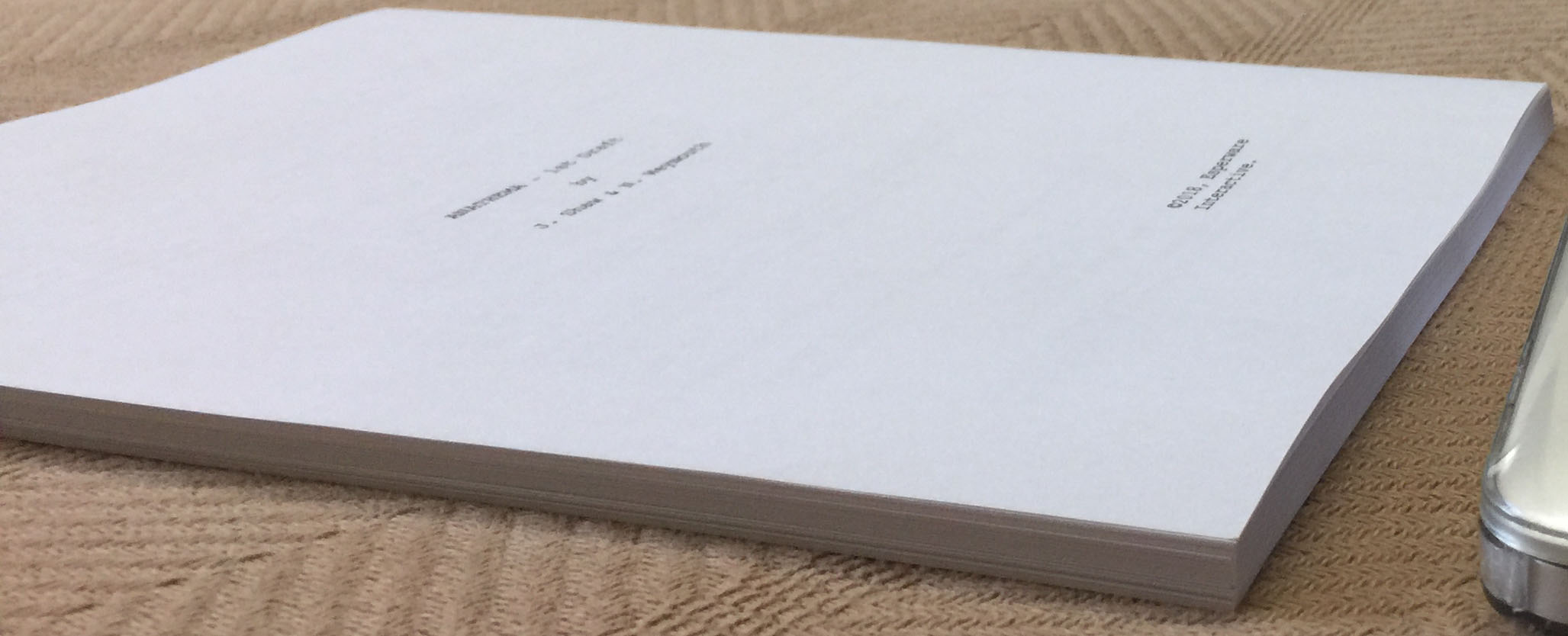 We appreciate all the feedback and anticipation Anathema is receiving. It's truly humbling and rewarding that people are interested in playing this game that we have devoted the last five years of our spare time making. Sometimes life gets in the way and makes it hard to make the progress we want to make, but in the end we think it will be worth the wait and hope you will too.
We have plans to release an updated demo in the future, but aren't quite certain exactly when that will be. Most of the update work has been completed, but there will be a new area added before where the demo currently starts which will be developed in the coming weeks along with updated cutscenes.
Thanks everyone for your support and engagement. We really do appreciate it and hope you stick with us the rest of the ride!