Salad Fingers and The Flying Spaghetti Monster Visit Wrongworld!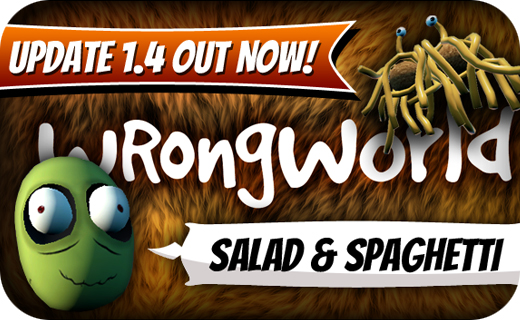 Wrongworld version 1.4 has landed, and that means there's a whole lot of fun things to talk about, so let's dive right in and take a look at all the newness:
But please keep in mind that there are minor SPOILERS ahead...
Salad Fingers and The Flying Spaghetti Monster
Salad Fingers is now roaming around Wrongworld, hoping to add to his collection of Rusty Spoons. Keep your eyes peeled for them on your travels, and you might be able to help him out and make him happy, and a happy Salad Fingers is a generous Salad Fingers!
You may also encounter a holy altar to the Flying Spaghetti Monster. If you are able to track down some lost Mysterious Emblems and return them to His altar, perhaps you will be touched by His noodly appendage and receive a powerful artifact in return.
More Points of Interest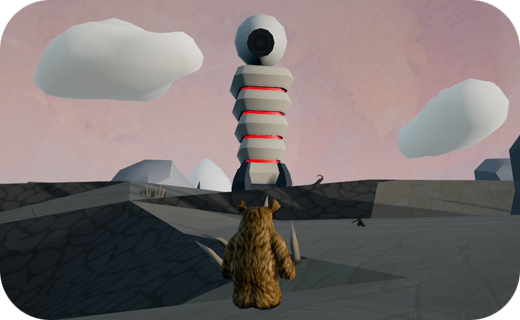 As well as Salad Fingers and the Flying Spaghetti Monster, you might encounter a few other shiny new things out in the world. What purpose do they serve? That's for you to discover!
New Crafting Stuff
A few new craftable items have also been added, and the Crafting Menu itself has also been updated so that recipes will now be greyed-out if you don't have the required resources in your Inventory, which is handy.
There's one new crafting recipe in particular that deserves looking at a little deeper...
Once you've reached XP level 5, you'll now unlock a new "Reality Manipulator" recipe. Craft one of these and you'll be able to control the random events in the game and the weather.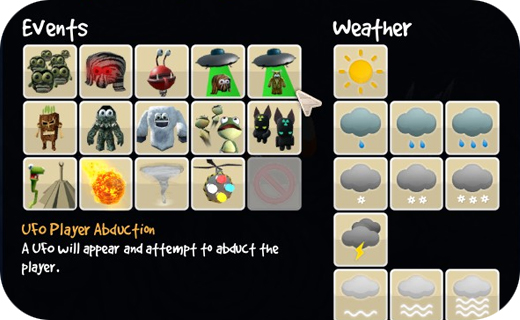 I decided to add this for two reasons:
1) Fun! Now you can endlessly replay your favourite random events, or simply cancel events that you don't want to deal with again!
2) As some of the Steam Achievements are tied to a specific random event, I didn't want people to be indefinitely reliant on RNG. With the Reality Manipulator, you can simply summon the events you haven't already experienced whenever you want.
Yes, the Reality Manipulator is massively over-powered, but it's adds a lot of sandbox-y fun, and you'll need to be very late on in the game anyway before you're able to build it.
Graphical Improvements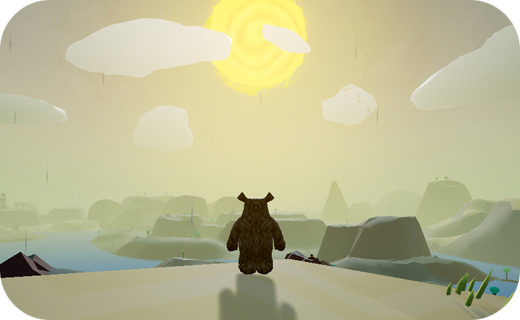 If you raise your eyeballs and look up to the sky, you'll now see some clouds floating around, and - unlike regular Earth clouds that are very boring and just slowly float across the sky - Wrongworld clouds will randomly phase in and out of existence from time to time, just for fun!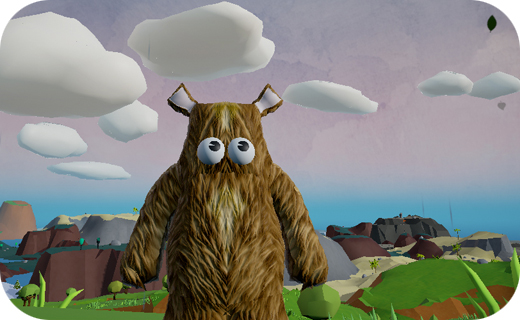 Some of the textures have also been slightly improved, including the biome and water textures, and a few of the existing POIs have also received some graphical love.
Anything Else?
And that's not all! There are also a bunch of new Steam Achievements, settings, and AI improvements. Yum.
I've also updated the credits to add a thanks to Bobby Henderson (the creator of The Flying Spaghetti Monster) and David Firth (the creator of Salad Fingers), both of which kindly gave me their blessing to include their creations in Wrongworld. If you're unfamiliar with either of these clever and talented chaps, you can learn more here (and you really should):
Bobby Henderson: Venganza.org
David Firth: Fat-pie.com
And you can now access the credits directly via the Title Screen... but I'll let you figure out exactly how to do that yourself :)
What's Next
Next up, it's time to turn my attention to potential console versions. I actually mentioned that in my last update, but I got carried away adding all the above stuff instead (although I was still making progress with the console versions too). But, this time, I really mean it. Full steam ahead with the console versions now! But I'll still be working on new content at the same time, because I can't help myself! :)
Until Next Time
That's all for now. If you want to learn more, check out the game on Steam for more info, come say hello on Twitter, and feel free to join the Wrongworld Discord.
As always, if you have any feedback or suggestions, please take a peek at the Steam Forums.

For more info on the game, please check out Wrongworld on Steam.