So, i'm sitting there one Saturday evening and i'm watching the user count in game which normally sits around 200 concurrent online at the same time, and as i'm watching it it suddenly starts jumping upwards.
I keep refreshing over the next hour and it jumps 300, 400, 500, 600, so I get on the phone to our lead programmer quick and say "hey, our numbers just jumped, I think we've got a bug, or a hacker."
He says "No, it's real, we're getting 5-8 new registrations per minute"
The servers start to melt and we start seeing loads of errors in the logs as they fail.
I say, "crikey, we're going to need more servers" and phone our network coder, who spends the rest of the day adding more servers on AWS.
We eventually get up to 2000 concurrent users online playing the game at the same time, and it's been like that pretty much ever since.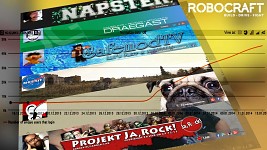 The great thing is that other YouTubers started to shout about our game, and the MAU (Monthly Active Users) has risen from around 6000 to 50000 and it's still climbing (see the graph overlay in the picture above).
The Polish users even built a couple of fan-sites called Robocraft Polska and Polski Forum which was awesome.



Since this influx of new users from Poland news about the game seems to be spreading to other nations, so we now have a growing community in USA, Germany, France and Japan.
Please, long may it continue.