Dear Survivalists,

in the last weeks, we have shown you new trees, grass and colors. Great stuff, as we think, but of course the Alpha will not be limited to floral upgrades and 31 colors. By far not.

So, what's in the package when we deliver it in about three weeks?

As promised in the last Progress Report, we'll today have a closer look at a main topic: blocks and how they are handled.

1. New Block Shape Management

With 5.4.0 we added a slew of new hull blocks and window shapes, now sitting side by side in the constructor Building Blocks tabs, fighting for your attention. Do we want to stop here with adding more shapes? No. Will this improve your constructor tab view, when we add even more items to your already cluttered overview? Not really.

Something needed to be done - and we decided to make a fundamental change on how building block shapes are handled, created and organized: welcome the new block families, where you do not need to craft each and every shape one by one anymore, but only the amount of blocks of any given material you want to place!

In detail: Create several building blocks (for example steel blocks) in your constructor and drop them to your toolbar as usual. Highlight the block in your toolbar as you would have done with the current public patch. Then, hit the right mouse button and voila, the new block family overview will unfold!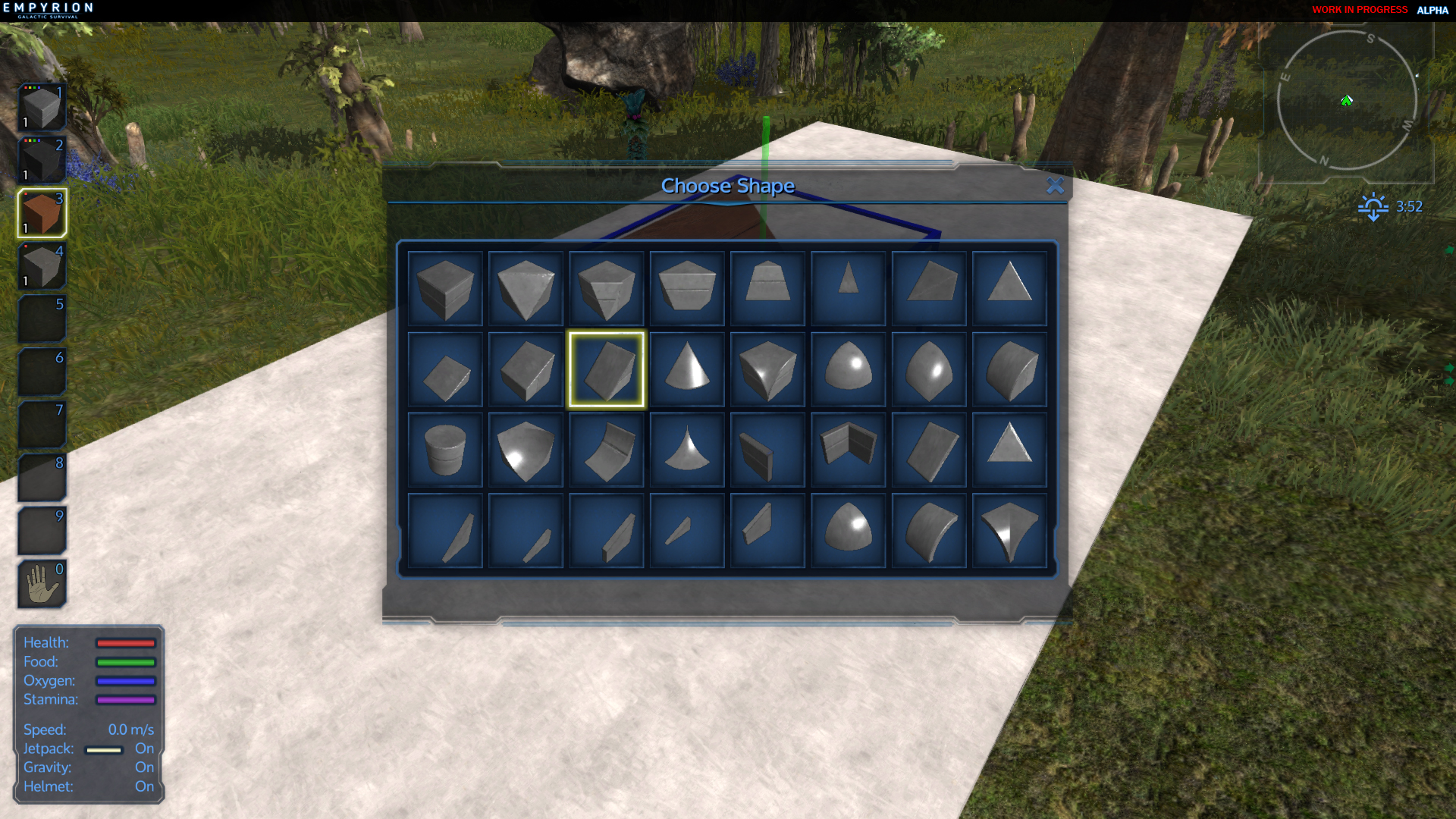 From here, you'll have all the available shapes right at your hand at any time!
You do not need to remember how many shapes you need to craft for your design. You just need to create the amount of building blocks of the material you want to place..and start thinking about the shapes you need no earlier than when you want to place them.

In addition, this will not only allow you to handle an increasing amount of shapes with ease, but also open up more space for future additions of block shapes, reduce the displayed items count in constructor Building Block tabs and free up a lot of space in your inventory.

2. New Materials: Wood, Concrete, Reinforced Steel

Now, as we have cleaned the house, what shall we do with the empty room?
How about about adding not only one, but three new materials! Here we go!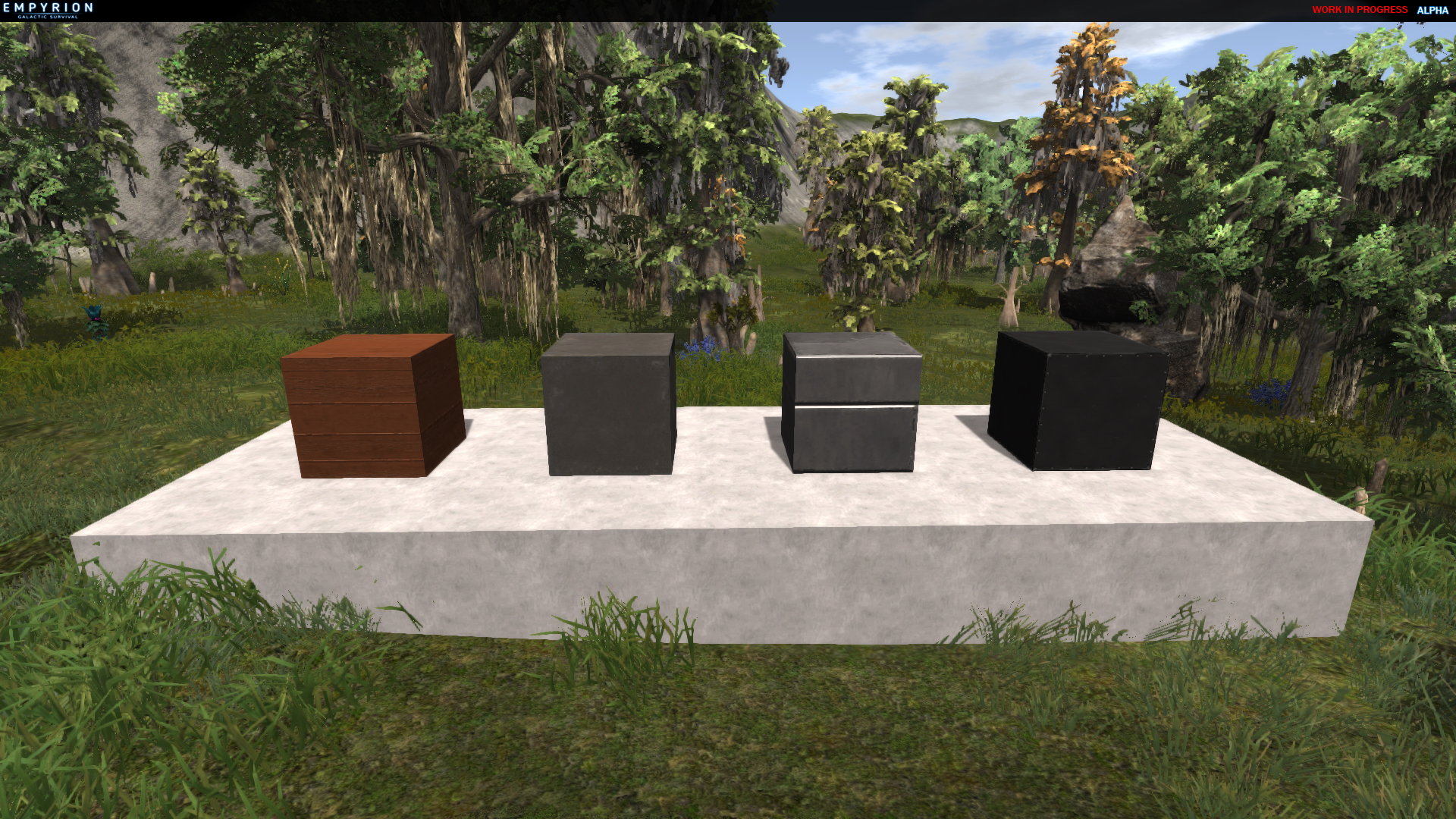 The screenshot is showing four blocks, but that's just due to the fact that we wanted to show all the materials that will be in game when playing the Alpha..
From the left to the right: Wood, Concrete, Steel (formerly known as "Hull Blocks") and Reinforced Steel.

Some details:
- We will not make any changes to Steel Blocks, except renaming them. Same recipe. Same stats.
- Reinforces Steel will ask for twice the resources and production time per block, but also adds twice the hitpoints and armor per block!
- Wood can be harvested from most trees. Wood Blocks are very cheap to produce. A single tree will allow you to craft several hundred blocks in no time (compared to the amount of time needed for the same amount of steel blocks!). Although this is an ideal material for quickly building small bases and camps, wood blocks do not offer any armor and only very few hitpoints.
- Concrete will be crafted from rock dust (basic resource, that will be converted into cement in an intermediate step) and purified water. Producing concrete blocks takes quite a while, but each template will create several dozens of blocks at once. Balancing is not yet finished, but you'll be able to create noticeably more concrete blocks in the same amount of time you'd need for steel blocks. And, concrete has another advantage over steel: concrete blocks have less armor than the standard steel, but more hitpoints!

This will make it a nice and relatively cheap case by case material for planetary bases. As a side note, and due to common sense: you cannot use wood or concrete for building any of the currently available vessel types, but for planetary bases only. Of course each of the four materials will offer all 32 shapes!

3. New Block Rotation Method

If you ever felt lost, because you were repeatedly mashing your keypad without your block rotating in the position you want it to rotate, we think you might find the following change very useful: you'll now have the rotation axis displayed directly on the block!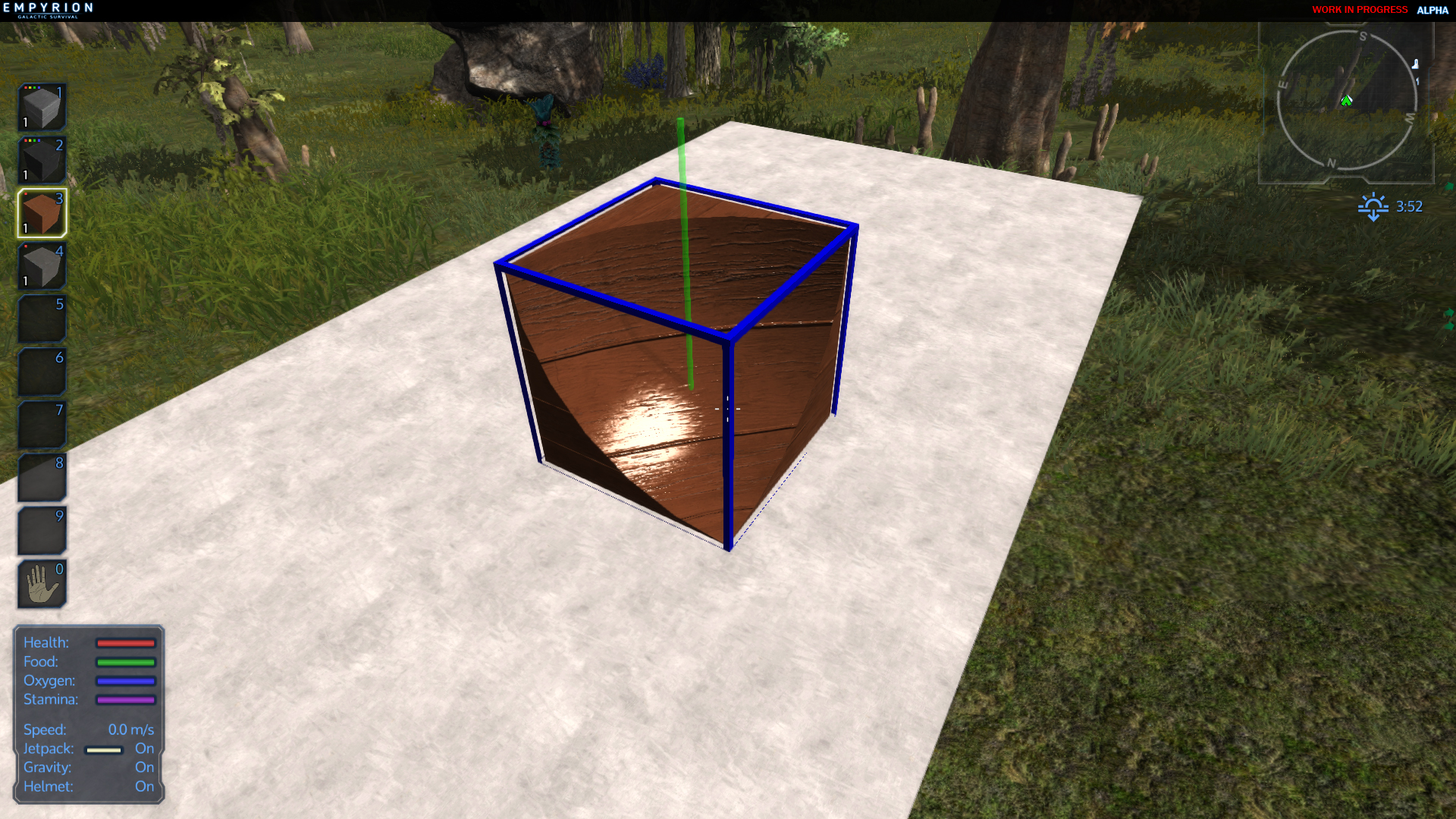 We also reduced the amount of buttons you need to rotate any block down to 3: Change the Axis (X-Y-Z), rotate clockwise, rotate counter-clockwise. The 4th button will just show or hide the rotation axis (Default = visible)

4. New Starter Block and Blueprint Placement Method

Speaking of building bases. Are you fed up with having to level the ground, only to place a base starter or a blueprint? We've heard your feedback and made the following change: When placing a blueprint or a base starter when playing the Alpha, you do not need to create flat spaces anymore. Just place your blueprint or base wherever you want. The new method will not mind steep terrain or any dent in the ground anymore.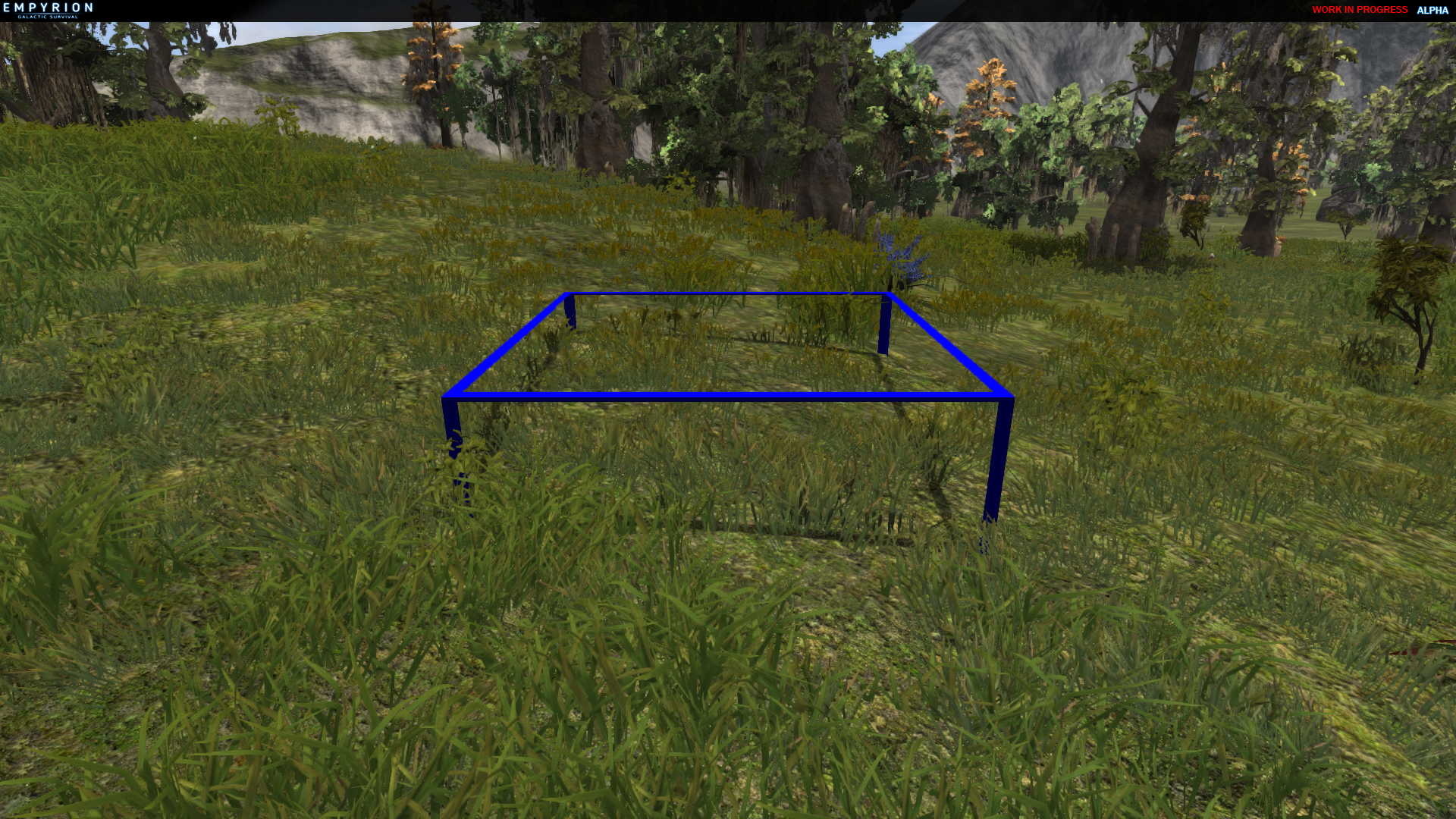 Using this new technique leads to the consequence, that water is not an "only differently colored solid terrain" anymore. Although this will open up the possibility to start an underwater base, the underlying technical change will not allow you to just place a Base Starter or Blueprint floating on the water anymore (At least that's not as easy as before. We will explain how this can be achieved in a future blog ;-)

We hope you enjoyed this more detailed progress report – more blogs about the upcoming new features and changes will follow soon!

Empyrion Dev Team


P.S. Last but not least, here are some teasers of other new features that will be integrated in the Alpha.

Saw attachment for HVs to cut down trees: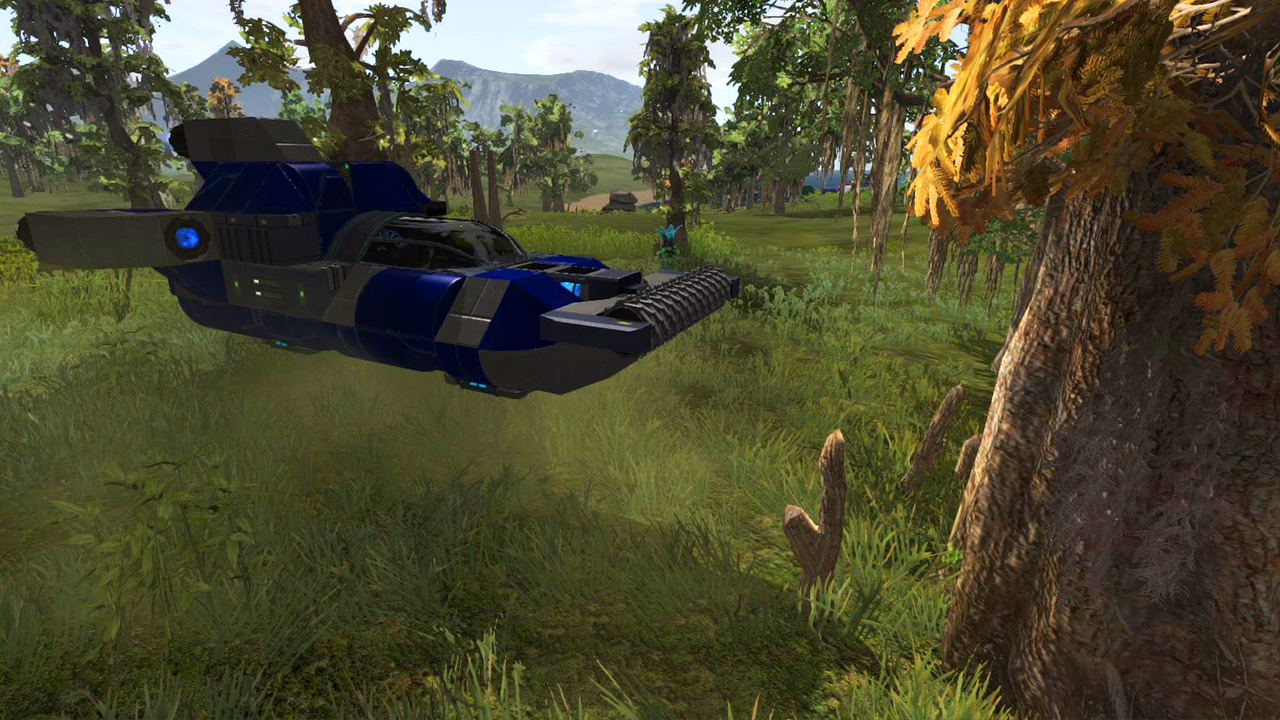 One of the many new POIs that are waiting to get explored by you: