Hi all! In case you missed it, [I'm looking for more server hosters]; let me know if you're interested. Besides writing that message, and the new stuff I described [last week], I made good progress this week. Lots of bugs were fixed, for example, so there will be less crashes in the next update, and also:
I've added a finished version of the [duel music]. It's really wonderful how much more exciting duels now are, by just changing the music.
If you now click to shoot, the part of the gun that corresponds to this mouse button (right, middle, left) turns red. This way, I hope to make the workings of the gun a little more intuitive.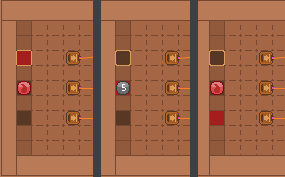 [Last update] I changed the way house ownership works, so forgetting where you built your house no longer makes the game unplayable. Losing the house blueprint, however, still does. I fixed this (more or less) by added a 'Reset' button. Clicking this button means all your inventories on the current server will be changed back to how they were when you started the game - so you get your blueprint back, but lose all other things you collected.
Resetting passwords for people who forgot them started to take a little bit too much of my time, so I decided to make the time investment and add a Forgot your password? feature to the website.
I added the possibility to run servers on custom ports, and connect to custom ports. In case you want to run multiple servers from 1 machine.
Finally, I participated in the Simcity beta this weekend. This partly was a stress test for their servers (because, surprisingly, even singleplayer Simcity will have an always online requirement, but let's not talk about that here), and it indeed turned out their servers couldn't handle what they were supposed to handle. Interestingly, they still were able to communicate to the players which could not log in by displaying an ingame box with text. This text was dynamic, which means that they could update it whenever needed. Brilliant. Olvand now has this too:




I can update this text without forcing players to update the game, which makes it possible to make sure particular info reaches everyone before they start playing. I could say things like 'Don't go in the cave, it's still buggy', or 'All servers are down, please be patient' or even 'Merry Christmas!' (or stupid jokes). No longer do I have to hope everyone reads the blog.
If you want more development, see [twitter] or [facebook]. If you want to be a tester, you can subscribe on [olvand.com].