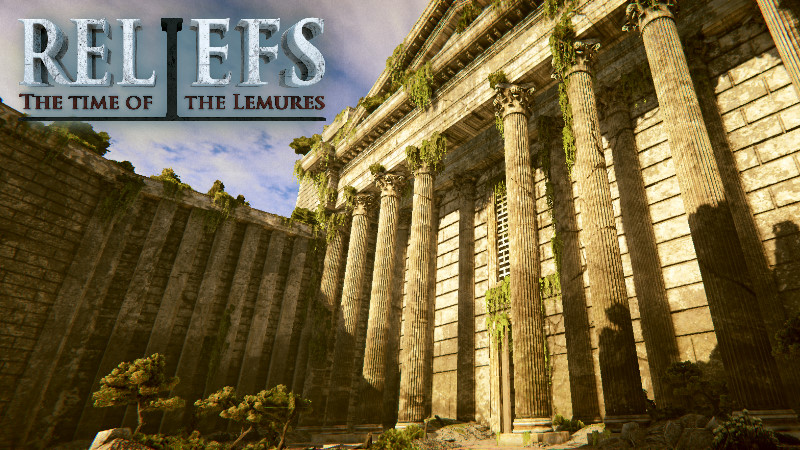 Hello everybody !
Reliefs The Time of the Lemures update 0.3.03 is now live!
In this update a new area is offered to you with new environments. But also several bug fixes and added features.
This update does not reset your save, you can directly explore this new area!

Quick summary of this update:
- Addition of a new zone.
- Updated loading screen.
- Easier interaction with a torch or lance equip.
- Modification of graphics.
- Optimization of loadings.
- Bugfix.


Content details of update 0.3.03:
Level:
- The game's main temple level is now available. With many explorable rooms.
- Addition of various details in the tutorial level.
- Added the first statues in the new level. Much still to come!
- Added a small loading interface with random images and little tips while loading the game or between levels.
Gameplay:
- You can now climb a wall or use a rope with an equipped torch. The torch will automatically drop to the ground to continue to illuminate the player.
- You can now climb a wall or use a rope with an equipped lance. The lance is automatic without equipment.
Optimization:
- Added a dynamic loading system between levels to optimize performance.
Graphics:
- Improved the appearance of marble textures for more realism.
- 3D modification of the herbs for more realism.
- 3D modification of small trees for more detail and a more realistic shape.
- Updated the LOD shaders of the vegetation, it now moves with the wind even at a great distance.
- Improved volumetric fog. Now it moves and comes alive with the wind.
- Improved textures of cliff LODs.
Bugfix :
- Fixed an issue with the torch going through the ground when dropped.
- Fixed the shadows generated by the torch, it could not display or display too much.
- Fixed an issue with the sound when the character was crouching without the "crouch" key being pressed. The sound emitted was a sound of normal walking while the character was still crouching.
- Fixed the Reliefs logo bug in the interface. On some resolutions it could overlap the menu information.
- Fixed the collision of a temple that did not have the correct properties, the player could climb that temple without rope or ivy.