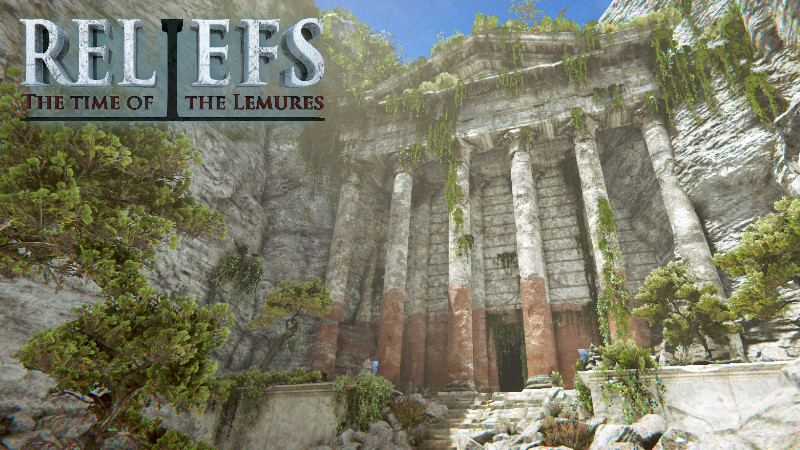 Hello everyone and happy new year 2021!
Reliefs The Time of the Lemures update 0.3.02 is now available!
This update is very important and changes the game in depth. Modification of the gameplay, graphics, addition of content and of course correction of bugs.
On the other hand it does not bring a new explorable zone in the game. Only the tutorial zone is available as before but it has been totally modified. This update was necessary in order to get a playable and enjoyable game before starting to add the rest of the content, environments, puzzles and story.

Quick summary of this update:
- Complete redesign of the tutorial area.
- New tutorial with new interface.
- Changed player physics.
- Simplification of many features
- Modification of string physics.
- New 3D background of the main menu.
- Quick take into account of QWERTY or AZERTY keyboards.
- Modification of graphics.
- Overall game optimization.
- Bugfix.

Important:
I have set up a system that allows me or not to reset your options and / or your backups after an update. For this new version the options and the backups are reset because this update contains too important changes.
This reset will not be systematic and your backups will be reset as little as possible. But for the options this will be more frequent because many features still have to be added.
I would inform you as now if ever after an update your backups or options will be deleted.

Details of the content of update 0.3.02:
Support:
- Implementation of a system for resetting options and / or game saves if ever a major update of the game modifies certain options or areas.
- Font size has been enlarged in some game interfaces for better visibility.
Level:
- The tutorial level has been recreated to work with the new tutorial, updated gameplays and player physics.
Tutorial:
- The tutorial has been completely modified, it is now simpler with an easy to understand interface.
Stone markers with blue and red fabrics have been added in the tutorial to help the player navigate the level.
Gameplay:
- The player is now physical. It reacts to the environment and the environment reacts to it. The player has a weight that can be used to solve puzzles for example and an inertia that is useful for jumps. The movement of the character is much smoother like the vertical movements due to gravity.
- Wall jumping gameplay has been simplified, now you just have to press jump facing a wall to bounce without having to press forward and run at the same time.
- The climbing gameplay has also been simplified, your character climbs all alone in all directions.
- The ropes are now physical, you will be able to climb on these ropes as before, but also to swing.
- Player height is now higher.
- Changed FOV for the field of view which is now narrower.
- The torch automatically stows when the lance is equipped and vice versa, or when you climb and climb a rope.
- Many main character animations have been changed.
- The game now natively supports QWERTY and AZERTY keyboards without having to change the controls in the options.
Graphics:
- Updated Unity Game Engine from version 2019.4.8f1 to version 2019.4.15f1.
- Added parallax map for cliff and rock textures for more details.
- Added parallax map for the textures of ruin walls and bricks.
- Changed the materials of temple ruins, herbs, leaves and rocks for more realism.
- Activation of SSR (screen space reflection) to get real-time environmental reflections for oceans and others.
- Changed the appearance of lake and sea water for more realism.
- Changed clouds more dense and they now affect the color of ambient light.
- Addition of rock in high definition to increase the details of cliffs and platforms.
- Improved grass and leaf shaders with wind effects now visible and enabled leaf translucency for realistic lighting effects.
- Modification of ambient light and color.
- Modification of the shape of the sun, more realistic.
- Added dirt mask to the camera.
- Addition of caustic effects in the water but also the reflection of light by water on surfaces.
-Improved Mip maps of vegetation textures for a more correct rendering from a distance.
- Improved near shadow resolution
- The 3D menu interface font has been completely recreated.
Optimization:
- Addition of many more or less simplified and collision-free LODs, cliffs and trees in order to prevent the computer from calculating inaccessible and unnecessary areas to gain fluidity. This also makes it possible to display a much greater and detailed viewing distance from afar.
Bugfix :
- Fixed an issue where the player using the controller during a jump would not allow the camera to move.
- Fixed sounds not playing when jumping on a wall and using a controller.
- Fixed the option system that allows reversing some throttle axes, some axes that were reversed did not work.
- Fixed with new player physics getting stuck in wall, boulder and cliff collisions.
- Fixed an issue that could cause the character to get stuck in receiving jump animation after jumping very high.
- Fixed an issue that caused the character to get stuck in the spear loading animation when the character fell with a spear equipped.
- Fixed an interface issue that could cause texts to disappear on high resolutions.