Hello!

Last week we finished up the next iteration of The Arcane Relics™ (v0.0.21) and sent out some closed demos! We are now working towards the next step, the public demo! After that, we are planning to release on Steam Greenlight's Early Access program. We want to get the game to a certain point with most base mechanics in beforehand, though.
---
INDEPENDENT MENU NAVIGATION

This past week I have started working on one of the essential features for the public demo, independent menu navigation for all players. As some of you know, menu navigation has been shared between players up to this point. Currently, I'm working on the Title Screen and the Player Setup scenes and will soon be starting all the in-game menus (Inventory, Level up, Arena Bulletin, etc.). It's actually coming along quicker than I thought it would be. :)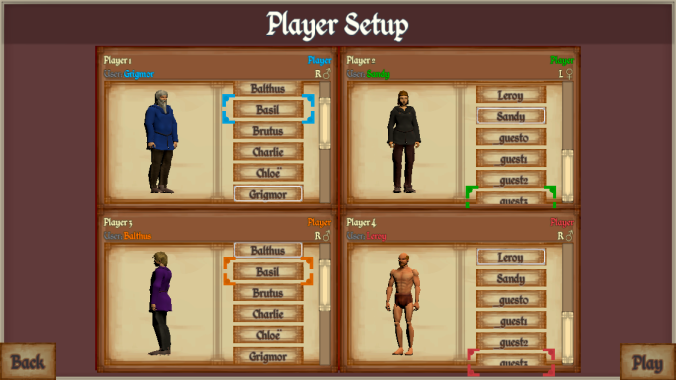 The Right joystick now spins your character around in this menu!
Some improvements with this new menu navigation system already include:

• Cursor is more clearly visible. The cursor moves towards the next selection making it easier to spot and easier to see what direction your cursor is moving.
• Scroll views will now follow the current selection. No longer will you have to navigate to the scrollbar and adjust it and then navigate back to the desired element inside.
• Some older menus have been adjusted, and made a bit more aesthetically pleasing.
---
ANIMATIONS

Some new animations and a new carpet. (WIP)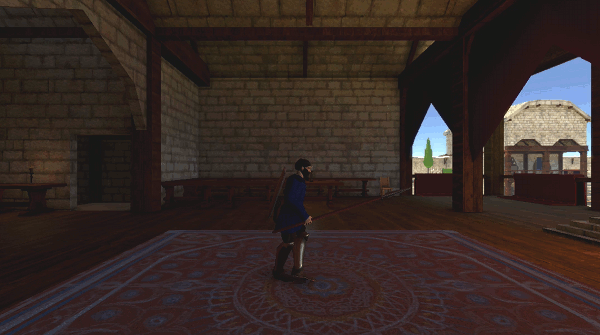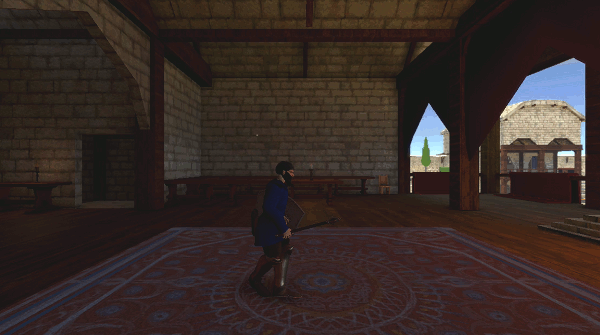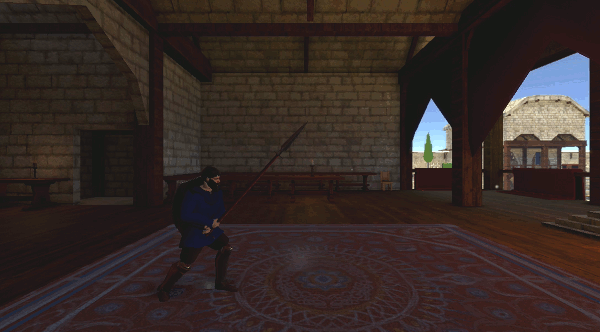 What's that right foot doing!?
---
PICKAXE & SHOES

Pickaxe: We've made a new item that can be used for things like mining, in the future, or as a weapon.
Also, the shoes have finally been textured. Before they were more a solid brown color with AO. They now have light soles!
---
BUG FIXES & MISC IMPROVEMENTS

• Splat decals now fade away.
• Fixed triangle of pants going through armor on legs.
• Armor & weapon damage/armor values now tint and update based on condition in menu display.
• Consumable effects now display similarly to weapon/armor values, with icons!
• Town gate now plays chunky metal sound when opening/closing.
• Possibly fixed projectile weapons from hitting the shooter/thrower (in testing, we haven't had this occur again… so far).
• Sparkles emit around a player when they level up.
• Doors within Water Cave now open slower to match their opening sound.
• Updated armor values, adding fire resistances & weaknesses.
• You are no longer able to wear both colors in an arena match and still be included on a team (unlike before, where it would get the team of the last color equipment equipped). Also, it no longer removes you from all teams when un-equipping a colored equipment – while still wearing another color.
• Went through and tweaked day/night cycle lighting and ambience/fog.
• Bats & hornets no longer attack targets that are underwater.
• NPCs will now attack those vicious Blood Bats.
• All extremities color bloody, black & blue when injured.
• Added emissive incandescence to pickaxe & short spear weapons.
---
AND, A SCREENSHOT!
We've also started some other new exciting features, that we won't disclose yet. ;)

Lastly, we are releasing the Development/Roadmap page on our site, showing a loose guideline as to when we will reach the next milestone, the public demo.

Take care, everyone!