Greetings and salutations!
This week's screenshot once again shows a trailer-still, this time from the work-in-progress "main trailer":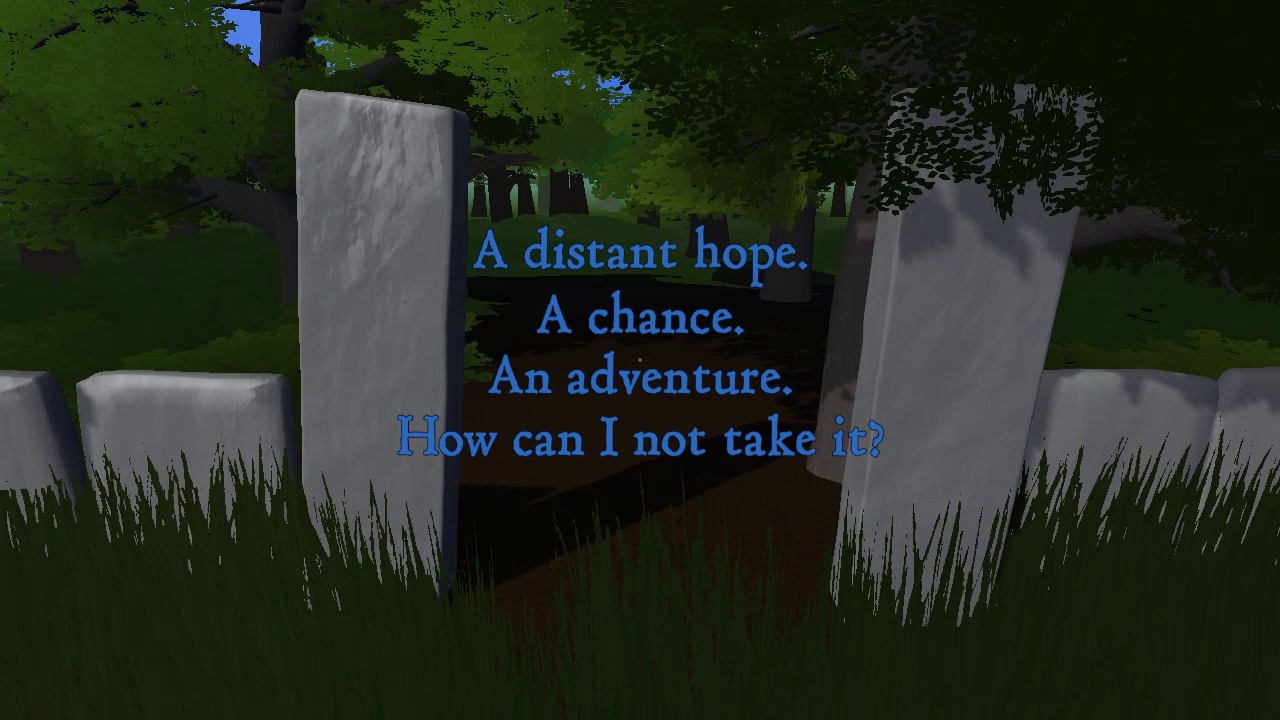 The week just past was primarily given to trailer-making and promotional-material preparation. However, there's also some news regarding the demo! :D
To start with, that demo news!
You may recall that I've been waiting for a new version of Panda3D to be released. Well, just today that happened!
There are some tests and adjustments to make, but with the game's trailers and other promotional elements making progress (see below), I'm now hopeful of announcing a demo-release date soon. So keep an eye out for that! :D
That said, on to the usual news regarding the work done in the week just past:
There are a number of pages and posts that serve to give information or promotional material for A Door to the Mists. Offhand, there's the IndieDB page, my website's pages, the first post in the TIGSource devlog, and the game's press kit on my website. In the week just past I set about updating these, and furthermore added a press kit to the game's IndieDB entry.
(Since the new trailers haven't yet been released, these all still use the pre-existing trailers for the moment. I intend to update them once the new trailers are out!)
If you want to visit either of the game's press kit pages, you should find them at these links:
IndieDB: Indiedb.com
Personal website: Thaumaturge-art.com
A major part of this process has been replacing the screenshots found on those pages--while some were likely fine, I fear that others were a little out-of-date.
So, having taken some new screenshots in a previous week, I first looked through and selected from those; then, noting that they were weighted a bit toward level two, I went and took more.
With that done, I uploaded them as called for, and updated the relevant pages.
(I actually ended up doing this twice: To start with, I inadvertently added them to IndieDB in reverse order. Then, before re-uploading them there, I decided to add a logo to the images. I thus re-uploaded them not only to IndieDB, but to other pages too.)
Here is one of the new screenshots, with logo visible at bottom-right: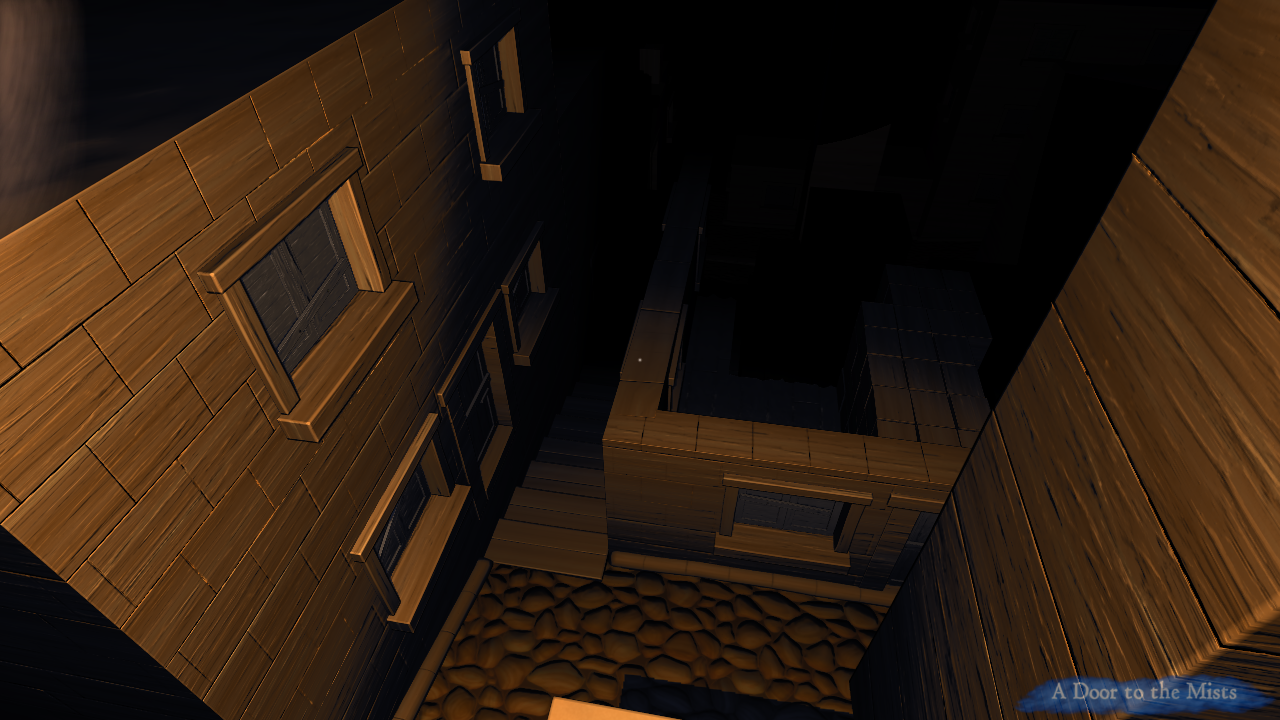 Furthermore, I tweaked the text and layout in a few places; the TIGSource first-post in particular had the layout of its images reworked, a new line of text inserted, and a link to the game's IndieDB page added.
As I recall, when I came to add a press kit to the game's IndieDB entry, it turned out that IndieDB had size-requirements for press kit game-icons--size requirements that my icon didn't meet. And, well, I wasn't entirely happy with the extant icon.
Hence, in the week just past I painted a new icon for A Door to the Mists. The basic idea is the same: a representation of what the "Door" in question might look like, with mist showing within. But this version is, I think, much improved--and of course is now much bigger, which both allows it to be used in my IndieDB press kit and makes easier the creation of size-variations.
I also continued with trailer-making. I believe the I mentioned last week that I was working on a new "main trailer", and that it was proving tricky. Well, it continued to prove tricky--but I do think that I've made good progress on it, and may indeed have it near-done!
One part that I'm quite happy with is a mist-effect placed behind certain pieces of text, as both emphasis and allusion to the titular mist. This uses the same rendered Perlin noise that I recall mentioning in last week's post, albeit re-rendered in the week just past to change more swiftly. You should see a short clip of it below:
And along the way one or two further things were done that don't seem worth mentioning here.
As to my "Wandering Visual Novel" side-project, work continues there on the character editor. This is coming along quite nicely, I think: I can load and save characters; position, scale, and rotate details (things like character-expressions) on poses; and delete details and visual-novel choices. ^_^
And finally, another Let's Play of Night River was uploaded in the week just past! It's really great to see people discovering the game. ^_^
You should see it here (followed in the same video by a Let's Play of another game):
That then is all for this week--stay well, and thank you for reading! ^_^