Hello, Martians!
Today is the last day of the Survival Festival. Now that more players have tried out Occupy Mars: Beta and Prologue, let's talk about development progress of the upcoming Early Access release! We'd like to show you a few things we've been working on.
Updated UI
We mentioned a few times in the past that we were reworking the UI, adding new interfaces for many new features that weren't in the game before and polishing the existing ones. In the previous devlog and during our streams, you could see the new Sleeping panel. This time, we'd like to show you:
New Messages Panel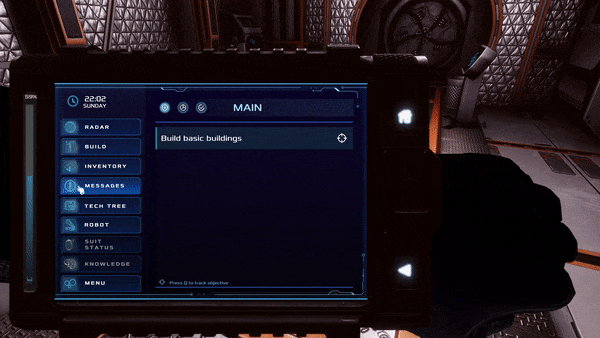 New Inventory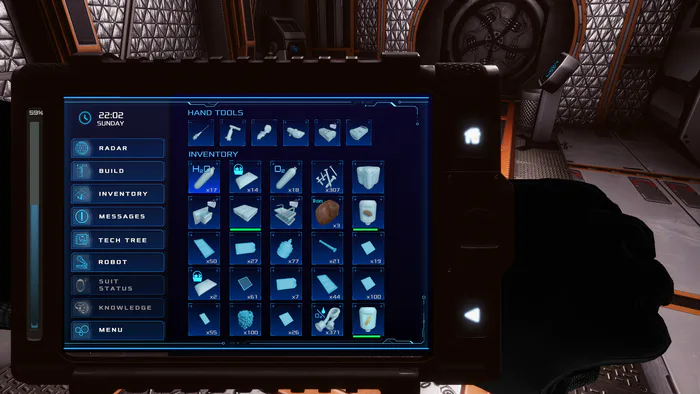 And last but not least, menu of one of the more complex features in the game…
Tech Tree – work in progress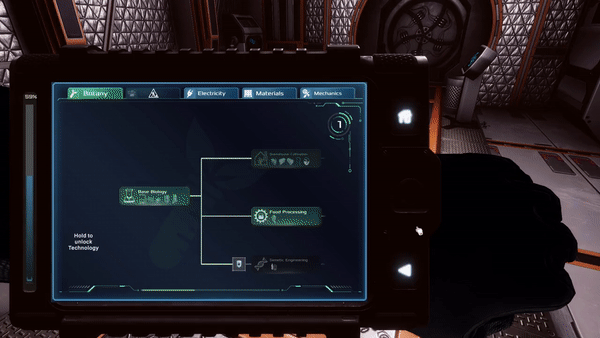 More options and customization
Now, you have even more options to adjust the game to your needs! To be more specific, there are many more options visible in the Graphics section right off the bat. Some of those could be accessed in the main Quality tab, but now they are split into more visible individual settings.
Here is what you'll be able to set:
Let us tell you about the "Always render environment" option. Terrain rendering allows you to decide whether you'd like to have the terrain visible from inside your buildings or not. It mostly affects the buildings with windows – if the option is checked, you will see the view outside your window. If the option is not checked, scenery outside will be replaced with simulation – not necessarily accurate to your surroundings, but believable enough to not bother you much.
It's a very useful feature optimization-wise as it allows you to reduce GPU's usage and make the game run smoothly if you experience lag in the game. Losing that nice view from your window is a minor loss in comparison. :)
There were also some issues related to saving on specific devices – we have changed the way the game is saved and hopefully, that will solve those issues.
Time (and testing) will tell!
Mechanic improvements
We continuously improve existing game mechanics. The controls of Seed Tool you use to plant seeds and the Air Pressure Tool have been slightly changed. After taking out the tool, you can now press Up and Down arrow keys to choose the magazine you want. Menu to the right gives you an overview of seeds you have.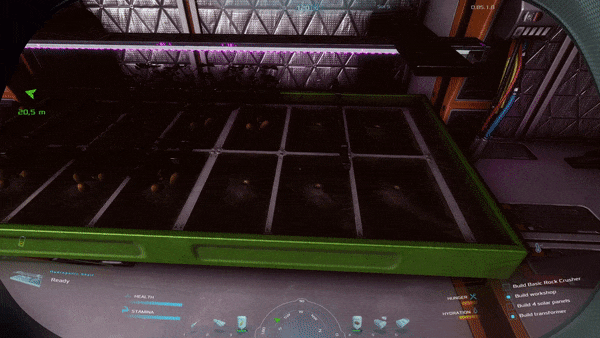 We've been further improving mechanic of drilling and rock mining. Rock analysis with the upgraded Spectral Detector on 2nd and 3rd level has also been vastly improved.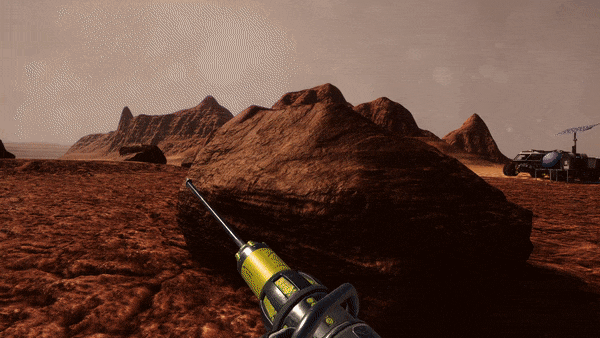 We have also made changes to temperatures and adjusted damage player receives due to low temperature. In the past, player was receiving set amount of damage throughout time frame of 5 PM and 6 AM. Now, damage received is proportional to temperature. Time no longer matters. At -40 Celsius degree player starts receiving damage. The lower the temperature (usually at night but not necessarily), the higher the damage.
Another useful feature is a list that you can keep on your screen to help you keep track of materials you need for building. All you need to do is to go to Tablet menu, choose a building from a list of building and click on in with right mouse button. A list will appear to your left which will remain there even after leaving the tablet menu.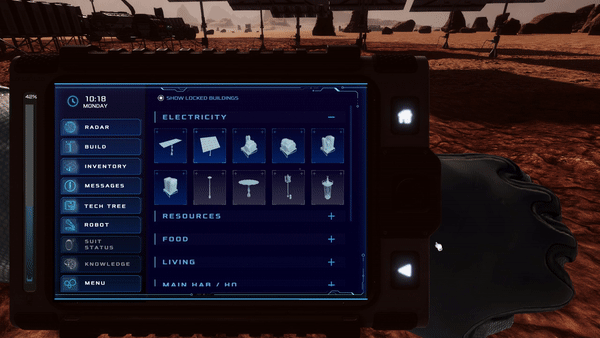 Quality of life improvements
Alongside all of this, we have made some quality of life improvements – not as spectacular, minor additions and some readjustments, but with everything else, they should improve the gameplay experience. Mouse sensitivity has been corrected, as well as camera movement during sleeping animation. Full controller support has been included in the Main Menu. Moreover, during tutorial missions, you can view the gamepad controls. When choosing your landing location on Mars globe, you can manually rotate the globe.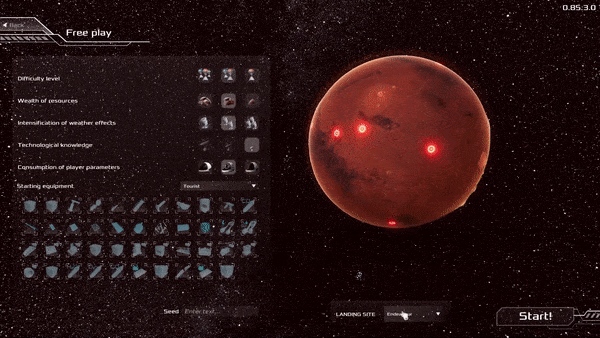 Some music to soothe the soul
We're working on a certain feature which will allow you to listen to your own music in-game – a radio! It's still a work in progress and a subject to change, but here is overview of how it works for now:
Before launching the game, just add your favourite songs to an appropriate folder. They will all appear in a menu on the Tablet, from where you can arrange them into playlists.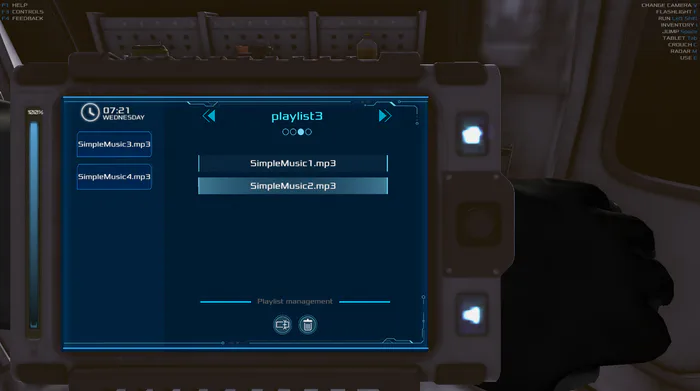 Once you're done, all that's left is to build a radio and place it in your preferred place. Music will play automatically whenever you're in the radio's range and if you'd like to stop the music, just click on the radio. You can destroy it and thus move it to your Inventory if you'd like to change its location later. All your playlists are saved, so you can come back to them anytime.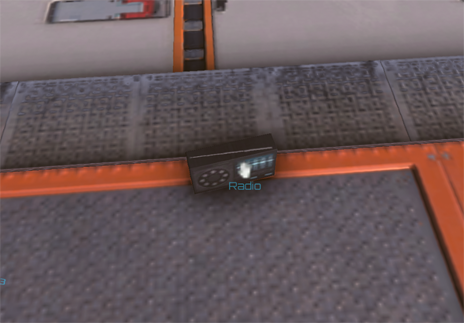 All these improvements are developed alongside fixes for the Beta version. Even more content is coming as a lot of these new features are work in progress. We have yet to tell you about the rocket launcher, but that's a story for another devlog as we're still working on it. :)
Best Regards,
Occupy Mars Team