K&L'S OFFICIAL FIRST TRAILER IS NOW LIVE!
It's been 5 months since Knights & Legends: Dawn of a New Age was announced for Windows & Mac computers. The game has been through constant positive changes ever since. In this article I'd like to go over some of the content which will be present in the final version of the game.
First, the game will be making its debut on Steam and Itch on July 30th, 2021. When you purchase the game, you'll be able to chose to download a .Zip archive, or for Windows users, the option of a self-extracting installation wizard will also be present where supported.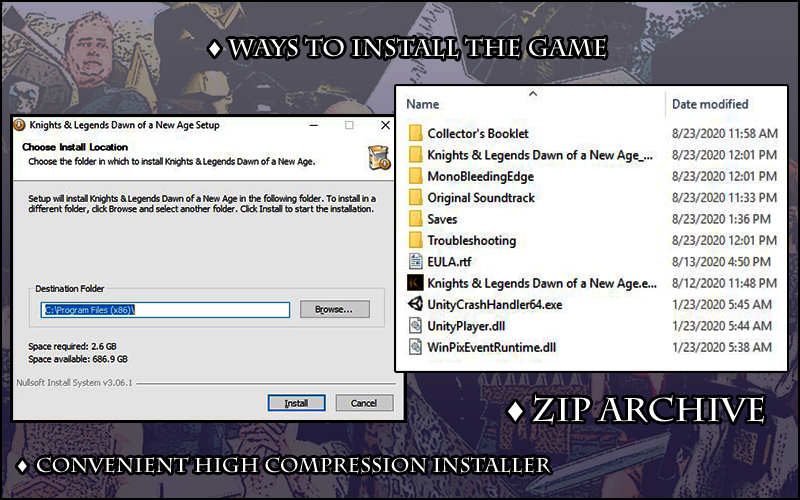 Expect the final version to pack approximately ~3GB
A new demo will be uploaded in the coming months. It's expected to arrive anywhere between December of this year and January 2021. The final version of the game is expected to keep you entertained for 8 to 10 hours, give or take. Don't forget to follow! Get the latest updates first.
ABOUT ITS UNIQUE CORE SYSTEM
The game aims to deliver a nearly authentic fantasy medieval experience unlike any other game available in the market. Combat feels engaging, the secret lies in complex enemies and precise key presses. Basically, if you blink you lose. There's much at stake here! Dying will make you respawn from the beginning of the level.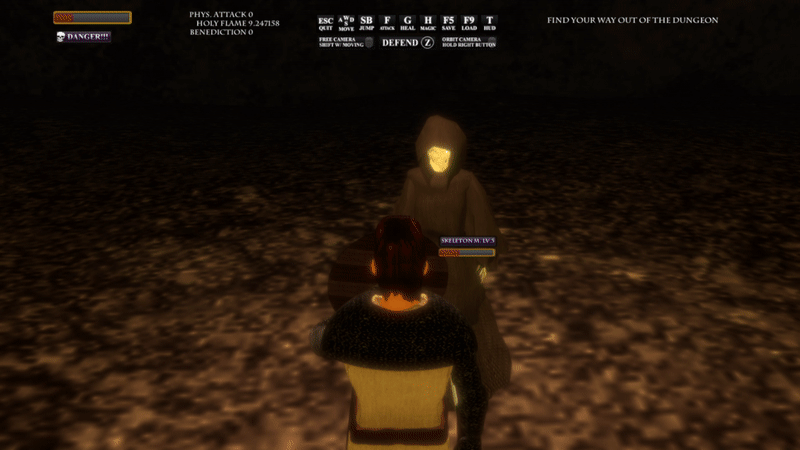 Near death battle with a skeleton mage
The core system of the game revolves around attacking, blocking, spell casting, and healing. Depicted above you see cooldown timers set in place for each and every move you make. Sense combat is non-stop, you'll still receive damage every time you take a hit. That's why it's important to block your enemy's incoming attacks with your shield. Blocking at a precise moment will reduced any damage taken for up to 50% of its total value.


Battling a Geist in the deep dungeons of Vancroft
Healing at the right moments could make all the difference between life and death. Don't second guess yourself, or you'll find yourself having to backtrack all over again. Use the offensive spell Holy Flame, to cause critical damage in all undead and other vulnerable foes.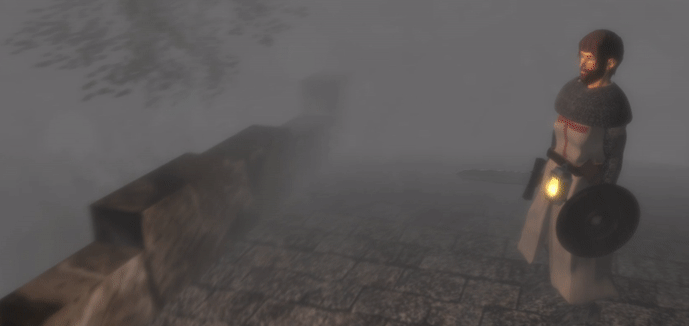 Foggy night in Northern Vaux Valley
Another key element of the game's core system is the atmosphere. You'll find yourself being surprised and at times ambushed when you least expect it. Fog not only drastically limits your visibility, but also makes you vulnerable to other perils. Your lantern is your best friend.


Forest Dragon hunting for a meal in Vaux Hills
Also referred to as Drakes, not much is known about these giant lizards. No one knows for sure where they originated. Approach one, and you'll be reduced to cinders. It's common practice to avoid high places and seek refuge within city walls, whenever one goes airborne.


The Vancroftian Knights and their Champion investigate a crime committed within city walls
Cinematics are the third main feature in the game. Not only these scenes help set the mood, they also boost the narrative of this story driven medieval setting. Every level includes its own unique cutscenes. All of them, created with existing surrounding environments and real time light effects. This method Provides a seamless transition from cutscene back to player control.


Approaching the ruins in the far end of Vaux Hills
The fourth main feature of the game is the amount of detail put into all natural environments as well as men maid structures. The world feels vibrant, with the wind blowing through high grass, bushes and trees. In certain occasions you'll notice how it affects flames and the smoke produced by the fire.


Thank you for stopping by! Hope you've enjoyed this special milestone article. Knights & Legends: Dawn of a New Age is solo project, and an original creation by me.
Regards,
Felix, J.
Knightstabletoprpg.com