Knights & Legends: Dawn of a New Age (Ultimate Edition New Trailer)
Thank you to all the fine gamers who have shown interest in Knights & Legends: Dawn of a New Age throughout its development stage up until now. I've been very busy at work finalizing the game. On the 18th of April, it finally went gold! The input you left while playing The Lost Chapter Demo, was of utmost importance and I've successfully done several tweaks to performance and other smaller things.
This will likely be the second to last articles before release day. What you see in the video above is actual gameplay footage, including the Ultimate Edition's original animation. The game will be available through DriveThruRPG and Itch. The Ultimate Edition, will be exclusive to DTRPG, where most of the game's current fanbase is. You'll also be able to purchase the Standard Edition through Itch.
Here's what you'll get with the Ultimate Edition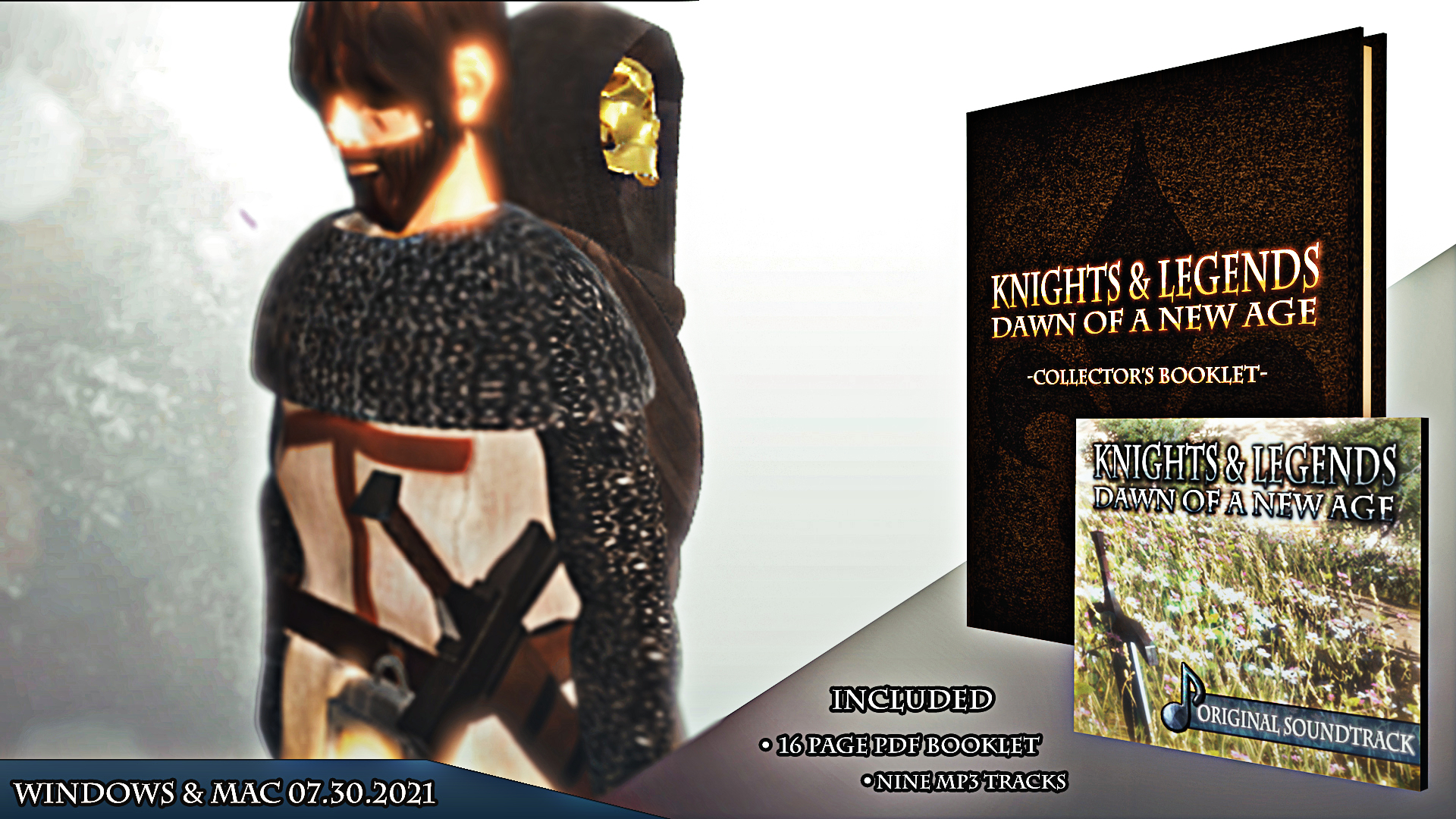 Original Soundtrack
Collector's Booklet
Original Animation
Blood Oath Mod (Windows OS)
Classic Knights & Legends (TRPG)
K&L's Original Adventure Trilogy (TRPG)
New Horizon: All-In-One Core Book (TRPG)
All New Horizon Adventure Books (TRPG)
Here's what you'll get with the Standard Edition
Save when you subscribe to Knights & Legends on DTRPG!
All subscribers will receive $5 off the ultimate edition on release day. If you wish to save, I encourage you to visit drivethrurpg and create an account if you don't have one. Visit the game's publisher page and check the box on the left, to follow your favorites. You could also add the recent Dawn of a New Age demo to your shopping cart. Once on checkout, make sure to check all Knights & Legends related boxes on the right, in order to subscribe for periodic e-mails. This will give you a glimpse of how the site works without having to input any payment information. The standard one-click unsub is embedded in every e-mail, should you wish to opt out. You'll notice the website's architecture resembles Itch in many ways.
Another advantage in subscribing, the sub exclusive discounts! Current Knights & Legends subscribers just received 90% off deals on Knights & Legends TRPG and New Horizon Core Books; on a limited first comes, first serves promo. While these offers don't happen very often, you'll rarely see them if you're not a Knights & Legends subscriber.
Kind regards,
Felix, J.
Knightstabletoprpg.com