**Disclaimer: This is a transcript from our news announcement on Steam. We want to be more involved with the IndieDB community and we'll start to upload all our DevLogs entries here as an Article as well as Steam.
So September is finally over! Did anyone wake up the guy from Green Day? Didn't that joke stop being funny five years ago? :( September lasted at least as much as January, didn't it? It must probably be the back to back development sessions we're immersed in! While the global pandemic still rages on, we have gotten used to new working habits and are trying to make the most of this situation. Sayri and the rest of the Guardian of Lore gang have been thriving in this "new normal", let us tell you more about the changes we've implemented!
Guardian of Lore In-Game Updates
Double Trouble for the Guardian of Lore
In our August Dev-log, titled "Second Level Round-up, Kickstarting our Future and Much More!", we discussed the bad guys of the Flower of Lirolay level we had been working on: a pair of greedy, evil brothers! They look the part, too, their frowns are deep, their muscles are huge, and they are as mean as they come! They have it in for our guy Sayri, of course. With such strong characters, working on their artificial intelligence was quite a challenge, to say the least. They put up quite the fight, let us tell you, we can say it will be very interesting and will make a splash in the gaming community. What is more, the animations of the attacks are to die for!
Dancing bosses, new weapons, and more!
At the beginning of September, we began giving life and color to the Aya Huma level! It's such a vivid tale, full of music and brightness. Our design team truly went all out and had a blast playing freely with the design elements of their choice - they got to experiment and the results are outstanding.

The Ecuadorian solstice festival, Inti Raymi, is a celebration for all involved. We were inspired by the Aya Huma dancers to create Sayri's coat. This coat is the player's reward for finishing the level. It makes Sayri kick his feet up in a jolly dance if the player keeps him still for a while. Dancing is invigorating, for sure, Sayri's health bar will refill slightly while he dances his sorrows away!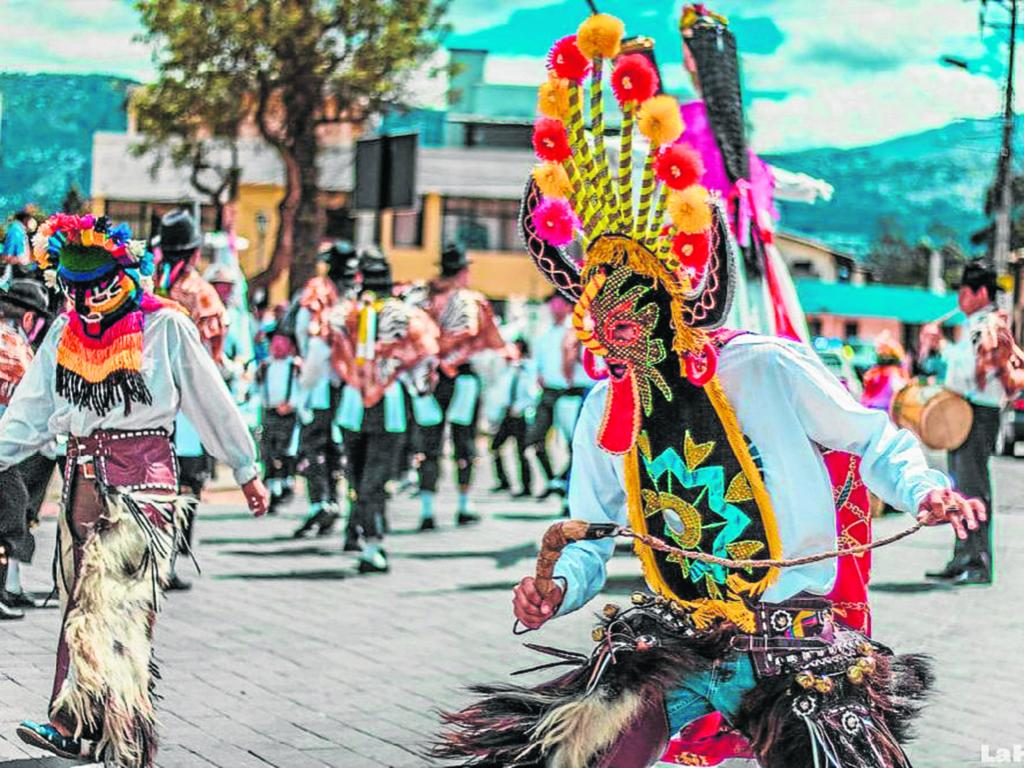 We have also been drawing the weapons of this level which will be an addition to the already existing weapons
in the game. There are three Aya Huma dancers, whom the player will face throughout the level. The final battle is also "under construction" - the final boss is a cheerful character who dances nonstop during the battle. It was a bit of a challenge, but also quite entertaining, designing a boss who dances all the time!

The Virgin and the Cherüfe level is almost done! We worked hard on the scenery and it turned out gorgeous. This tale takes place in beautiful Chile, so you can expect to see breathtaking landscapes as you aid Sayri in his quest to save the Lore from oblivion. Also, the Cherüfe - a Mapuche lava demon who feasts on virgin, you know, charming dude - is ready for 3D modeling! Here's a sneak peek at the "behind the scenes" of this terrifying character:


Among some of the new items we've been creating for the game is the delicious Fritada! It's a typical Ecuadorian dish sold in food carts, consisting mainly of fried pork accompanied by corn, cheese, and assorted carb-filled goodies. Wholly deliciousness, Batman, it's spicy, hearty and so very mouthwatering. What effect do you think the Fritada will have on Sayri? Let's just hope he doesn't demand a nap after such a treat!
Guardian of Lore Updates Outside of the Game
Did anyone say New Trailer?! We did!
The development and design team has been hard at work on a new version of the trailer! We love the original one, but taking into account how far we've come in terms of design in the various new levels, we feel it's become outdated. There are so many new and incredible sceneries, characters, and weapons, it's time to flaunt them!

However exciting it might be to create a new trailer, it does pose certain challenges. What we truly enjoy is submerging ourselves in designing the video game per-se. However, we do know that we have to take care of everything around the game as well!
Exciting online events and Crowdfunding news
This past month has been quite eventful for us! For starters, we were selected to participate in Unidos (United, in Spanish) a Livestream celebrating Hispanic Heritage Month in the USA, organized by the Puerto Rico Game Developers Association (PRGDA) and Latinx In Gaming. The Twitch live stream took place on the 11th of October. We had a BLAST! And needless to say, we were super excited and humbled to have been selected as participants.

In our August Devlog, we told you all about Guardian of Lore's upcoming crowdfunding plans. Well, we didn't manage to meet our September 30th-October 15th deadline for the campaign. These things happen, friends, sometimes deadlines are too ambitious, and, you know what? It's okay not to make it sometimes. We're only human! We have families, social lives - even during this darned pandemic, we're social butterflies! Well, that might have been a stretch - and we're working on several different fronts at the same time. The campaign will be completed very, very soon, and you will be the first to find out all about it!

The show's over, for now, folks! Stay tuned for more Guardian of Lore updates, exclusive sneak peeks, and online event news. Our community manager is eager to meet you guys on the major social media platforms, like us on Facebook, follow us on Instagram and Twitter, and join our Discord server! We're partial to our Discord community, it's seriously the coolest, hope to see ya there!