Greetings, puny little earthlings!
Let us introduce you to the big and mighty supercomputer FATHER, who once not only designed but also constructed the factory on Mars and all its inhabitants - including Clark himself! Strictly speaking, Father is the real creator of big parts of the gameworld! ;)
It took us a while until we finally discovered who he actually is and how he looks like. When Matthias and Felix came up with the idea of Father the first time, they compared him to Morla, the old tortoise from "The Neverending Story", sitting in some kind of nest located at the heart of the factory. But no one had a real clue, how this would work out, until Hernan (one of our new graphics guys) did a quick sketch which he then polished.
What you can see on the second image is pretty much what you will get in the game. His legs work as conductors or chips with which he can attach to the factory's mainboard and give all the robots orders in lightning speed. You probably notice that his head and especially his eyes resemble computer monitors and keyboards. Father is not in a good shape, though. In Maria's model (Maria is one of our new 3D guys) you can see that Father now has a beard (makes him wiser, you now). A latch under his chin got rusty and broke, so all the cables fell out.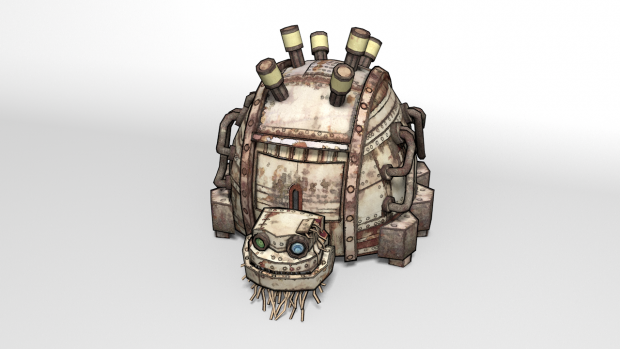 This is one of the main design idioms for every character you will encounter in the game. Virtually all body features have some kind of real function for the character and are not only made up because they look pretty. Actually the whole beard idea took several iterations and a lot of thinking and discussion until we finally got a clue how to do it properly. It would have been much easier to let it out. But Father had to have a beard! He's the wise mentor, the creator and controller of the factory. In a way, Father is a mixture of Yoda and HAL 9000. Without the desire to kill, of course. Father is a good guy.
Sadly, Father has vanished mysteriously. If you want to know why he disappeared and where he is at the moment, you have to wait for the release of the game ;)