Hello everyone, here's what we've been working on for the past 3 weeks/so-
---
DO YOU BELIEVE IN MAGIC?
One of our main goals for the public demo is to flesh out, at least, the very basic use for all 6 character attributes. Currently, Magic and Charisma are not very useful, but that will change! We have started working on Magic, which we labelled as the 'Abilities (Up Quickslot)' in our v0.0.22 Roadmap. Here's some of what we've completed so far, all still WIP:
Telekinesis: The most enjoyable spell so far. Distantly move objects at your leisure. Currently, your Magic attribute will determine how far you can manipulate objects and how strong the spring/pull is.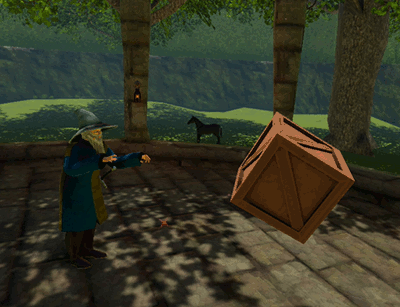 Force: emits a radial force, pushing back certain things within its area of effect. NPCs do not currently push properly…
Summon: summon various critters/creatures to "aid" you. We have added summoning the delightful Blood Bat and a swarm of Angry Hornets. However, they will treat you no differently than anyone else…
We have made some other simple spells, such as Illuminate, which are useful but not that exciting to show. Some of the others are still in their early stages and need to be fleshed out a bit more.
---
RUMBLES
Created a 'Rumble Event' that occurs when there's a significant hit or noise, such as an explosion, which has led to these additions:
The camera will shake if near any rumble point. Now, weapon strikes will cause rumbles with greater power, the larger the weapon.
Significant rumbles, like a bomb blast, can knock a hornet's nest out of a tree and cause small critters, like chickens, to flee.
If coerced, certain rock spires in the Water Cave can come crashing down!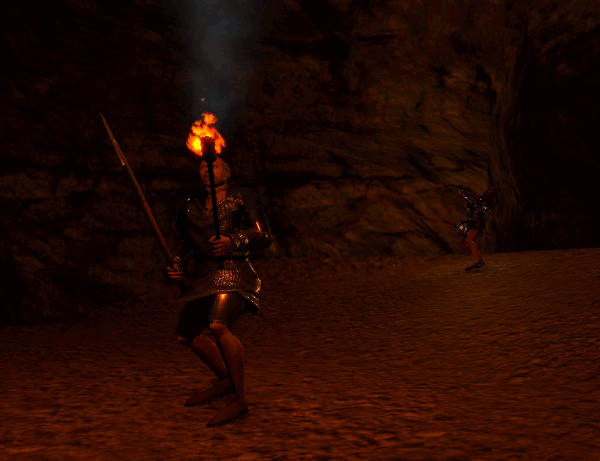 ---
AI GOAL SYSTEM
Jon has begun work on the new NPC GOAL System, here's some notables so far:
Bats will temporarily flee when struck (and survive) or when a force is applied to them (by bombs/etc).
Chickens will do the same. Previously, certain attacks (eg. bats biting them) wouldn't scare/startle the chickens into fleeing. In addition, they now play a startle animation before running for their lives! (Maybe you can see in the video?)
Chickens will meander all around when not threatened/fleeing.
---
TAVERN CHANDELIER
A WIP wagon wheel chandelier for the tavern.
---
ZOOMING WITH CONTROLLERS
You can now zoom (or adjust your 3rd-person view distance) in/out while using a controller. You can do this, by holding in the view change button (Right Joystick) down and using Left Trigger/Right Trigger to zoom out/in respectively.
---
CHAINMAIL: NEW ITEMS
There's two new items, chainmail coif & tunic.

(Ignore the halos & bars in the back…)

(The coif also fits underneath a cuirass.)
---
There's also a new snug dark hood & no liripipe. :)
---
MOONS
There's now moon phases and moonlight! New moons will be pitch-black, whereas full moons will be quite bright for night.

(This shot only had the old placeholder lens flare for the moon in the sky.)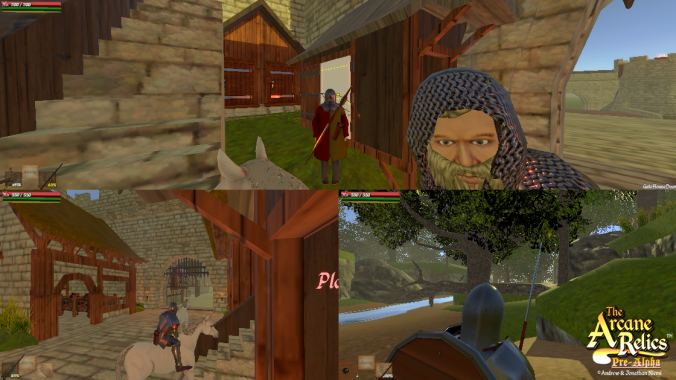 Here's the moon with a graphic, that can change with the phases.
---
3-PLAYER SPLIT-SCREENS
Now when playing local 3-player, the screen will act like in classic N64 games. Player one will get the large top half of the screen, if the preferred split-screen mode is horizontal, or when vertical is preferred, the entire left half.
Before, there would just be an empty box for where player 4 would be.
---
NEW AREA?
I've also started on a new area, which we will reveal once it's farther along…
---
MISC IMPROVEMENTS
Chainmail tunic plays jingle sounds with movement. Also, when hit on a limb wearing chainmail armor, a different chainmail sound will be produced.
A new rock particle that emits when striking stone, and seen in the falling rock spire gif, but at a larger scale.
Minor menu navigation progress: Clicked back buttons will now only play the cancel/back menu sound as opposed to both the confirm and the cancel sound.
Changed potion pickup sound.
Fixed Hood with Liripipe to more properly fit characters heads, and to not go through as much when looking sideways.
Hoods no longer clip through (at least not as much), as they would by certain equipment.
---
---
Take care, everyone!