Greetings Pioneers!

So there's been some heavy re-working of the game systems going on, all to suit the full implementation of our survival mechanics. A major overhaul to the HUD user interface is one of those aspects which John and Joe have been mainly focusing on. More utilities are underway to allow splitting out of different item/mineral types, and plentiful testing in the new map has allowed us to fix some major issues with it's performance.

We've also had a chance to update our company show reel! So if you fancy looking at some fast moving images and a preview of the upcoming weapon system then check it out.


Special thanks to Tom Lishman and Gareth Coker

Now to what everyone has been upto this week:

John - Lead Designer

I have worked with Marcin and Lee on AI designs for group and fight/flight behaviour which should really unify the way that non-corrupted creatures act in the world. This should allow us to create better designs to implement reactive, stalking or investigative behaviour, meaning that when you first arrive on Pharus, you won't be swarmed, but instead you may be stalked before being taken apart!

I have also worked through the HUD and UI designs with Ricky and Joe in order to get the full survival mechanics and new reactive reticle designs into the pipeline. We have finalised the creature list for alpha which includes 14 walkers, 2 flyers and 7 underwater creatures, not including the current enemy types.

The armour system is now nailed down and I have been making sure that we unify the upgrade systems to support ALL components in the game. Weapon animations have been checked for their second pass and are now ready to go into the new modular weapon system when Tristan returns.

Biomes are now also designed to allow for status effects fall-off so that you don't get instantly Corrupted when moving from a clear to a spore infested biome. The new utilities have also been finalised for the next release, including Fabricator, Medical Unit, Food Purifier, Armoury, Refinery, Filtration Unit, Water Tank, Advanced Generator. Next week I'm finalising the UI/HUD design and working on finalising the consumable for the next release!

Matt - Art Director

More utilities are alas becoming relevant to the way the game will play, so I've been focusing on developing three of them. One of which is a Refinery, to cater for all your pioneers mining and refining needs. Next week I'll be moving ahead with a water filtration unit. For now here is the (near finished) Model for the Refinery.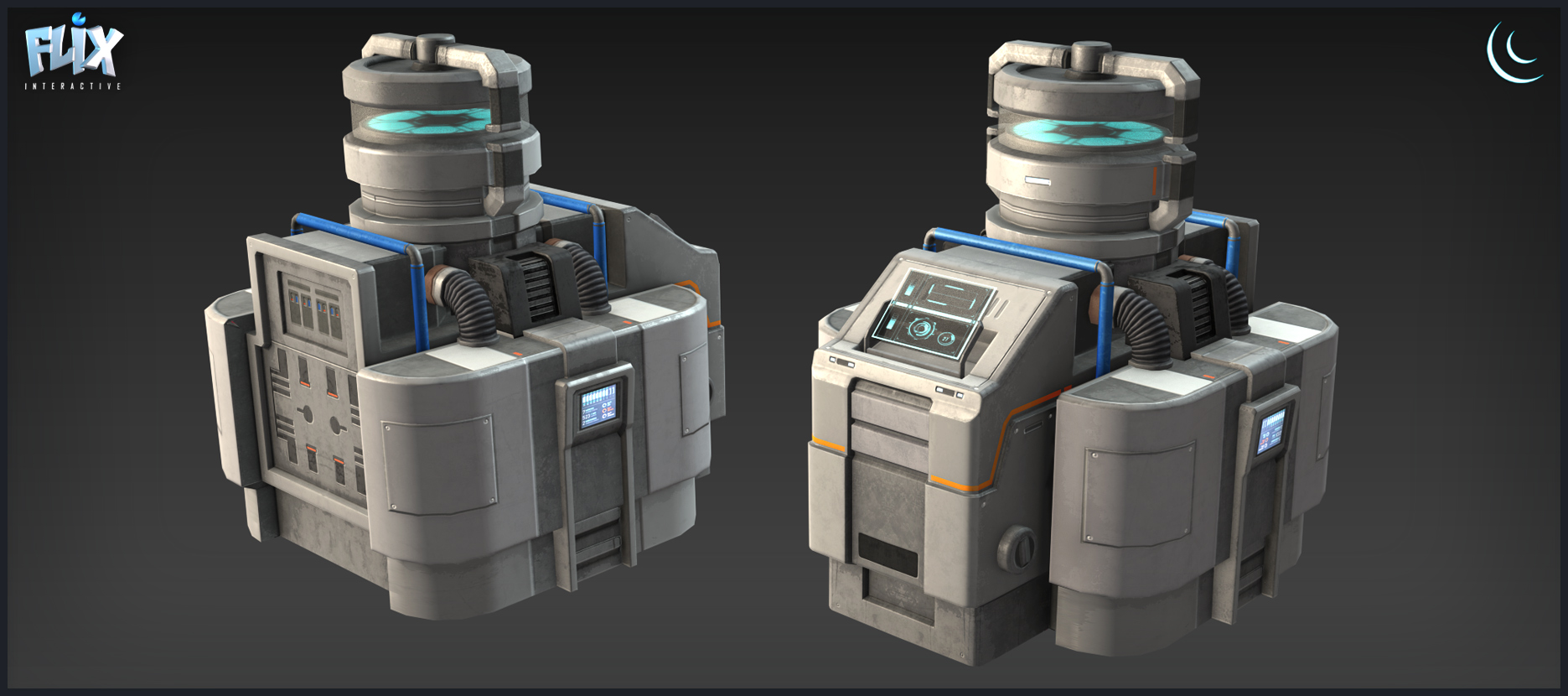 Lee - Technical Director

I have managed to get the audio aspect of our perception component working with our AI this week. I've also been working towards adding group behaviours to the AI to allow herds of creatures, but to also allow for more squad like tactics.

Tristan - Senior Developer

Out of town this week. Enjoying a rather large Pina Colada and long walks in the rain. I've gone back to my roots, bathed in the milk of 10,000 adders, stole the princess of Pennsylvania's golden brooch, sailed to the grand canyon, got ran over by an ox and survived to tell the tale,[/u]

Yves - Senior Developer

Working on implementation of our survival stats system then moved onto player armour and managed to get an early working version together that will be ready for internal playtesting soon!

Joe - Environment Artist

This week I've been working with John on getting the new HUD designs for survival up to a final pass (I did also find a spare couple of hours to start on a new creature for our Forest and Grassland biomes!). Check out some of the designs we've come up with below, we'd love to hear what you guys think.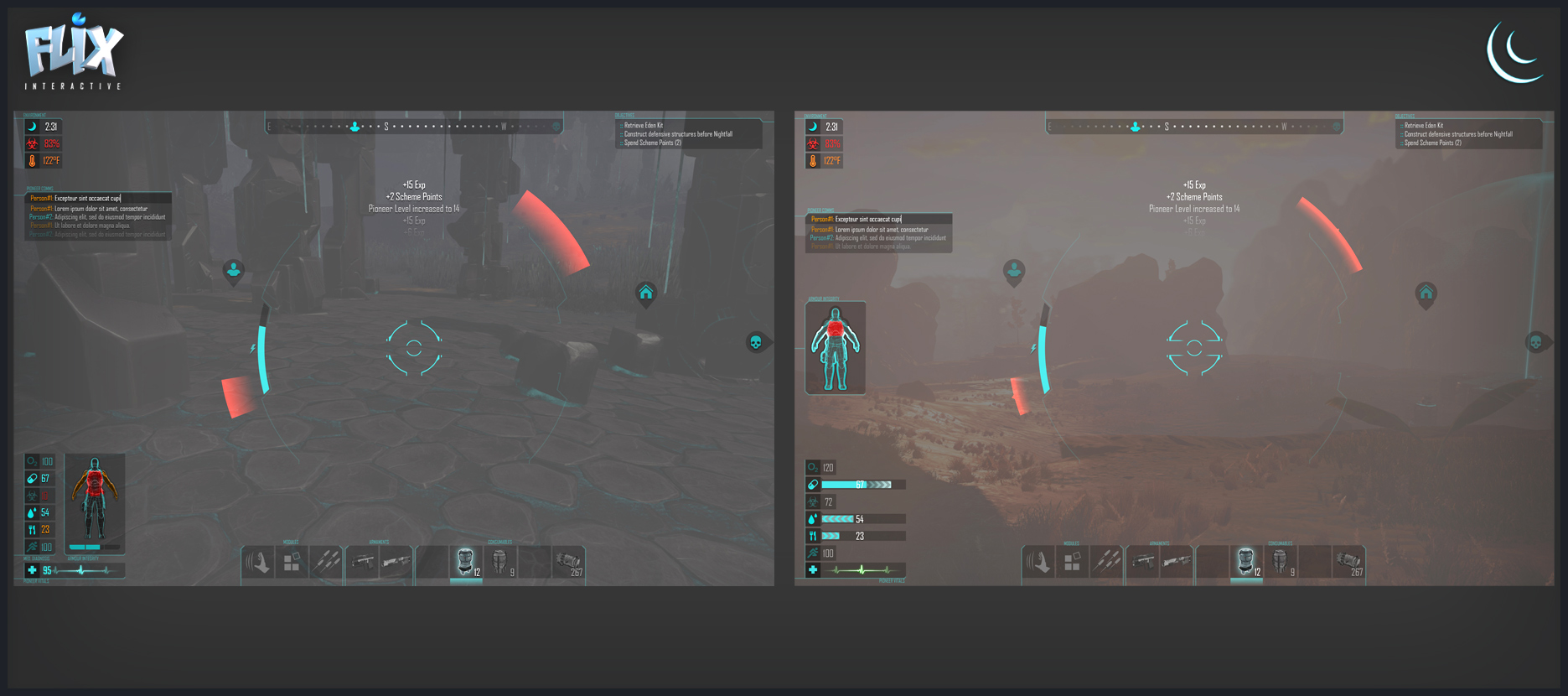 Ricky - Developer

The week started off with a movement of the temporary Exp system over to a new more universal stat effect system.

I also managed to get some quality time removing old stuff, like, you know that feeling when you've had a large stack of Splintermites carefully balanced for years on top of each other, then you remove the bottom few finally because they're getting old and isn't used, and the rest surprisingly still they hover in midair unaffected, that's quite like removing an old system like the inventory version 1 and getting to delete 10,000 nodes at once but the game still functioned without errors beyond expectations.

Marcin - Designer

I have a lot of systems planned to be included in the next release, so I am a pretty busy guy at the moment. This week alone, on top of gathering data for the next pass of the consumables, I was designing the armour system, with all the considerations to make sure that making the choice between different armours is relevant and interesting, unlike the choice of building material we had in the past. Speaking of the building materials, I have also been designing new stats for them.

Since damage types were not interactive enough, I've decided to switch the stats towards their role in the building, such as structure support, weight, deterioration resistance, durability and style. Also as a next step for the survival stats, we've been looking into how we can handle environmental effects, such as Oxygen, smoothly and immersively, and last but not least I've done some extra work on the scopes for the upcoming modular weapon system. Like I said, there is a lot going on right now.

Simone - Concept Artist

This week I have been working on colour concepts for the crocodile and small fish swarm, as well as changes to the shark concept. Also, as we are adding in consumables to the game I have started work on icons for these objects and will be working with the team to create final designs. So look out for some tasty noms in the future!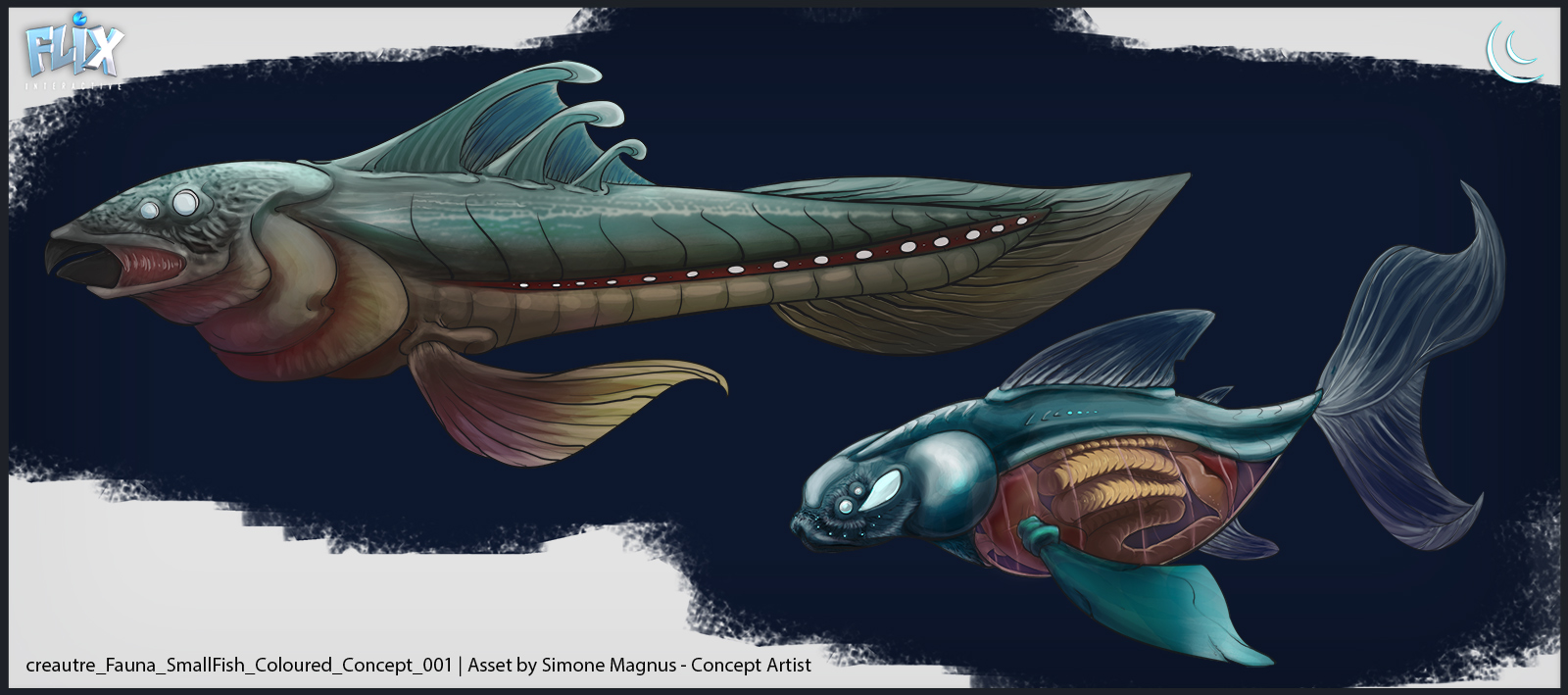 Andy - Lead QA

This week I've been working on balancing the stat/survival system along with playing in the new map "Pharus 7". We have also made changes to the Apex rocks so they will now dematerialise 30 seconds after they last took damage meaning that players will now be able to harvest pesky rocks that are blocking them from building and build over them. You're welcome!

As you may of noticed we're missing a fair few members of the team in this week's blog post. They've been out of office this week so we'll bring all you wonderful people up to date with where they are at when they're back.

See you in the fray!

-Team Flix