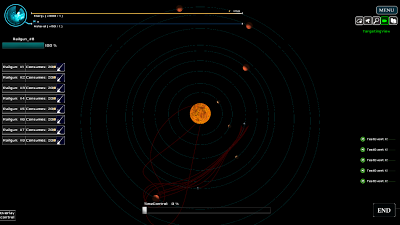 One of these must hit!
Hello. I'm Sasu and I like to write blogs.
Everyone's been very busy lately. We're working hard to get everything essential working without a hitch, but hitches keep coming along. Well, that's the reality of game development and there's not much you can do about that. Except maybe try to design things in a more detailed way.
So, today, let's try something a bit different. Instead of me just telling you about a game mechanic, I'll explain some problems we've come across in testing and some solutions we've formed up.
Let's discuss...
The Difficulty of Hitting Your Enemy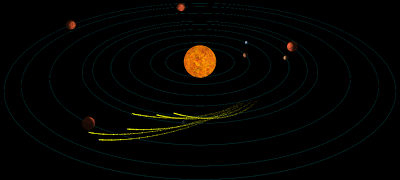 Well, I guess one did.
While testing Interplanetary, we've repeatedly come across a tiny problem with the Targeting System: it's darn difficult to hit your opponent! There are many things that play a part in this.
The planetary system is alive. Once you've set the trajectory and fired your cannon, time unfreezes and the planets start orbiting. It can be very difficult to foresee the movements of this slightly chaotic system. The biggest problem here is that the planets have a large influence on their surroundings, thanks to their...
Strong gravitational fields. Now, this is something that's almost impossible to predict for a mere human. Sure, you can account for a planet moving in front of your firing line, but can you calculate how exactly it affects your firing trajectory with its gravitational pull? We can't.
The planets are quite tiny. Small things are more difficult to hit than big things. Who knew?
When shooting a single railgun slug at your enemy planet, the odds of hitting it are very small, even if it happens to be right next to you. Building 15 railguns and firing them all makes it a bit easier, but managing to maintain such an artillery would be very difficult and time consuming in the final game, not to mention the bother of targeting each and every one of them every time. Something needs to change, but what?


We Have Some Ideas

A planetary prediction system would make it much easier see the future positions of planets. We have plans for a system that shows the player the "shadows" of the planets' upcoming positions, depending on the current trajectory drawn. The future trajectory of the railgun slug, affected by the position of the planets, would also be shown as a shadow.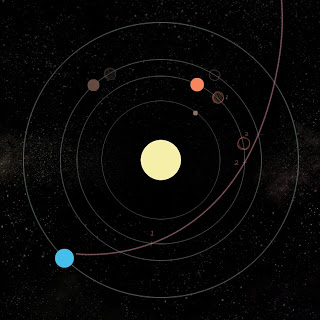 Looks a bit complicated on paper.
The obvious problem with this solution would be that it takes away the element of predicting planet positions and may make the game way too easy to play. Of course, there would be extensive balancing done to accommodate for this feature.
Lowering the effect of gravitation would be an easier way to tackle the problem, but doing so would also make the game less interesting. In the earlier builds, you only really needed to worry about the gravity of the sun. Other planets' pull was much weaker, so it was possible to actually pull off very accurate attacks. This did take away some of the fun, since crazy, unexpected trajectories didn't happen.
We could just make the planets bigger. This might be the easiest solution and the least problematic for now. The biggest foreseeable problem with it is the change to the visual style. We're trying to keep a "realistic" feel to the game and to sort of keep it grounded. Bigger planets might give the planetary system a caricatured feel. Or, maybe we should give the planetary system more of a "war room"-feel. It doesn't look particularly realistic as it is, so maybe adding more elements to make it look more like a tactical representation of the real thing, would be a good idea.
Now, we simply pick one idea, implement it and test. Or maybe we should use them all? Or something completely different? What do you think?
Check out our webpage for more info on our rocking team and projects!